(Scroll to the bottom for the give-away winners!)
Summer squash is one of my favorite things to eat in the summer…because it isn't available all year, but also because it is so delicious!  Most of the time, I will just steam it and sprinkle it with a little salt.  I actually love it almost as much when it's cold!  These yellow scalloped squash are so cute !  I would normally just cut them into wedges and then cook them up.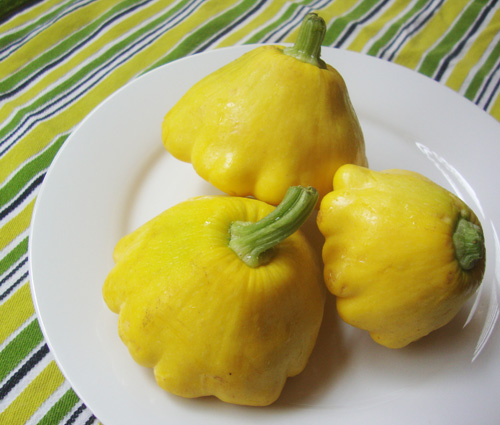 But I was in the mood to play with my food, and since no one else at my house will eat this, I decided add another favorite ingredient…mushrooms!
It helps to look at your food from a different perspective.  I am definitely a flower person…as opposed to flower child – no hippie chick here.  But I wondered what the squash would look like it I sliced it horizontally…wait, no picture, but let me say there was a squeal of delight heard through the house!
I put a little butter in my frying pan and sauteed my mushrooms while I was steaming the squash, which only took about 2 1/2 minutes.  I only cooked the three squash in the picture – remember, I'm only cooking this for one…me!  Add a little sea salt and freshly ground pepper, plus some of the residual mushroomy butter left in the pan drizzled over the top…yumminess, anyone?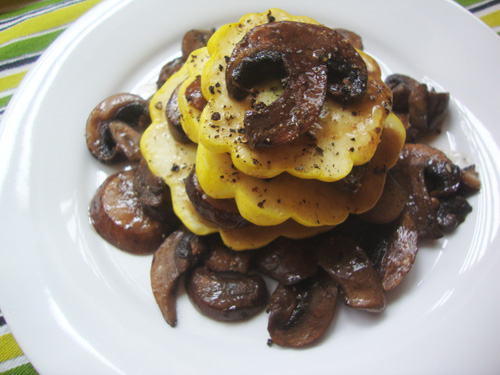 Now that's playing with your food!  I hadn't planned the slices of the squash to stack so nicely, and that one mushroom on top was totally random, but I was almost as excited to look at it as I was to eat it! 
Granted, you only get one gorgeous slice that looks like the flower per squash, but considering that I got a bag of nine or ten squash in a bag from the dollar store, what a deal it was!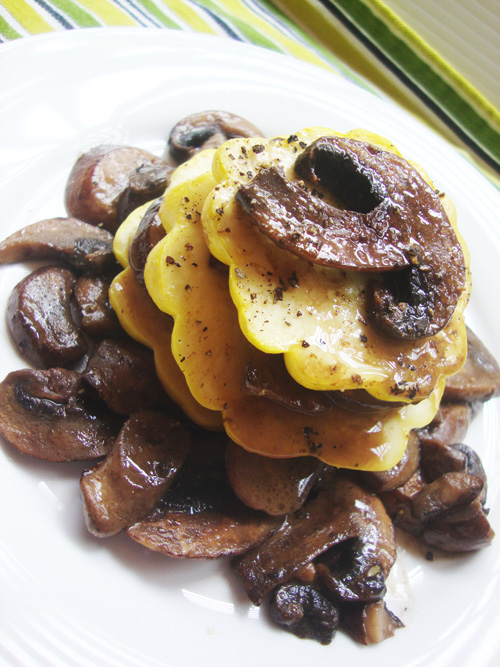 My kids all thought that the fungus was disgusting.  You know what I say to that?  No problem!  That means there's more for me!
And now for the winners of the summer giveaway:
Jesse, Tonya and Paige!  I will contact you to get info on delivery!  Thanks for your comments…hope you love them!

Tags: scalloped squash, squash and mushrooms, summer squash, summer vegetables