I took the day off yesterday.  Not from life, projects or preparations for Christmas, just from blogging.   It was a great day.  It started off with killer finds at the 99 cents only store (I don't think that I will ever get the name quite right).  I got pound packages of cheeses – mozzarella and three cheese; 1 lb. pkgs of turkey and ham; 32 oz. yogurt; 1 lb. bacon, maple flavored (I'm planning ahead for the Farm Breakfast Casserole for Christmas!); Buitoni Chicken and Prosciutto Tortelloni; Greek Yogurt…and that is just the refrigerated stuff.  I really do love my "dollar store", even if I don't get the name right.  It has saved my grocery budget. 
Next, I was able to spend time with a friend that needed a little support.  I tease her about "needing" me from time to time, but the reality is that it is really a blessing in my life to be there for her, because she is always there for me as well.  When I got home and was up at my desk thinking about blogging early, another friend came by…have I ever mentioned that I am blessed with an abundance of good friends?  It's one of those blessings that I am constantly made aware of.  That's the wonderful thing about friends – sometimes you are helping; other times, you are on the receiving end. 
I did make small progress on projects, but before I knew it, it was time to go to dinner at a friend's home – see, I told you!  It was a lovely meal, with interesting adult conversation, in a warm house.  I got some sound legal advice and dessert…sweet!  Coming home to my self-imposed refrigerated ice box of a house, I examined my role as Scrooge, with my family becoming the pitiful Cratchet character, stuck in the unheated office…our house.  At the end of the day, in the dead of night, I don't get much done between tucking my hands in my pockets or under a blanket.  I have got to figure out how to make this better!  You know you're in serious trouble when you start thinking a Snuggie looks good!
But it is now a new day and I'm back to business.  A few days ago, I started making tags and I have been adding to the pile.  When I was blog hopping, I saw someone use one of those desk spikes to collect her tags.  The other day, when I was going through a box of junk outside, I found this odd looking piece of shaped metal.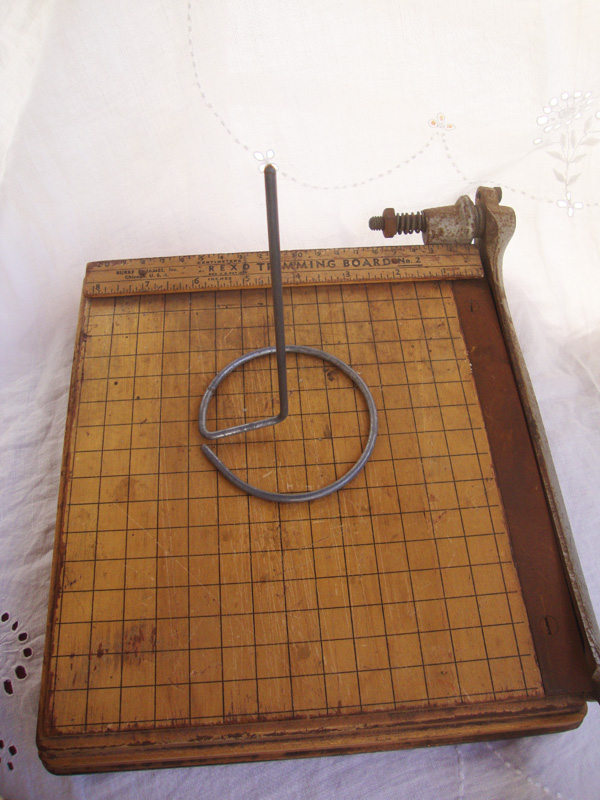 I almost tossed it into the mixed metal bin, but I wasn't sure what it was or where it came from, so I pulled it.  It has now become my Tag Tower gauge…when it's full, I'll consider myself done!
I was so happy when the October Afternoon "Holiday Style" line of product came in.  I don't know exactly what it is that I love so much so much about this line – the colors, the whimsy – maybe its the nostalgic elements, along with the clean graphic paper designs.  But I am hooked and in production.   But before I start stacking, let's remember where this "tag tower" started.  I made 4 dozen blank tags.  Then, I made this: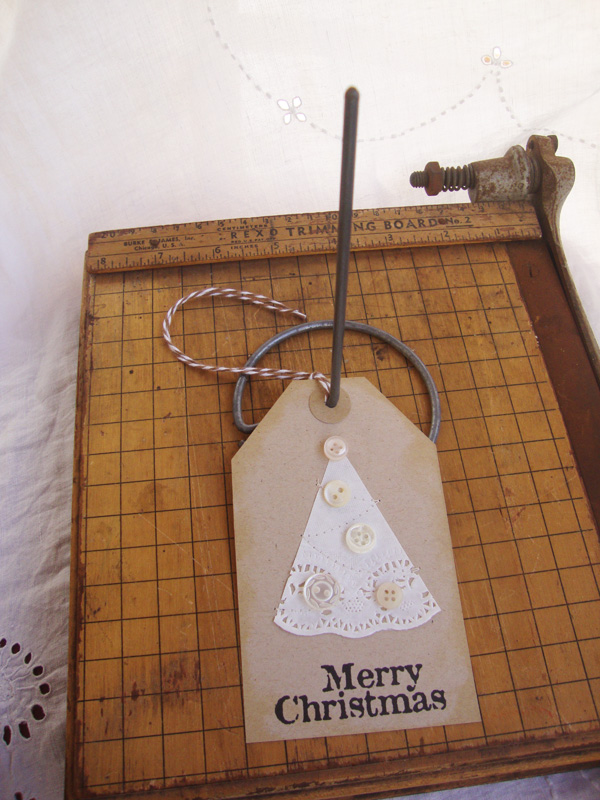 Which was so much fun that I made more…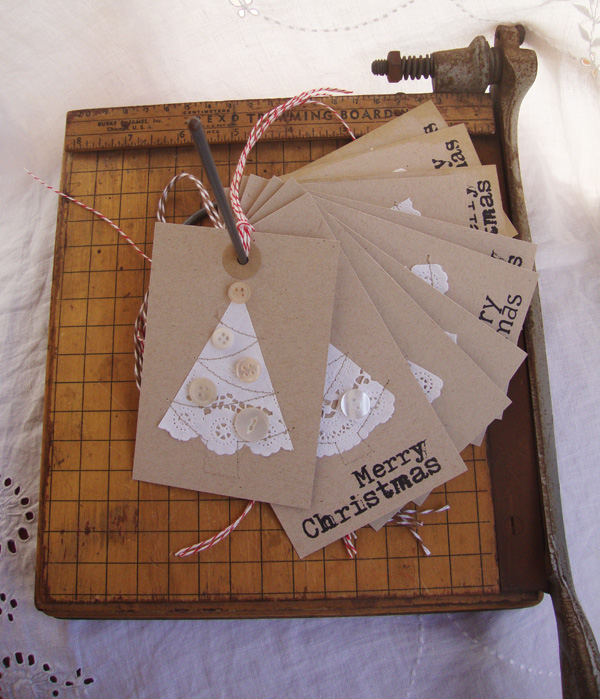 I love these!  On to another day and some glittered snowflakes…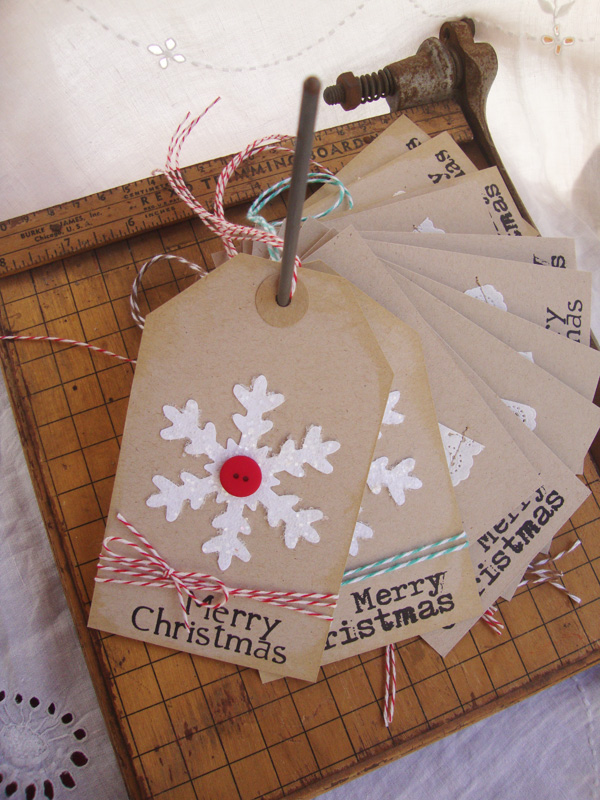 …just adding to the pile!  So then I got the October Afternoon "Holiday Style".  I started by making this tag…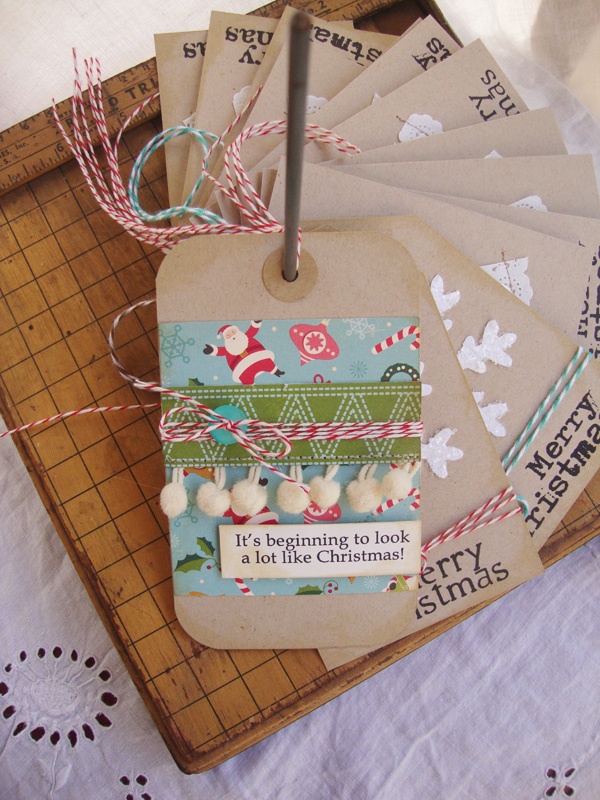 …then this one…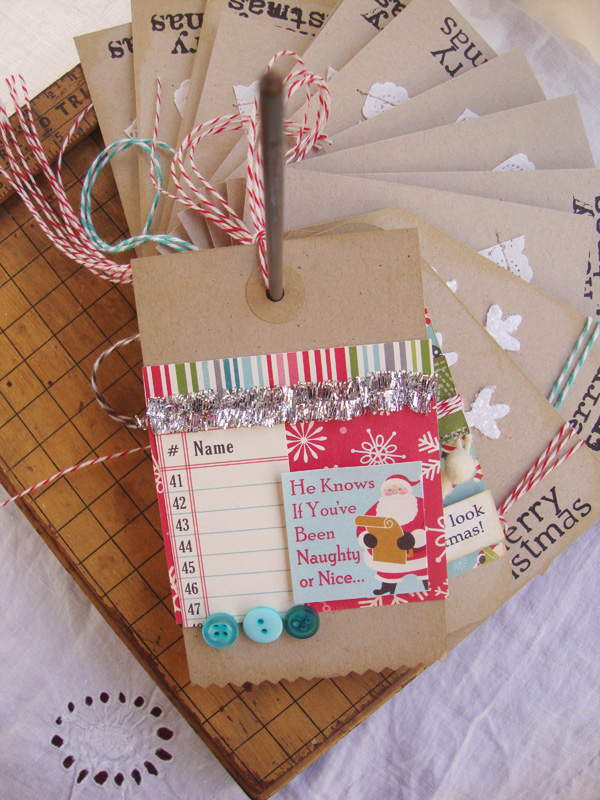 followed by this…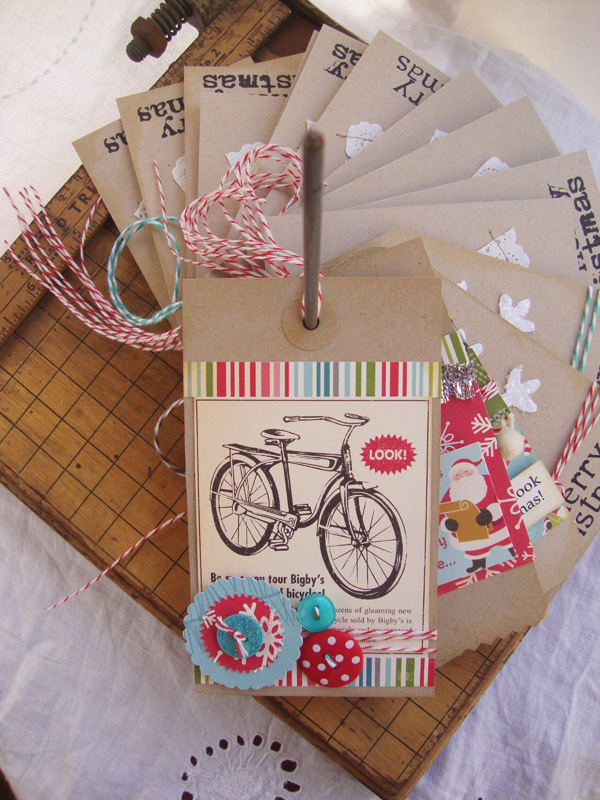 …I can't seem to stop myself!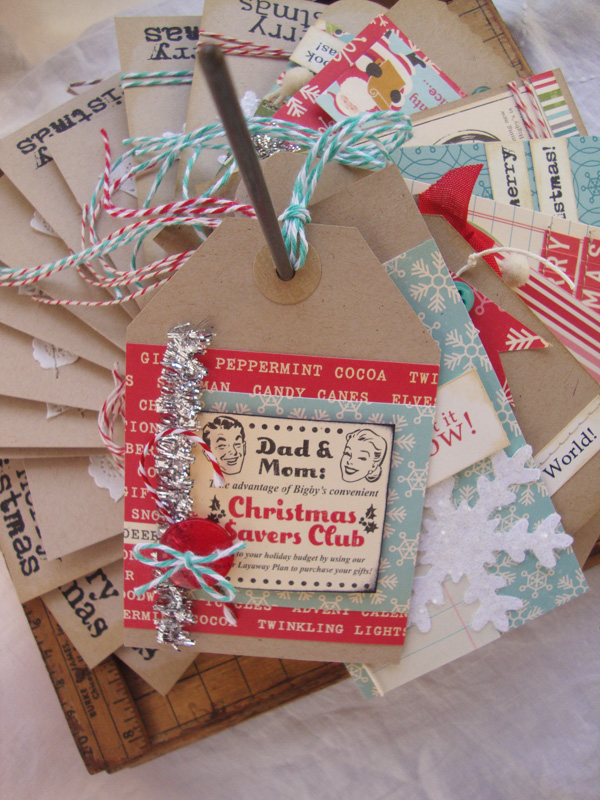 Just imagine what fun it will be when I get around to making cards!  Just trying to make Christmas merry in my own little Cratchit corner office!

Tags: Christmas gift tags, Christmas tags, glittered snowflakes, October Afternoon Holiday Style projects, Snowflake tag