It's October!  I know…it's almost mid-month and this is my first Halloween post of the year.  It's true…I'm a running a little behind, but I finally got my act together and got a package off to each of my two boys and you know my motto…never let a good project go to waste!  This all started about a month ago, in a scrapbook store somewhere in San Diego, with a piece of paper that sparked an idea.  With the two boys away from home (Tom on a mission to Kentucky and Mike in Provo), Megan and I wanted to do something fun for them.  When I saw this paper, it came to me…we could do a Halloween countdown care package!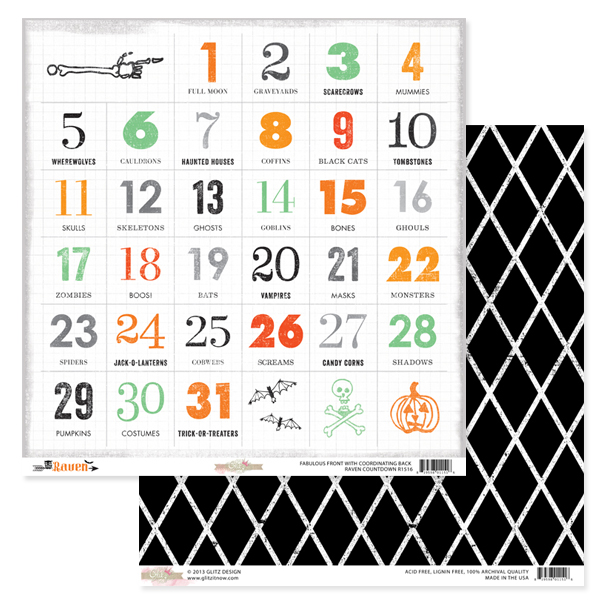 We started a list of things we could do, following the words associated with the numbers.  I got to thinking about how 31 days might cause an unnecessary distraction for my missionary, who would have to try and remember to open things for a whole month.  Then there was the cost of the items, not to mention the expense of mailing them, so we cut it down to just 13 days and printed up our own series of words/numbers.  You are welcome to print our's out here – a 13 Days of Halloween Countdown!
So now's the time for the spoiler alert…my boys rarely, if ever, hang out on this blog, but in case you're visiting, boys…STOP NOW AND LEAVE THIS SITE…you can come back another day!
We have actually been gathering the "items" for a few weeks, whenever we came across something that we thought would work.  We bought two of each of the items, and once we figured out the plan, we promptly wrapped them all…before taking pictures…so we tried to gather as many of the items as we could when we did a last-minute trip to Target to do a re-play of the product.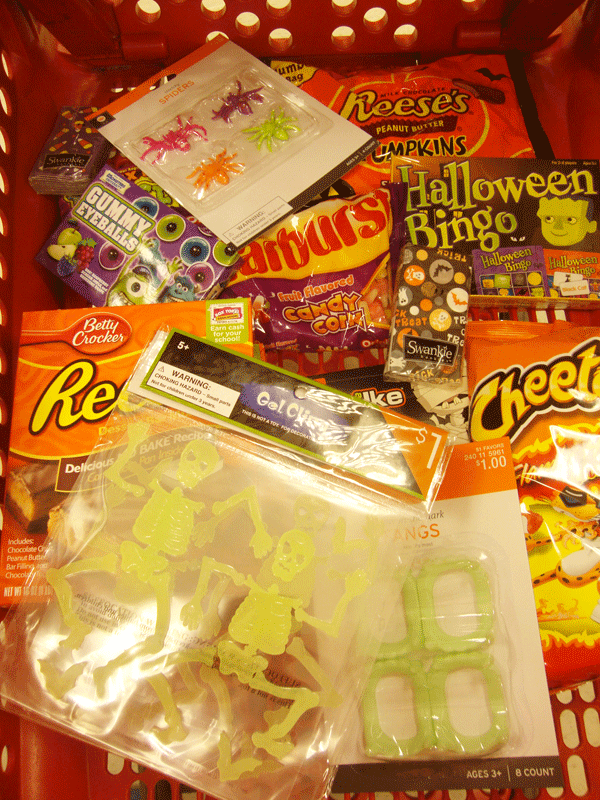 Some of the items are easy to identify with the word/number, others we had to be creative about.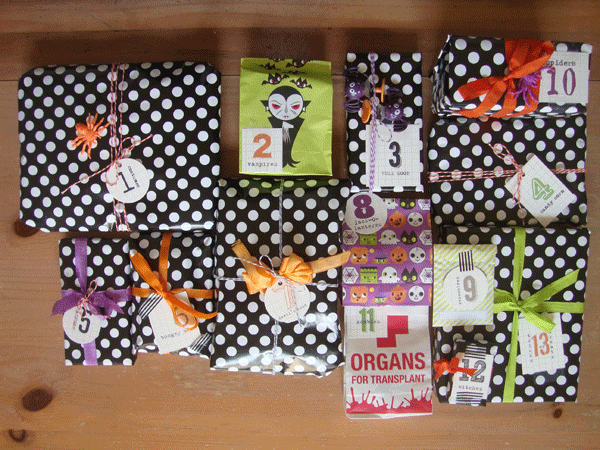 Costumes – we found a CTR Superman t-shirt for Tom and got Mike a little Lego figure in costume.
Vampires – Toothpaste, fangs and Vampire Blood hand sanitizer
Full Moon – Lemonheads and little springy popping bats
Candy Corn – We tried the new Starburst Candy Corn…the.best.ever!
Mummies – mummies candy
Boogey Men – Halloween tissue and Gummy Boogers
Devil's Food – Flamin' Hot Cheetos
Jack-O-Lanterns – springy jack-o-lanterns and Reese's Peanut Pumpkins
Werewolves – silver tie tack
Spiders – sticky, bright, stretchy spiders
Zombies – plastic zombies and gummy eyeballs
Witches – witches mix TicTacs
Tricks or Treats – a box of Betty Crocker Reese's Dessert Bar Mix
Not a lot of substantial things, but just fun little stuff.  We wrapped everything (to keep the contents secret until the day of the reveal) and added the tags we printed up. On the inside flaps of the large flat-rate USPS box (which was perfect for what we sent, with a few extra things), we put the following: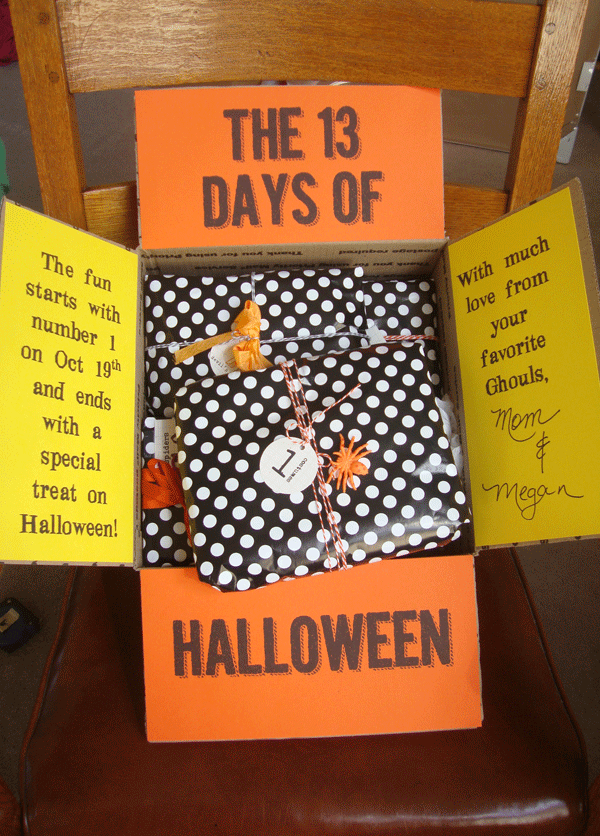 We sealed up the boxes and were off to the post office.  We know that Mike's package will get there in time.  The question is, will Tom still be at his current location or will he be off to a new place…transfer day is most likely about to happen!
This is a nice surprise for kids at home (you wouldn't have to mail it) or something to send off to a loved one away from home…a fun reminder that you are thinking about them.  Have fun, my boys!  Miss you!

Tags: 13 Days of Halloween, 13 Days of Halloween Countdown, Missionary packages, Missionary stuff