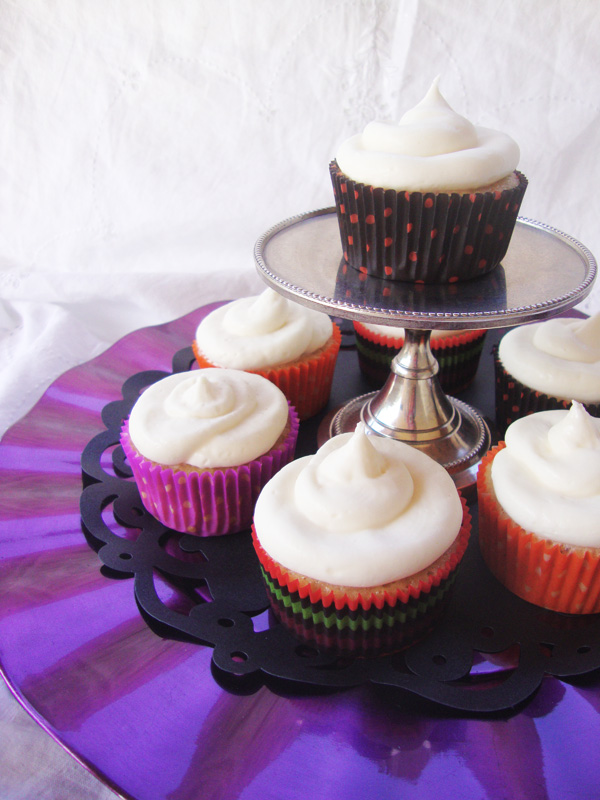 I love to bake, but I am basically a lazy baker.  It has been a really long time since I baked a cake from scratch.  I am not a very discriminating cake-eater.  I was thrilled when I discovered that adding melted butter instead of oil to a cake mix seriously changes the texture and taste of the finished product.  I can, however, recognize when I've eaten something good.  This is a really good recipe! Thanks Amy and Pam for letting me share!
Banana Cake
Cake
1 1/2 cups ripe banana, mashed (about 4 – 6 medium-large)
2 tablespoons fresh lemon juice
3 cups flour
1 1/2 teaspoons baking soda
1/4 teaspoon salt
3/4 cup butter, room temperature
2 1/8 cups white sugar
3 large eggs
2 teaspoons vanilla extract
1 1/2 cups buttermilk
Cream Cheese Frosting
3/4 cup  butter, softened
12 oz. cream cheese, softened
6 to 7 cups powdered sugar
2 teaspoons vanilla extract
1. Pre-heat oven to 275°…yes, it is 275° – this is not a typo!  Grease or spray  2 – 8″ round cake pans with baking spray and set aside; for cupcakes, put paper liners in a cupcake pan and set aside.
2. In a small bowl, mix mashed bananas and lemon juice; set aside.  In a medium size bowl, sift the flour, baking soda and salt; set aside.
3. In a large bowl (or mixer bowl), cream the butter and sugar until light and fluffy. Beat in eggs, one at a time, then add the vanilla extract.
4. Beat in the flour mixture alternately with the buttermilk, and then add the banana mixture; mix well.
5.  For cupcakes, use a scoop to fill cupcake liners about 3/4 full.  This recipe will make about 30 – 36 cupcakes.  I baked these for about 35 – just check them with a toothpick at that point to see if it comes out clean.  My oven won't take two cupcake pans at once, so this took a little longer as far as baking time since I baked 3 pans full.  When you take them out of the oven, put them right into the freezer.  This will cool them quickly and lock in the moisture.
6.  For a cake:  Evenly pour batter into the two 8″ cake pans.   Bake for 1 hour to 1 hour 15 minutes, or until a toothpick poked in the middle comes out clean.  You would also put the cake pans into the freezer when they are done baking.
7.  While the cupcakes/cakes are cooling, prepare the frosting.  Put the softened cream cheese and butter in your mixer and beat on a lower speed until well creamed. Gradually add in the powdered sugar.  Once it is all incorporated, add the vanilla, then turn the beater speed up and whip until fluffy.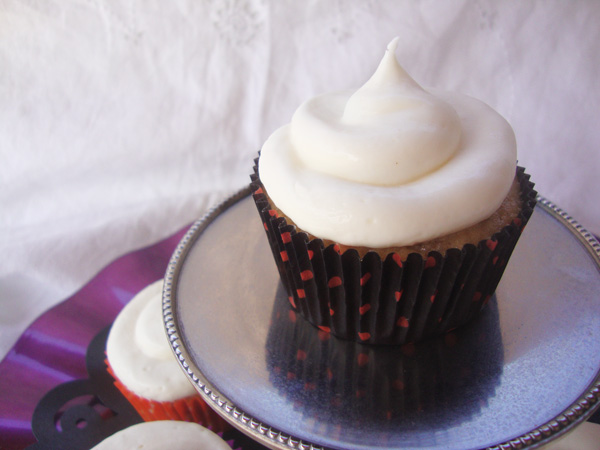 If you are making cupcakes, fill a pastry bag with the frosting and pipe onto the cupcakes. 
 If you are making a cake,  run a knife around the inside of the pan, then turn the cake upside down and tap the cake pan.  It should fall right out; brush away any loose crumbs.  Place one layer on a cake round or cake plate and frost the top of this layer.  Put the second layer on top; first, frost the sides all the way around, making sure that you save enough frosting for the top.  Finish off the top.
Here's a hint that helped me a little.  The frosting was kinda soft after I made it, so after I frosted the cake, I put it into the refrigerator and left it for a while.  When I took it out about an hour later, I took a frosting spatula, ran it under hot water, wiped it dry and then used it to smooth the sides and top of the frosting.
When I first tried the recipe, I made cupcakes; those didn't last too long and everyone loved them.  I had to follow-up with making a two layer cake.  Both are delicious, but in the future I will stick to cupcakes.  It is easier to share the love!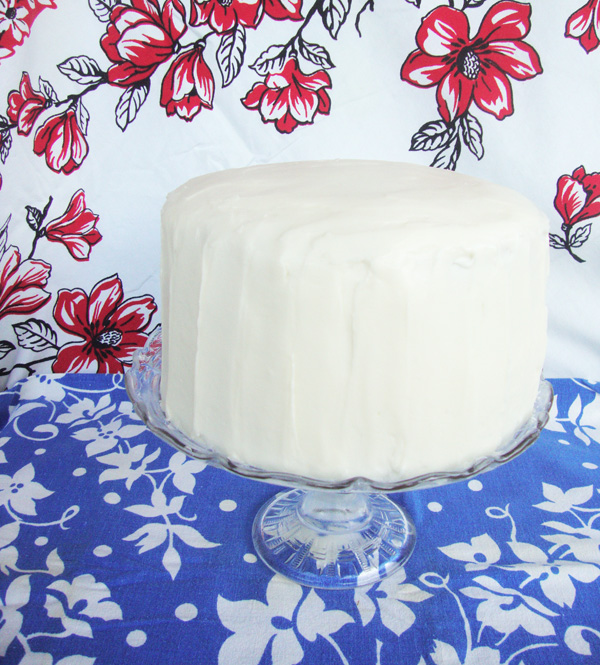 The recipe called for using 2 – 8″ cake pans…it made two very tall layers, which equals a very tall cake.  What happens when you go to slice the cake?  It turns out to be a big, tall slice…no problems there!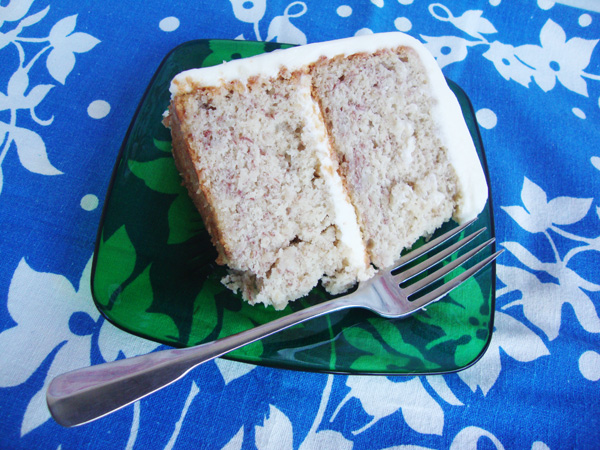 Here's another thing we experimented with for this banana cake recipe…a different kind of "frosting". I recently posted a recipe for Heath Toffee Cream Cheese Apple Dip.  We had a little left over and Mike said he thought that might taste good on top of the cupcakes.  Guess what?  He was correct!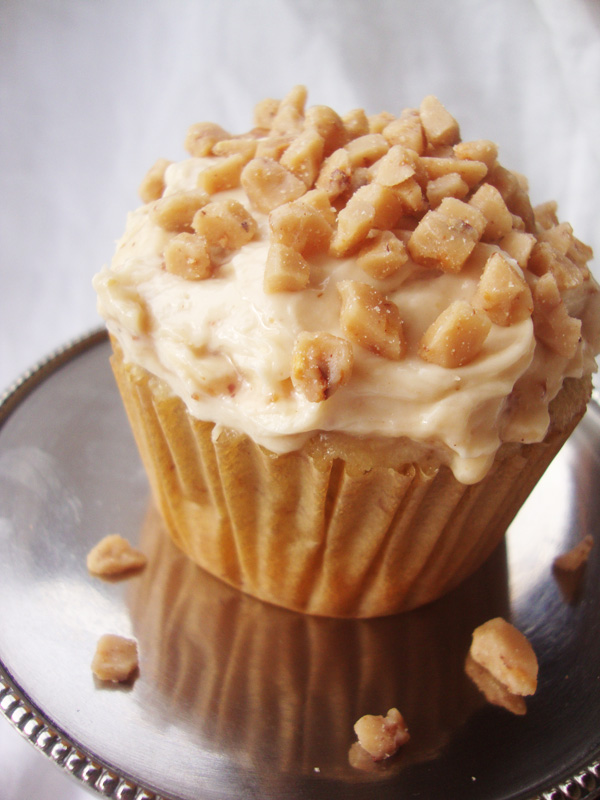 This looks good, don't you think?  It was KILLER good!  No bragging here, but the kids thought these were better than Sprinkles…sorry Sprinkles, but they were that good!
So next time you buy bananas, make sure that you get enough for a delicious banana cake from scratch.  Bananas never need to go to waste again!