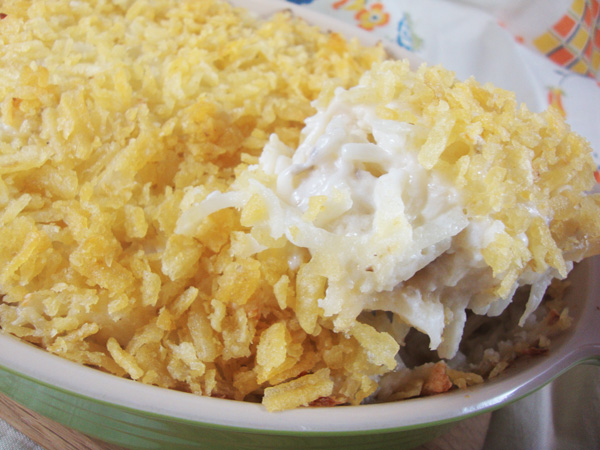 Funeral Potatoes, also known as Hashbrown Casserole, is one of my favorite side dishes and one that the family looks forward to at holiday dinners.  It is easy to make and I always have the ingredients on hand thanks to one of those little shortcuts I discovered – dehydrated hashbrown potatoes,  found at Costco…and other places, I'm sure!  I always used to bake or boil my potatoes to cook them first, but you run the risk of over-cooking the potatoes and when you are grating them, they end up more like mashed potatoes.  My sister-in-law Diane's mom Barbara had mentioned one time that she used frozen hashbrown to make her Funeral Potatoes.  That sounded like a plan!  Then one time, I needed a side dish and didn't have fresh potatoes or frozen hashbrowns, time was short and going to the grocery store was inconvenient.  I went out to my food shelves and stood, pondering what else to fix, when I spied boxes of dehydrated hashbrowns on the shelves.  Those were reserved for when Scott fixed Sunday breakfast or went on a campout.  But I thought, hey…why not try them?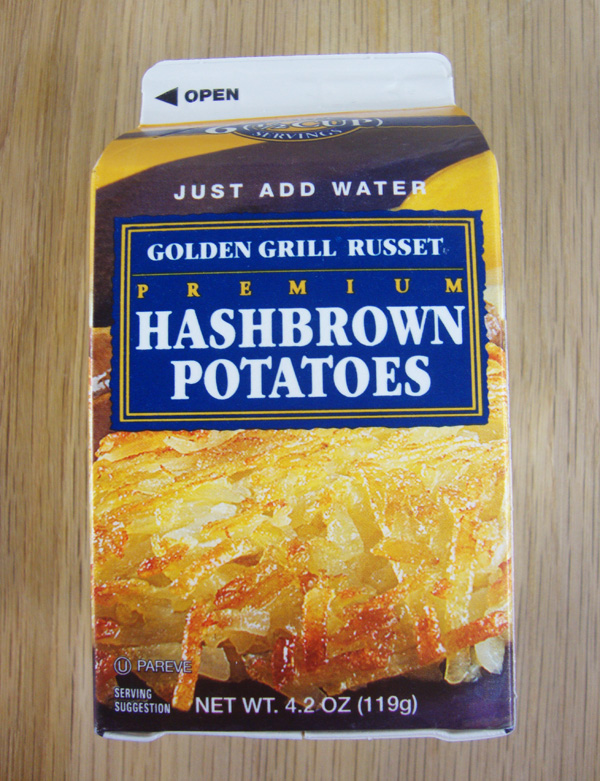 They worked perfectly!  I haven't made them the original way ever since then. 
Work was having a potluck on Valentine's Day.   I figured there would be a bunch of desserts so I thought I would take something savory.  I needed to make a big pot of something and it better be delicious…a girl has her reputation to keep.  Funeral Potatoes are a fabulous comfort food and would surely hit the spot!  Double this for a bigger group!
Funeral Potatoes
3 – 4.2 oz boxes of dehydrated hashbrown potatoes, hydrated
2 cans Campbell's Cream of Mushroom and/or Campbell's Cream of Chicken soup – I like it with one of each, but one of my kids doesn't like mushrooms, so I usually just use the Cream of Chicken soup
1 1/2 cups sour cream
16 oz cheese – I used Aged Reserve Cracker Barrel Natural Extra Sharp Cheddar (white) and Kraft Monterey Jack this time, but I usually use a mixed mild cheddar/jack mix
3/4 – 1 cup potato chip crumbs – you know…all those little bits left in the bottom of the bag that need very little help from you to make them the perfect topping for the casserole
Salt and pepper to taste – I don't usually add salt because the potato chips are salty, as is the soup and cheese, so I don't really think it needs any more
If you want, you could add 1 cup of chopped and sauteed onions…I love the onions, but my picky eater doesn't and onions are kind of hard to pick out.  This recipe is delicious without them!
Pre-heat oven to 350°.  Hydrate the potatoes following the directions on the box. Let them sit and soak while you are grating the cheese.  If you are using already grated cheese, let the potatoes soak for 5-10 minutes.  Make sure to drain any excess water out of the box.  Dump the potatoes into a large mixing bowl and add the soup, sour cream and cheese.  Mix well.  Put in a casserole dish or cake pan; spread the potato chip crumbles over the top. Bake for 30-40 minutes, or until hot in the middle.  Serves 6 – 8.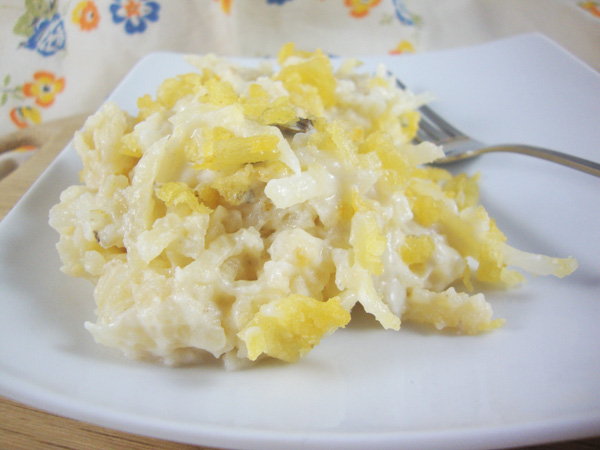 So I brought the whole casserole dish of potatoes upstairs to my little light tent to take pictures…that, along with a plate, fork and serving spoon helped to make the transition from photography to dinner a very tasty step!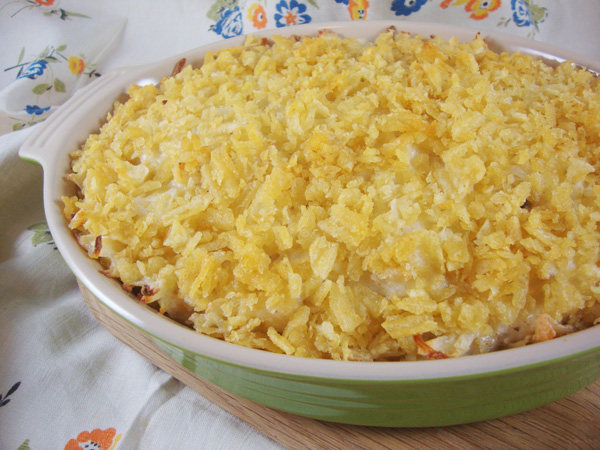 I went online to see what sorts of dehydrated shredded potatoes there were out there and there are all kinds, including LARGE boxes of these.  I will have to be on the look-out for those.  Regardless of the funny, or maybe odd name, this comfort food is a fabulous recipe to pull out for all happy occasions as well.

Tags: family recipes, Funeral Potatoes, Side dishes