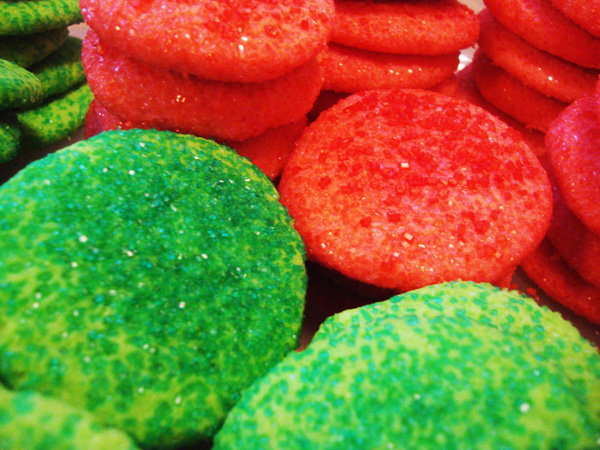 Ho, ho, ho…Merry Christmas Jell-O Cookies!  For the past year the most visited and pinned post on my blog has been my ever-popular Jell-O Cookies.  We're at 92,000+ pins and that has been amazing!  Sharing the recipe I had acquired in my early married days has been a lot of fun.  But I have been adapting the ingredients a bit, tweaking it to accommodate the supplies I have on hand, making it more appealing visually and amping up the flavor.  So, since Jell-O cookies were part of my holiday cookie baking this year, I've decided to share the updated info.
First, rather than make you go back to revisit the first posted recipe, I'll just repeat it…with the changes, of course!
Ho Ho Ho…Merry Christmas Jell-O Cookies
(* indicates changes – this is for one batch, one color at a time!)
*3/4 cup butter
1/2 cup granulated sugar
*1/2 cup Jell-O ( I used raspberry and lime flavor – I buy the big restaurant size now so that I can add just a little extra to the 3oz amount in the small package of Jell-O. )
Cream the above ingredients.  Add:
2 eggs
*1 teaspoon lemon extract
Cream the eggs and lemon extract into the sugar mixture.  Add:
2 1/2 cups flour
1 teaspoon baking powder
1 teaspoon salt
Gel or paste food color – I don't need it for the raspberry…the color is strong enough.  I added green to get it to the color I wanted
Red and pink or lime and dark green chunky, colored sugars
 Mix well. The dough will be fairly soft, but not sticky. You don't need to refrigerate the dough before rolling into balls.  I use a cookie scoop to make the cookies uniform in size.
Pre-heat the oven to 400°.  Roll into 1″ to 1 1/4″ balls; set on a plate. For these Christmas Jell-O cookies, I decided to amp up the color, so I mixed a bright pink and red sugars (or lime green and dark green) together to roll the cookie balls into.  Place on a cookie sheet, about 2″ apart; flatten slightly with the bottom of a bowl.  Finally, sprinkle the darker color on top of the flattened cookie – be generous!  Bake for 6 minutes.  If you do it for longer, the bottom of the cookie will start to brown and that will also make the cookie crunchier…don't spoil the cookie by over-baking it!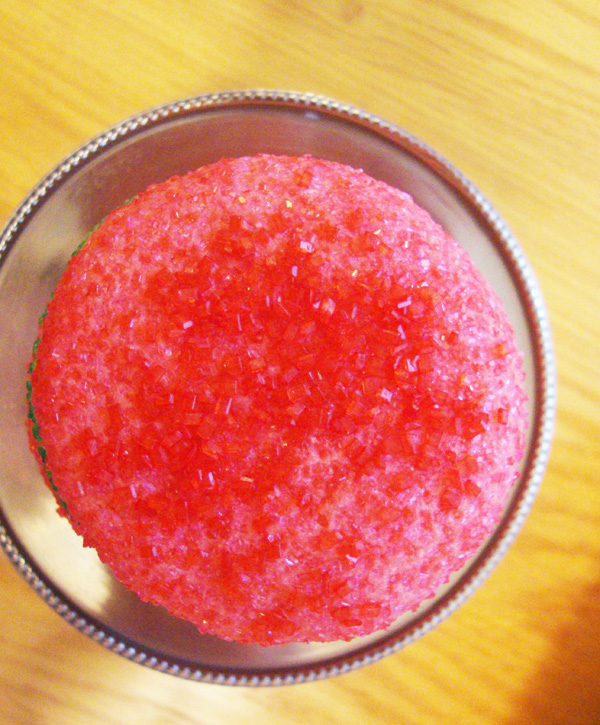 These cookies sparkle like they are covered with rubies!  They were delightfully shiny and festive…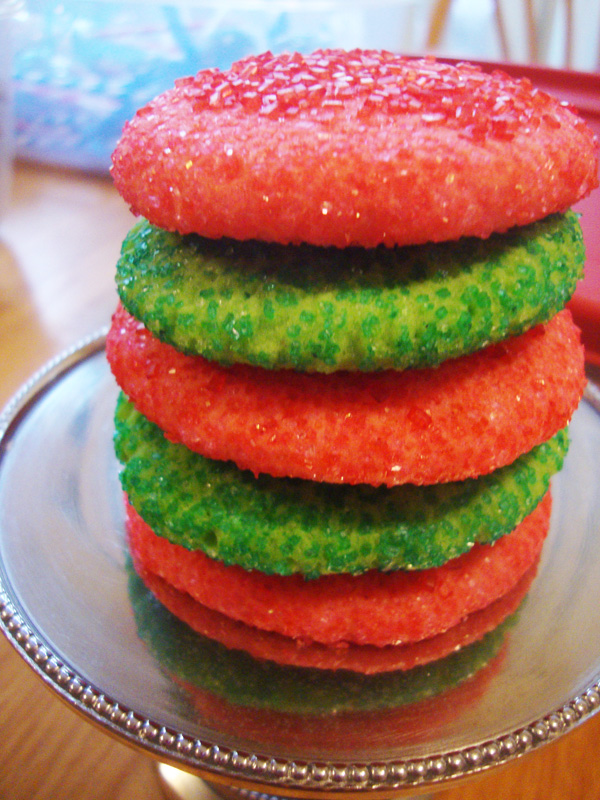 …rubies and emeralds!
We didn't decorate sugar cookies this year, but we made a pile of cake pops!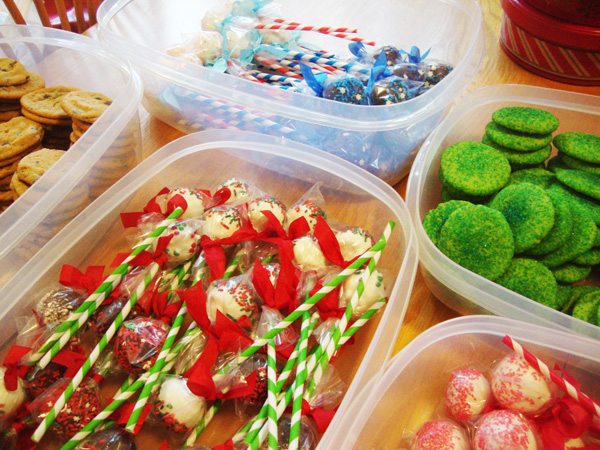 I must say that the abundance of color made me very happy…plus the color helped me keep track of the flavor of the cake inside!  Pink straws were pink lemonade, green straws were a white cake with red and green sprinkles (which turns an amazing shade of Grinch green when all smooshed together),  blue straws were triple chocolate and the red straws were red velvet with finely chopped Hershey's Candy Cane Kisses sprinkled over the white chocolate coating.  They were all quite delicious and it was fun to share my love of cake pops with my family and friends!
The year is almost over, but the new year is filled with the promise of fun and adventure.  Here's to a wonderful 2013…and may all your Jell-O cookies be bright!