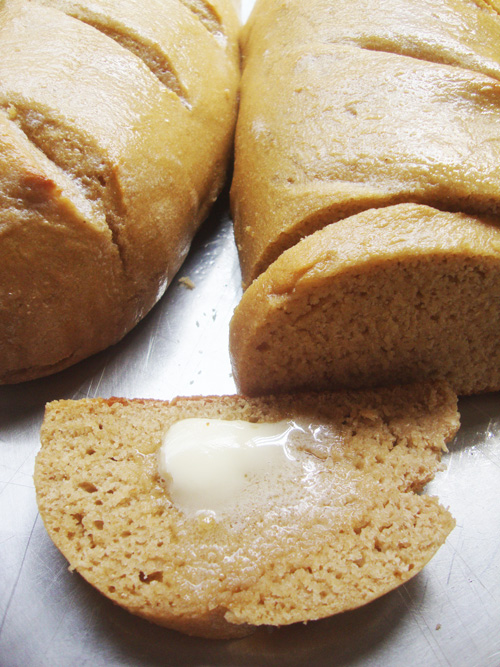 There are a few family recipes that have made a big impact on my life…Lavash Bread is one of them!  This recipe comes from my mother-in-law, Marian, who got it from her friend, Lota, who used to bake it to sell.  Trust me, if I didn't have the recipe, I would buy this!
I love this recipe.   Recently have looked up Lavash bread and this looks nothing like the others out there, but this is what they (MIL and Lota) called it, so I'm sticking with the name. I have always considered it a heavy bread, but that doesn't sound yummy.  It's a dense, moist bread, and I mean that in a really good way.  It is one of those bread recipes that is just as good with whole wheat flour as it is with white (or a mix of both).  It's great news for a woman (me) who wants to be able to grind her own wheat (with my nifty wheat grinder) and incorporate it (freshly ground wheat) into her bread repertoire.  It's a super simple bread to make, but everyone loves it!
Lavash Bread– makes one loaf…you might as well double it!
(Bread in the picture was made with hard white spring wheat flour!)
1 1/2 cups very warm tap water
1 Tablespoon active dry yeast
2 Tablespoons sugar
1 teaspoon salt
4 cups flour (white and/or whole wheat – if using whole wheat flour, you should add an extra tablespoon or so of water to keep the dough from being too dry)
Dissolve the yeast in very warm tap water in a mixer bowl (like a KitchenAid  or Bosch).  Add sugar, salt and flour.  Using the bread hook, begin mixing; once it forms a ball, knead for 2 1/2 minutes.  Place dough ball into a well oiled bowl, brush or wipe a little oil on top of dough ball; cover bowl with plastic wrap.  Turn the oven onto broil for 90 seconds, and then turn it off.  Place bowl of bread dough into the oven and close oven door.  Let rise until doubled.  This will take 1 to 1 1/2 hours.  Punch down the dough; shape into a loaf and place on a greased cookie sheet. Let it rest for about 15 minutes.  Bake at 400 degrees for 15 – 20 minutes or until golden brown.  Cool on a rack.  Rub a cube of butter over the top for a softer crust.  Store in a Ziploc bag after it cools…if there's any left!  Make sure to have a slice while it's still hot…heavenly!
*For a more interesting looking loaf, cut 4 -5, 1/2″ deep slits diagonally on the loaf.  Please read to the bottom of the post!
If I take it to a gathering, I will make TWO double batches to make sure there's enough to go around.  My kids don't like me to share all our family recipes because they want to be the ones to show up at gatherings with the best stuff, and they say it with all sincerity.  Trust me, its not good, its GOOOOOOOD!!! .  I cut this loaf when it was barely out of the oven (I couldn't wait) and it slices nicely. This is too easy and yummy not to share and I said that I would, so here it is.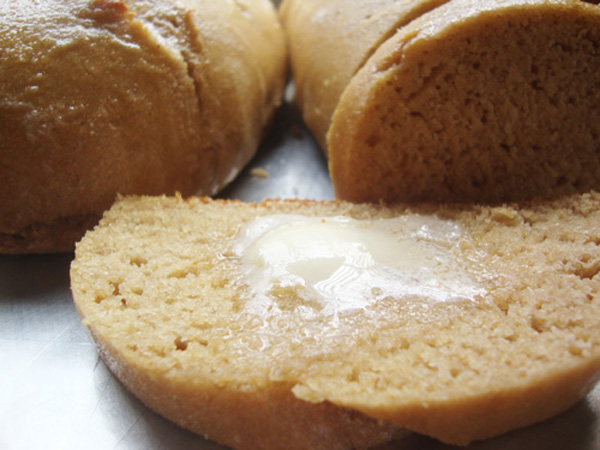 It is divine with butter, but really delicious on its own.  My favorite bread…ever!
Updated info!!!  I had a question by Margaret who wanted to know if the recipe was 1 Tablespoon or 1 pkg of yeast…for some reason I thought they were the same – they are not.  Use the 1 Tablespoon, please!  I have removed the (1 pkg) from the recipe.
I  tested the recipe using 1 pkg of yeast and made a loaf of  bread using King Arthur 100% whole wheat flour (ground from hard red wheat) which is different from when I grind my own hard white spring wheat and I had a gnarly experience… the bread dough was dry and hard to knead.  So I visited the King Arthur website and found this tidbit of information on their  Unbleached White Whole Wheat Flour page:
"Whole grains in baking need more moisture and more time, to allow the sharp edges of the bran to absorb moisture, which improves baking characteristics.  When first using this flour, try substituting it for 1/3 of the white flour in your recipe; see how you like the results.  If you want to increase the whole grain flour in your recipe, add another tablespoon or so of liquid to your dough (or batter) and let it rest for 20 to 30 minutes before baking for better results."
The bread tasted fine but was definitely heavier than normal, so next time I will try another loaf adding more water to the mix…AND a full tablespoon of yeast!  This experiment has helped me to discover that I still have a lot to learn – a sad realization when one finds herself in her mid-fifties!  But better late than never!  I might just find myself studying up a bit on the differences between flours.  I have always been an "all-purpose" flour kind of gal…obviously I have a lot to learn!  Thanks for the question, Margaret!

Tags: dense bread, homemade bread, white winter wheat bread, whole wheat bread