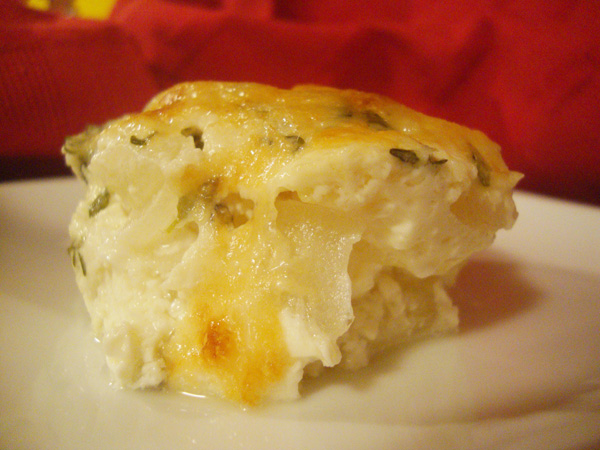 I've been making Betty Crocker Scalloped and Au Gratin potatoes for years.  I've always liked them and when you're raising 6 busy children and don't have high expectations for gourmet cooking, they are a perfect side dish.  But now that I'm not tending to the needs of little ones, I actually look forward to cooking from scratch more often.  One of my friends shared a picture from The Chubby Gourmet's Facebook page that looked tasty and the way it was cooked was novel, so I opted to try my hand at these tasty treats, with a couple of minor changes due to the ingredients that I had on hand, including no parmesan cheese, hence the recipe name change.  The original recipe can be found at In Sock Monkey Slippers.
Romano Scalloped Potato Stacks
2 garlic cloves
1 shallot (I didn't have a shallot, so I used about 1/3 of a small onion)
2 cups half and half…or 1 cup heavy cream and 1 cup milk
1 cup plus 1/2 cup Romano cheese (I didn't have any fresh Parmesan, so I used Romano)
1/2 teaspoon sea salt
1/4 teaspoon freshly ground pepper
1 Tablespoon fresh thyme leaves
3 to 4 medium baking potatoes (I used 8 small red potatoes)
1. Pre-heat oven to 400°F.  Generously butter a 12-cup muffin tin.  Peel and finely dice the garlic and shallot (onion). Place the diced garlic and shallot in a large mixing bowl, along with the half and half, 1 cup of the Romano cheese, salt, pepper and thyme.  Stir to combine the ingredients and set aside.
2. Peel the potatoes and slice into about 1/8″ thick rounds.  You will need 7 to 8 slices per muffin cup, depending on how thick the slices are.  You should stack them tightly, but not over the top…keep it just under the top of the muffin tin.
3. Spoon the half and half mixture into each muffin tin over the potato slices – be careful not to overflow the cup…I did a bit and it was a messy clean-up.  Loosely cover the muffin pan with foil and put in the oven.  Bake for 35 minutes.  After the timer goes off, remove the foil and top each muffin cup with the remaining 1/2 cup cheese.  Put back in the oven without the foil and bake for an additional  10 – 15 minutes until the cheese is golden brown and the potatoes are tender and the liquid has been absorbed.
4.  Allow the stacks to cool in the pan for another 5 minutes, then carefully slide a knife around the edge of the stack.  Remove from the muffin cup and serve.  You can add extra thyme sprigs to the tops to make it look pretty.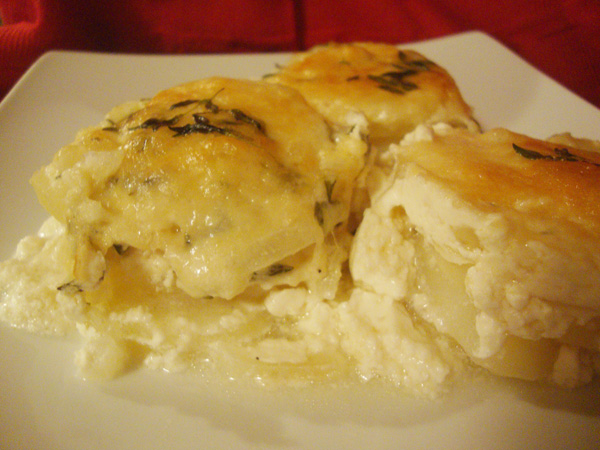 I think I may have taken mine out a little too soon.  I tested the potatoes and they were tender, but not quite all the moisture was absorbed.  As I let them sit waiting for the kids to get home, they did absorb more of the liquid, so maybe I was too anxious to get them photographed, but I know what happens when hungry kids come in to taste-test.  Did I mentioned not to overfill the muffin cups?  Here's what happened when I did!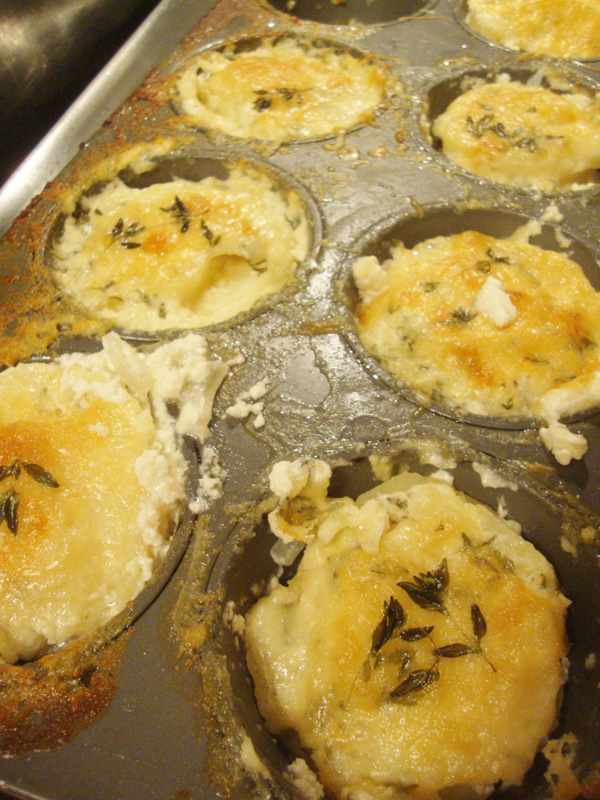 My "non-stick" muffin tin is getting old, so it isn't as "non-stick" as it used to be and clean-up took a little longer.  They were bubbling when I took the foil off to finish adding the cheese!  But well worth the clean-up…this time.  Lesson learned!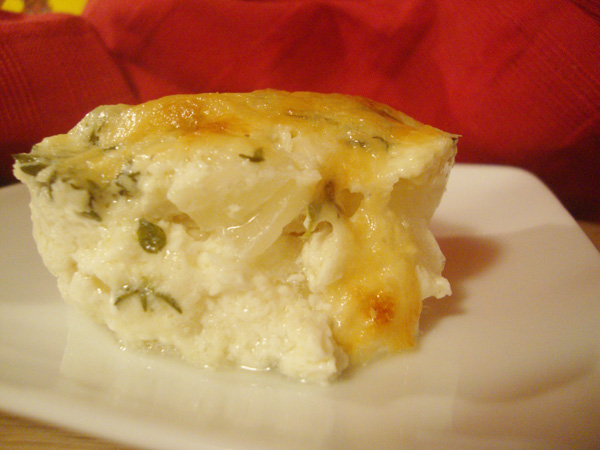 My stacks were not quite as pretty as Meredith's, but they were delicious!  I look forward to trying these with shallots, Parmesan cheese and baking potatoes to see what the differences are.

Tags: individual serving scalloped potatoes, Potato recipes, Scalloped potatoes, sidedishes