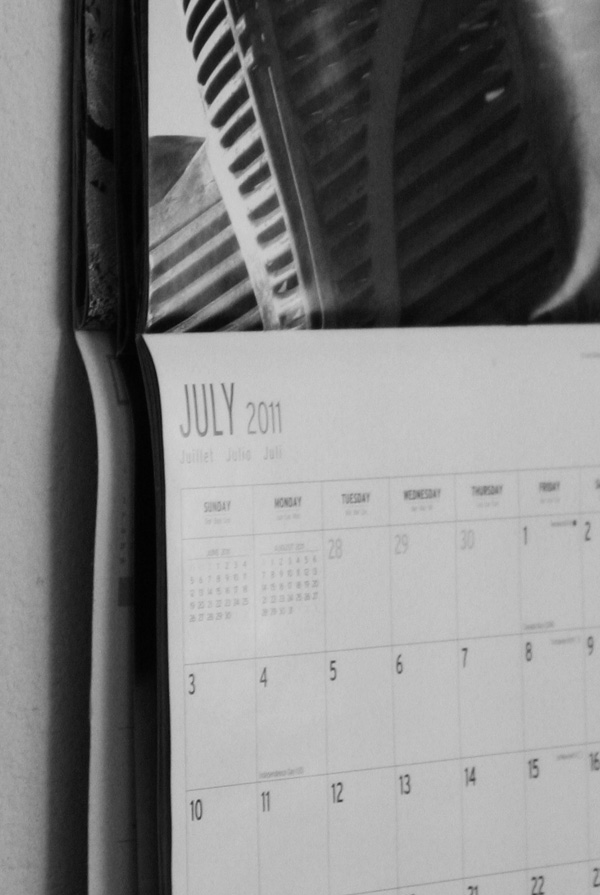 I've been missing from my blog lately…honestly, for quite a while now.  I make the occasional post.  I pull out just enough energy every now and then, but I haven't had much to pull from.  I have lots of reasons – too busy, too tired, no enthusiasm, no follow-through.  But while I was getting dressed on Sunday…Father's Day…I caught a glimpse of the calendar hanging on the wall across the room.  When I looked more closely at the date, I was startled… July 2011.   It's been almost two years and it's still open on July 2011, right where Scott left it.  I've never changed it!  On July 10th he went away to Scout camp and didn't come back…at least not to this house, not to this side of the room, not to his side of the bed.  What happened?  How has it been two years and that calendar not gotten changed?
This past weekend was Scott's family reunion.  These are always so much fun.  We got to see family that doesn't live close by and catch up on how and what everyone is doing.   Because of the number of family that attends each time (120+) and the scattered locations everyone lives in, we alternate the reunion location – Arizona, California and Utah – and meet every two years.  We missed the family reunion two years ago.  Two years ago, our household was busy with work, projects and getting the boys ready to go to Scout camp.  I felt bad, but there's always next time, right?  Never in a million years did I think that anyone would be missing the next time, unless of course, they were too busy, and certainly not two men.  I can't run that risk any more. Now I am determined to make the time.
This year's reunion was wonderful.  There is always a certain amount of chaos.  All the little kids running round, playing games, hollering and yelling…in the cutest sort of way.  The tweens and teens hanging out with each other, the cousins and second cousins breaking bread and catching up.  Basketball, volleyball, skateboarding, crafts and auctions, and eating…lots of eating!  It was held at Mark's ranch, and had been mostly organized by Mark and Tom.  He built an amazing deck, about 3 stories high, up around 3 tall pine trees.  It had a beautiful view of the surrounding properties and the vineyards were amazing.  Mark instituted the coolest new spot – the "snack shack", loaded with all sorts of granola bars, chips, crackers, cookies, popcorn, red vines and Rice Krispie treats.  Let me tell you…it was magical!  The little kids could help themselves…so could the adults…without even asking first!
Carol and Nancy were in charge of the crafts and Cindy and Mom entertained the crowd with a wonderful puppet show.  We did the bi-annual family auction that helps to raise money for the next family reunion…there's nothing better than getting a crowd excited about buying something priceless.  The best thing was that you just can't get mad if you didn't win, and random acts of kindness were given when someone won something that someone else wanted really bad and after the winner paid for it, they turned around and gave it to the person that didn't win…awesome way of making two winners out of the deal!
I had one co-worker comment that it was amazing that there were so many people in any one family that liked each other enough to spend 3 days together.  They were right…it is amazing!  After the auction and before dinner, we all gathered for one big family photo.  Things were going smoothly until they asked for all the Naylor brothers to get together for a picture.  It was then that I noticed my mother-in-law with tears in her eyes. Counting heads, one…two…three…four…five…six…wait, someone was missing.  His mom was the first one to sense it.  Scott was missing.  I had been doing pretty good until then.  We hugged and kept going. Then I remembered the calendar on the wall.
Almost two years had passed by.  I'm not feeling stuck in the past, but I don't feel like I've moved forward much.  The calendar was a gentle reminder that time goes on and so must we.  There are many tender mercies in my life.  Being surrounded by Scott's family feels good, feels right. But there are other reminders.
Last night we went to an Eagle Court of Honor for one of the boys in Scott's troop.  I love to see one of "his boys" become an Eagle Scout.  He encouraged all the young men to become Eagle Scouts and was there to give them all the encouragement and support they needed.  I know Scott is smiling every time one achieves this goal.  At the end of the ceremony, Steven made the presentation of his mentor pin.  He said that the person he wanted to give it to couldn't be there, but he wanted Tom Naylor to come up and receive it on behalf of his dad, Scott Naylor.  It's one of those happy, heart-warming moments that remind me that although he is gone, he has not been forgotten.  It reminds me of the goodness of his life and how he is missed, not only by me, his children and his family, but by so many others.
So tonight, before I go to bed, I will take down the calendar.  It's usefulness as a means of keeping track of the week ahead is gone. The reminder of how quickly time passes is a lesson learned.  I don't think I will put a new calendar in its place. Time is precious and must not be wasted.  I have a lot of moving forward to do and truth be told, I don't spend much time in my bedroom, at least not with my eyes open.  Perhaps the kitchen will be a better spot for my calendar.  We shall see.