I've been wanting to make lemon curd ever since my friend gave me big bag of Meyers lemons…last year!  No, I didn't get around to making it last year, and I used the lemons for something else, but with a bag of fresh lemons and a little pocket of time to play, lemon curd was on my agenda.  With a potluck party on the calendar, it's a good chance to try a new dessert.  I haven't made pie crust for years, but I bought a big box of pre-rolled Pillsbury Pie Crust at Costco that I'd wanted to try making mini-scalloped crusts with, so I decided to make Lemon Curd Cream Cheese Mini Tarts.
Next came the process of choosing a recipe.  Anyone that has searched the Internet knows how what a lot of work this can be.  You can claim that a recipe is "the world's best" or "easy" or "fool-proof" but it comes down to testing in your own kitchen and claims should be reasonable.  So I read recipes, watched how-to videos, compared methods…what I thought would be a fairly easy task took way longer to research than to make once I decided on a recipe.  I loved the story that came along with this Lemon Curd.  I tested and it turned out wonderful the very first time.  Here's the recipe.  I didn't take pictures of the steps, but the link will give you detailed steps if you need them.
Lemon Curd
You will need:
6 tablespoons unsalted butter, softened to room temperature
1 cup sugar
2 large eggs
2 egg yolks
2/3 cup freshly squeezed lemon juice
1 teaspoon lemon zest
In a large mixing bowl, beat the butter and sugar with an electric mixer for about 2 minutes.  Next, slowly add the eggs and egg yolks to the sugar mixture; beat for about 1 minute.  Slowly add the lemon juice.  The mixture will look curdled, but don't worry…that will get smooth once it cooks.  Pour the mixture into a medium-sized, heavy bottom pan and cook over low heat until the mixture looks smooth.  Turn the temperature to medium and cook until thickened, stirring constantly, for about 15 minutes.  Yes, you do have to keep stirring it!  Using a candy thermometer, the temperature should read 170°.  When the lemon curd is done, you can dip your spoon in mixture and when you drag your finger across it, it will leave a path.
Take the curd off the burner and stir in the lemon zest.  Transfer the curd to a bowl and then cover the mixture with plastic wrap, right on top of the curd.  This will prevent a "skin" from forming on the top layer of the curd.  Put the bowl in the refrigerator to chill.  The curd will thicken as it cools.
Here's how I did the mini tart crusts:
First, follow the directions on the pie crust box.  Chilled pie crust will unroll better once it sits out for a few minutes.  It will also be easier to cut and press into the mini-muffin pan with a mini-tart shaper.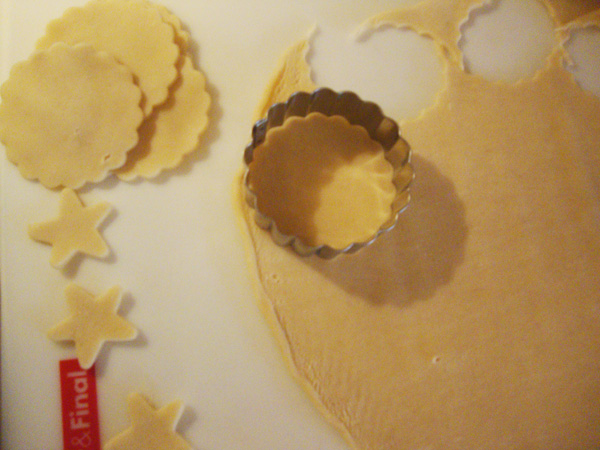 I used a scalloped circle to cut the pie crust.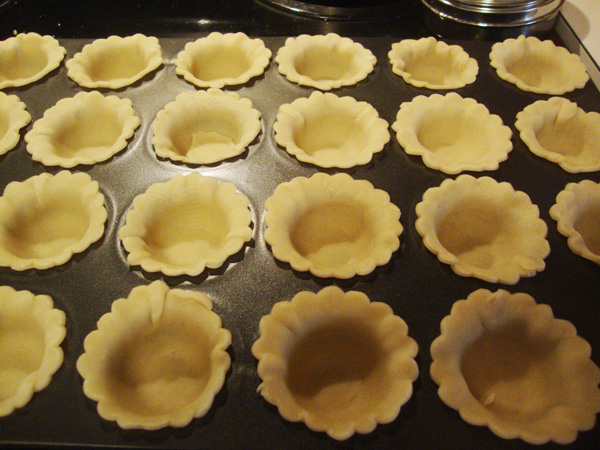 Make sure to use a fork to poke the bottom of the crust.  The first time I baked them, I did them way too long and they burned, so keep your eye on them.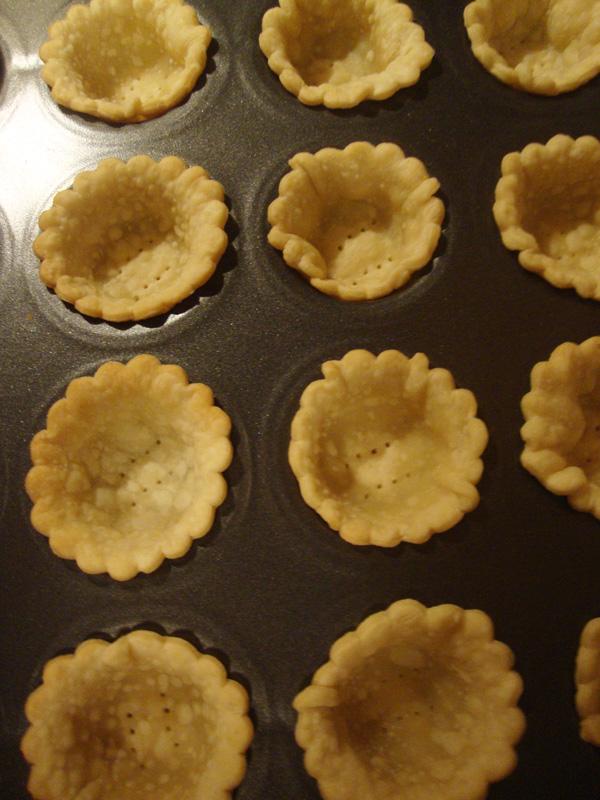 Let the crusts cool.
The filling I used was just 1 8 oz. package cream cheese, powdered sugar to taste…I like mine a little sweeter, but I would start off with 1/4 cup powdered sugar, and a 1/4 teaspoon vanilla.  The quantity you make should depend on how many tarts you want to make.  I think that one 8 0z. package of cream cheese (softened to room temperature) should make about 1 dozen, but you only need to put a little bit in the bottom of the crust, so it might go farther.  Whip the cream cheese, then add the powdered sugar and vanilla.  I have been putting the filling into a pastry bag to pipe into the tarts because I like the control that gives me.  Top with lemon curd and your favorite fresh fruit.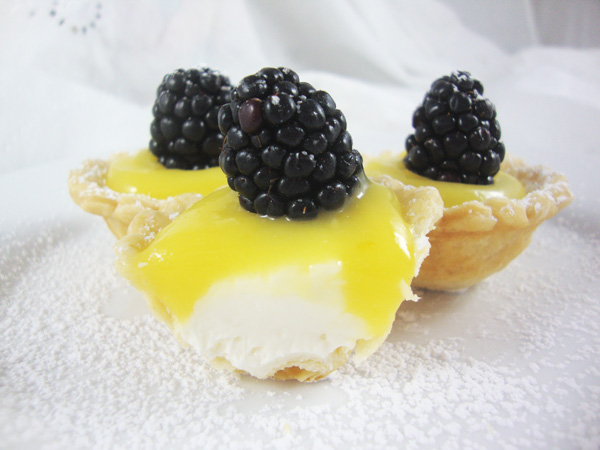 This is a tasty two-bite mini treat, great for a dessert table.  Using the packaged pie crust makes it fast and the scalloped edge is just too cute!
If you want to skip the cream cheese filling, you could just use the lemon curd – it is so yummy!

Tags: desserts, Lemon Cream Cheese Mini Tarts