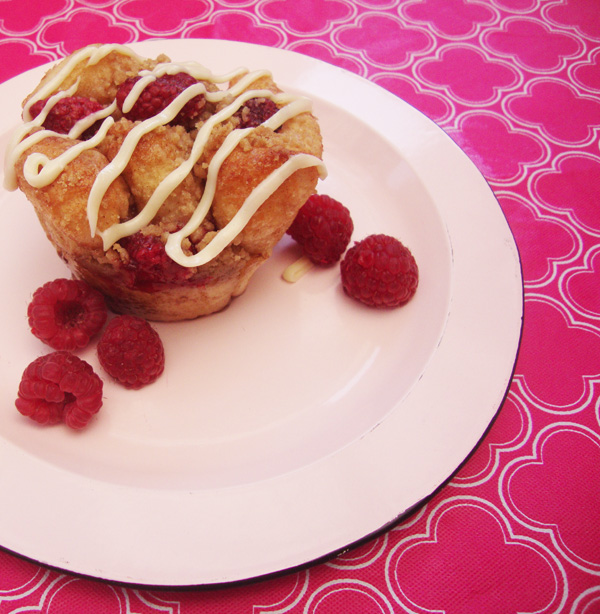 Summer is a wonderful time for fresh fruits to be incorporated into as many recipes as I possibly can.  Raspberries are one of my favorites.  When they are on sale I am even happier!  I bought several pints of them with the intent of making jam, but when I realized that it was time for another guest blog spot with Rhodes, I knew it would be the perfect time to experiment with the idea in my head…Cinnamon Raspberry Crumb Pie!  (*see note at bottom of post!)
Here's what you'll need: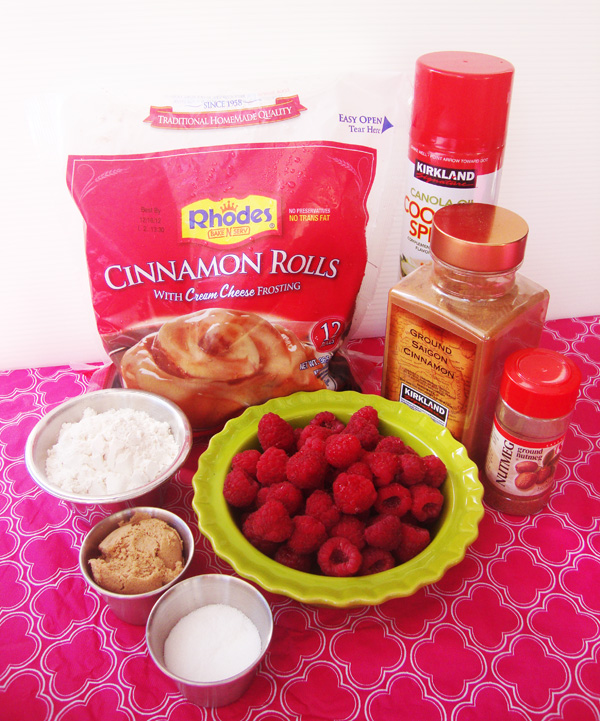 Wait…I'm missing something – oh yes, BUTTER!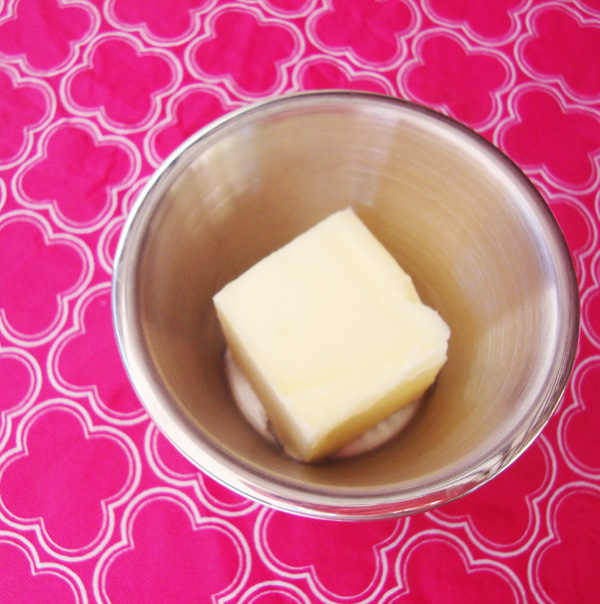 The first step in almost all the recipes with Rhodes Frozen Bread products is to start the process to thaw them.  I found out today that it is a little different doing this in the summer than when there is a chill in the house…they take almost no time at all!  I am usually able to do multiple projects when letting my rolls rise, but it was all I could do just to get pictures done between steps!  You will have to keep on your toes for this one!
Ingredients
1 – 12 count pkg Rhodes Cinnamon Rolls, slightly thawed but still cold
Vegetable spray
1 cube unsalted butter (1/2 cup)
1 cup sugar
1 1/2 pints fresh raspberries
For the crumb topping:
2 1/2 Tablespoons light brown sugar
2 Tablespoons white granulated sugar
1/2 teaspoon cinnamon
Pinch of nutmeg
1/2 cup PLUS 2 1/2 Tablespoons white flour
Step One: Spray the bottom of a cookie sheet with vegetable cooking spray; place rolls on the pan and cover with sprayed plastic wrap.  Set aside until slightly thawed, but still very cold.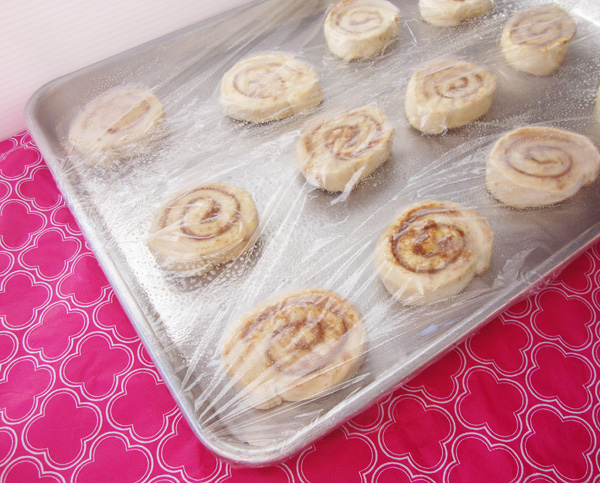 While waiting for the rolls to thaw, prepare the crumb topping.  Combine 1/2 cup flour, 2 1/2 T. light brown sugar, 2 T. sugar, 1/2 t. cinnamon and a pinch of nutmeg.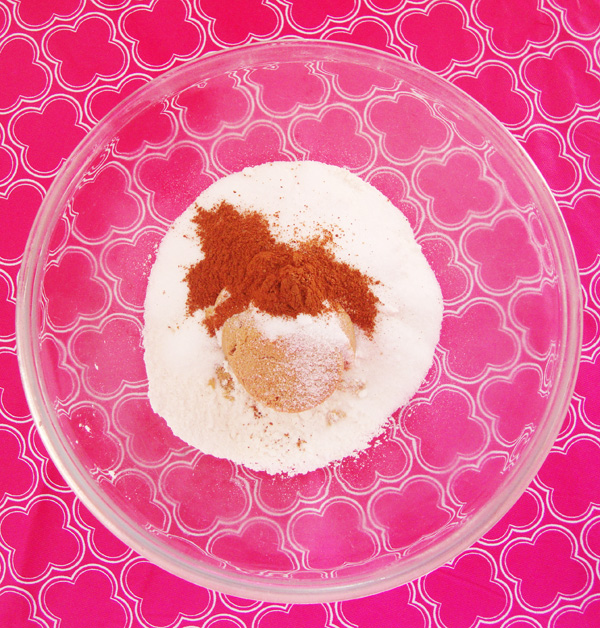 Mix…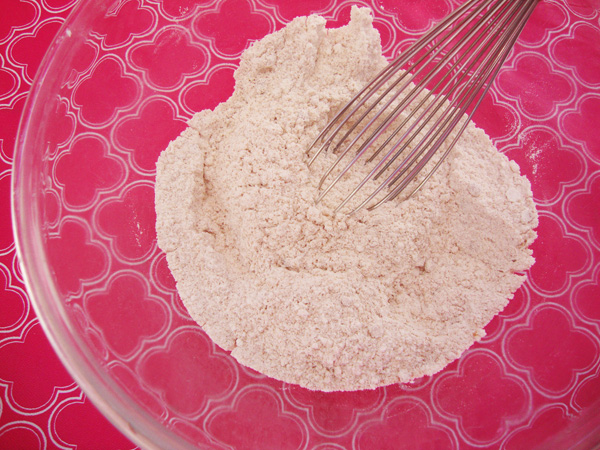 And add 1/4 cup melted butter…
…mix until crumbly.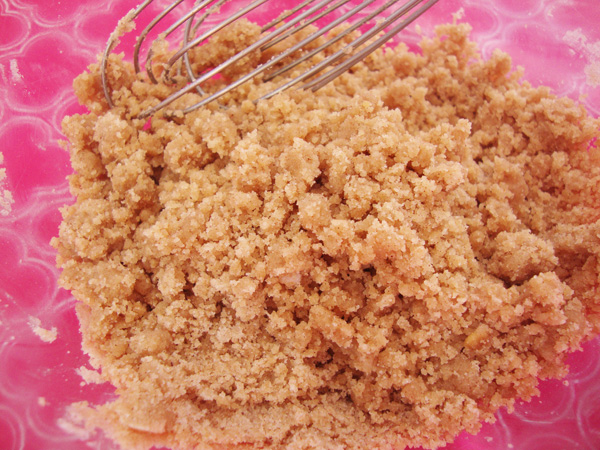 Keep your eye on your thawing cinnamon rolls.  Cut them into quarters – I did mine with kitchen shears.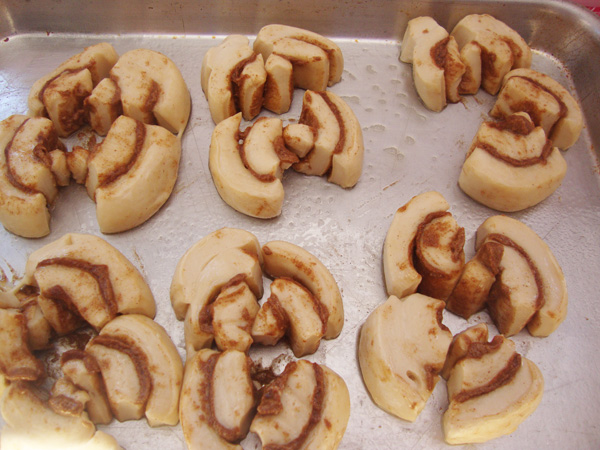 You can see that mine are already starting to rise – I had to move quickly!
Melt the half cup (1 stick) of butter in one dish and put 1 cup of sugar in another (you might need a little more!)  Dip the quarter rolls, first in butter and then in sugar…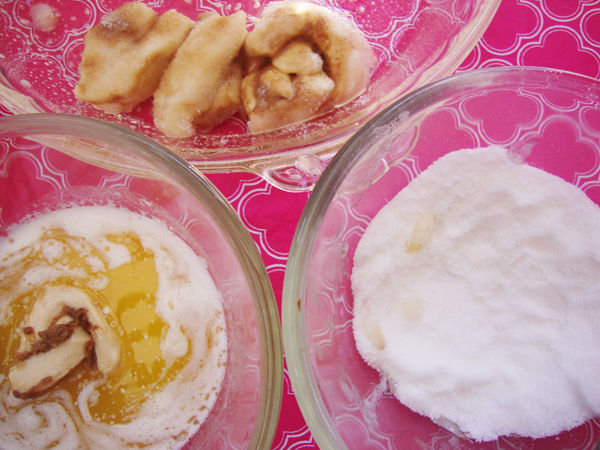 and then put it in the sprayed pie plate. I used 10 rolls, but next time I would only use 7 – 8 rolls. The base won't be as thick and it will cook quicker. (See end of blog for what I used the extra rolls to make and how I would change things next time!)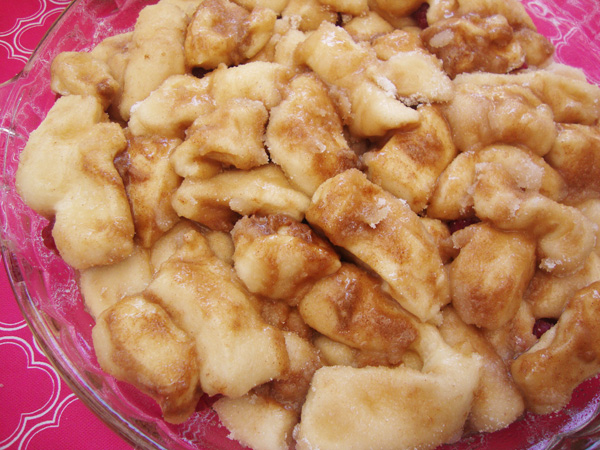 Place raspberries on the top…
…then sprinkle the crumb mixture over the top.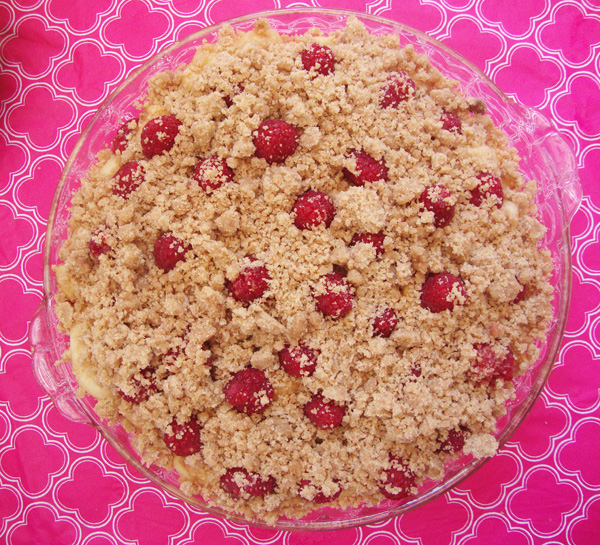 By the time I got done with this step, I was ready to put the pie in the oven.  The rolls were warmed and rising.  By the time I heated the oven, they were in!  These should have baked for 25 minutes, but because of the size of the pie plate and how many rolls I used, I baked it for more like 35 minutes!  Here's the pie…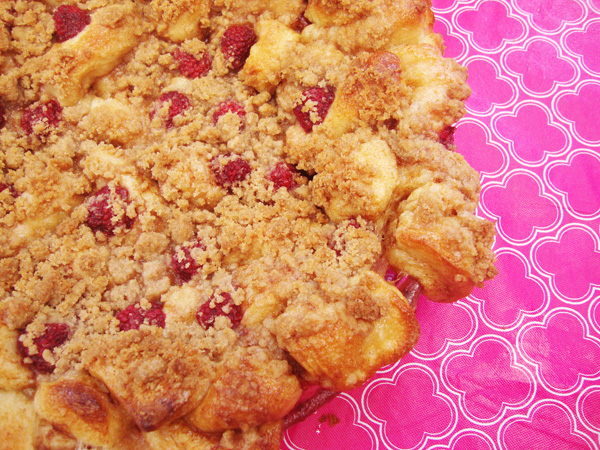 …without the frosting, and then with!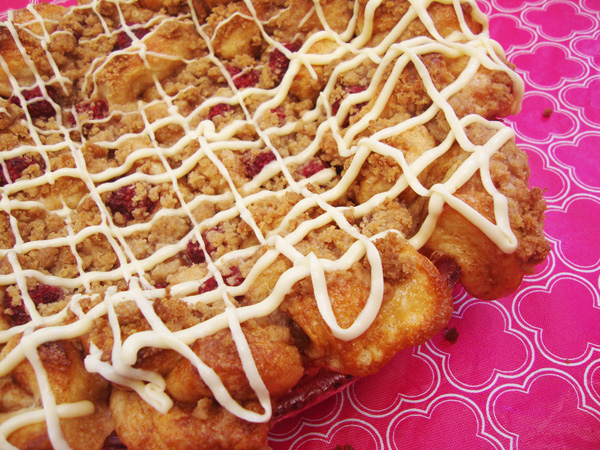 I would suggest that you either only use the 7 – 8 rolls in a large pie plate, or put the pieces into large muffin tins and they will look like this when baked…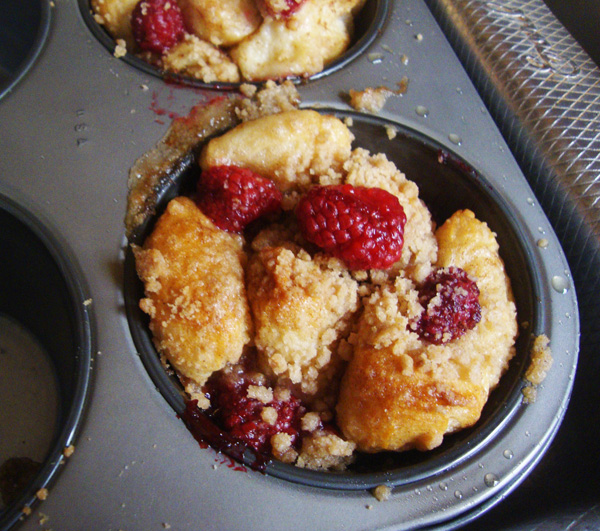 …and like this plated!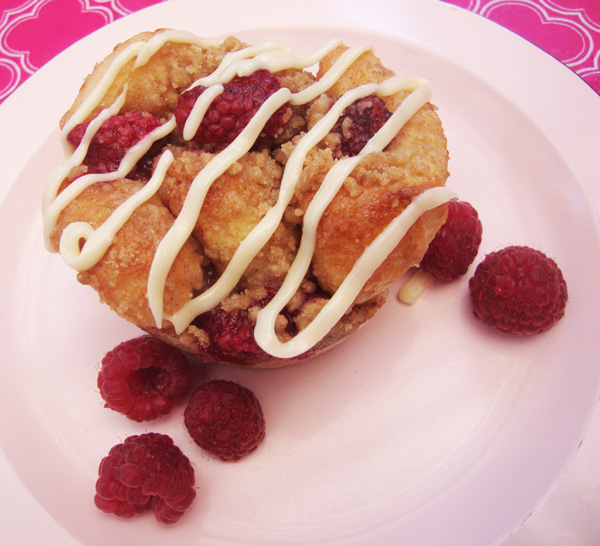 Next time I would just make them in the muffin tins.  These only took about 16 minutes to bake and you know how many you can serve.  I did about 5 quarter pieces per muffin tin, so you will only get about 9 minis, but that is usually enough.  The tangy raspberries made a nice balance with all the sugar added and the little bit of crunch on top was  just right the right finishing touch! 
Thanks for stopping by! (*Made last summer, but the complete recipe never posted!  I'm thinking that some of those raspberries I froze last summer might just make this doable right now!)

Tags: Rhodes Frozen Cinnamon Roll recipes