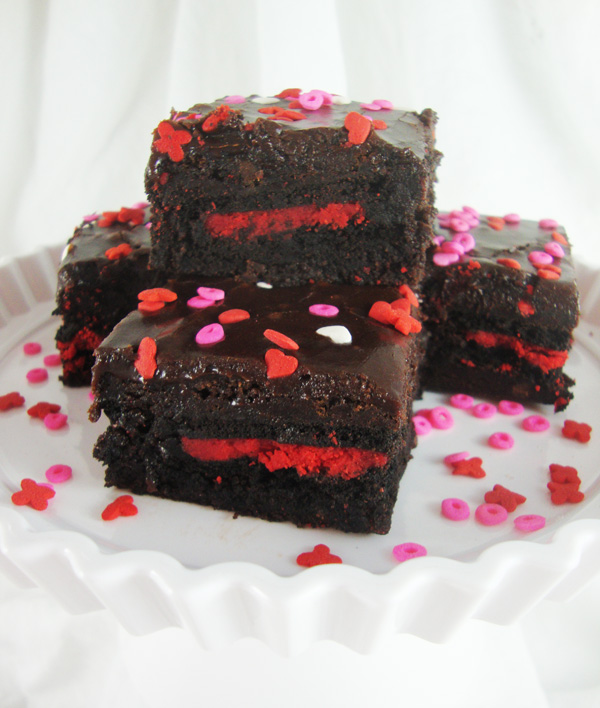 I have made Oreo-stuffed Brownies before, even Oreo-stuffed cupcakes.  But this year I thought ahead and bought some Christmas Oreos with red cream centers at an after-Christmas sale, specially for this occasion…Valentine's Day Oreo-Stuffed Brownies!  In case you are thinking back to that pack you bought at Christmastime and remember all those cute little winter pictures on the one side (like skates and snowflakes), I already thought of that.  I decided that after they were baked with brownie under and on top, you wouldn't be seeing any of those "seasonal" designs, just the red peeking through the rich, dark chocolate!  
I have seen a lot of different suggestions on baking these, but I'll share what I did this time around. 
Valentine's Day Oreo-Stuffed Brownies 
2 – 18 to 19 oz boxes of brownie mix, prepared as directed on the box – I didn't have two of the same, so I used Betty Crocker Dark Chocolate and an Ultimate Brownies (they even added different amounts of water, oil and eggs, but I just combined the ingredients
1 large package of Oreos – Christmas ones if you have them!
1 tub chocolate or chocolate fudge frosting
Valentine sprinkles – I used the X's and O's from Wilton and the hearts from Cake Mate
Pre-heat your oven to 350°.  Prepare the brownie mixes, following the instructions on the package.  Spray the bottom of a 9×13 cake pan with vegetable spray.  Put a little less than half the prepared brownie batter in the cake pan.  Add a layer of Oreos on top of the batter, leaving a little room between each other.  Pour the remaining batter over the top of the Oreos, spreading it evenly, making sure to cover all the Oreos.  Bake for 55 – 65 minutes.
So here's my hint for today.  At Christmastime, I was at a church party, plating desserts that different families brought to share.  There were some really yummy looking brownies and one just happened to "break" so we (the kitchen help) didn't want to waste it, so we shared it…it was so good!  I later talked to the daughter-in-law of the lady who made them and commented on how good they were.  She said that she'd share her "secret"…when you take the brownies out of the oven, glob the tub of the frosting by spoonfuls on top, let it warm up a little and then spread it over the brownies.  I had actually heard that before, but had forgotten to try it.  This would be the perfect time to experiment!  
Here's the hard part…you have to let it sit for a really long while and let it cool completely before you cut it.  If you have room in your frig, after its mostly cool, you might want to stick the pan of brownies in there for a while.  It is always hard for me to be patient…I want to cut right into it and take my pictures!  I guess that's okay if you're serving hot food, but these will definitely cut up better if you let them cool thoroughly.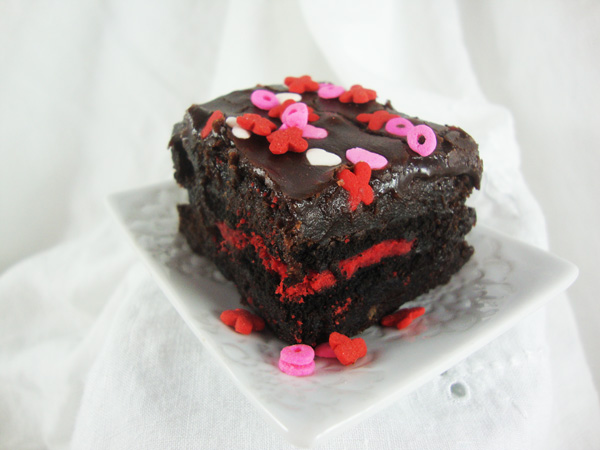 I don't usually put frosting on my brownies, but this trick is really tasty.  The brownies are so rich, that when I eat mine, I will definitely need either a scoop of ice cream or a tall glass of milk.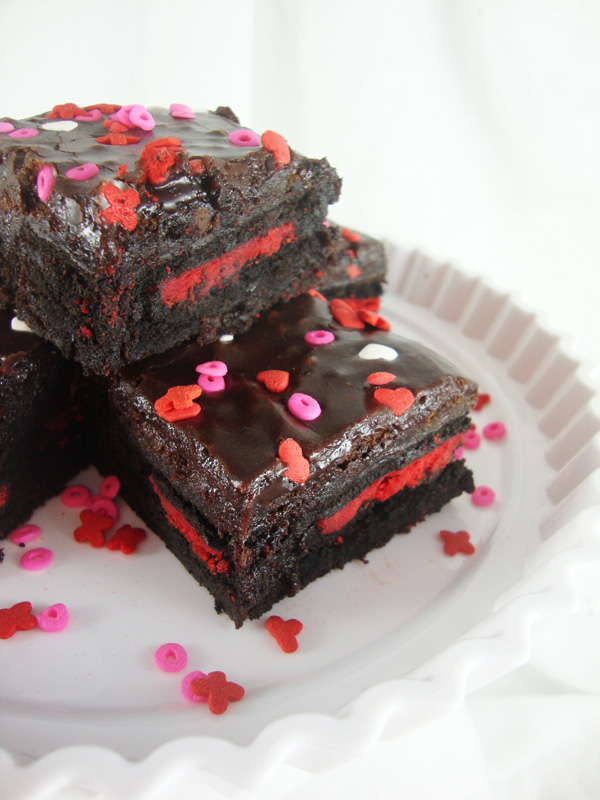 Next Valentine's Day, I think that I will use both the Christmas AND regular Oreos – I think that having both white and red inside the brownie would be super cute!  Come to think of it, I do believe there is a berry Oreo that has pink cream in the middle…hmmmm, that sounds like another experiment to plan for!

Tags: oreo brownies, Oreo stuffed brownies, sweet treats, Valentine's Day, Valentine's Day desserts