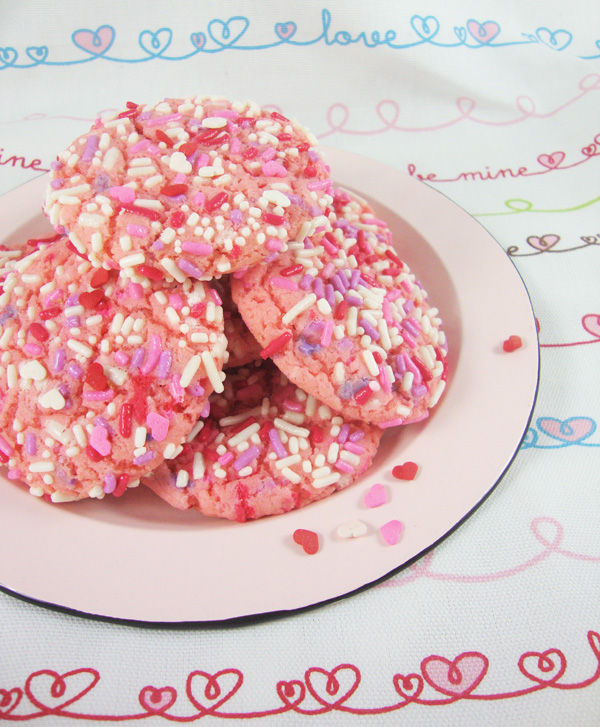 It's almost Valentine's Day and it's time to start planning treats for your sweets.  One kind isn't enough.  We've been working on a variety possibilities, all unique in their own special way, and I will admit, sampling them as well!  While I've done Sprinkle Cake Mix Cookies, I like to mix things up a bit for the holiday at hand.  So in honor of the red, white, lilac and pink – and because I have a stack of Pillsbury Pink Lemonade Cake Mix about  three feet tall –  I made Pink Lemonade Sprinkles Cake Mix Cookies.  They are so pretty in pink!   These would be super cute with a white cake mix, but then they wouldn't be pink lemonade!
Pink Lemonade Sprinkles Cake Mix Cookies
1 – 18.25 oz Pillsbury Pink Lemonade Cake Mix
1 teaspoon baking powder
1/2 teaspoon lemon extract or lemon baking emulsion
1/2 cup butter, room temperature
2 large eggs
A drop or two of bright pink gel food coloring (because it's all about color!)
3/4 cup of mixed Valentine sprinkles (Jimmies) for inside the cookies – if you have odds and ends, now would be a great time to mix them up
1/2 cup mixed Valentine sprinkles (Jimmies) for dipping the cookie dough balls in
Pre-heat the oven to 350°.  Put butter in a large bowl and cream with a hand mixer; add eggs and lemon extract and mix.  Add the cake mix and baking powder and beat until well mixed.  Stir in the Jimmies.  I use a cookie scoop for the dough to make more evenly sized cookies.  Roll into a ball, then dip the top in the sprinkles and place on a cookie sheet about 2 1/2 inches apart.  Bake for 11-13 minutes.  Don't over-bake or they won't be chewy.  If I'm not sure if they're quite done, I will leave them on the cookie sheet until they cool a bit.  Remove from the cookie sheet and let cool on a rack.  Store in an airtight container.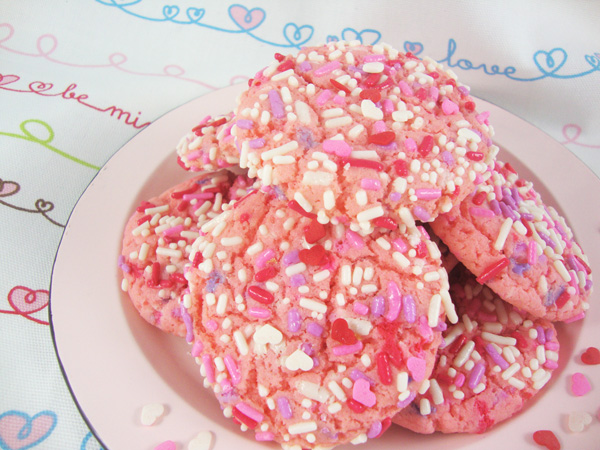 These are great to bag up and give a few to friends.  This is a necessity at our house because we can't eat all the treats we bake.  I mean, technically we could, but it would not be wise!

Tags: cake mix cookies, Candy sprinkles, Cookies, sprinkles