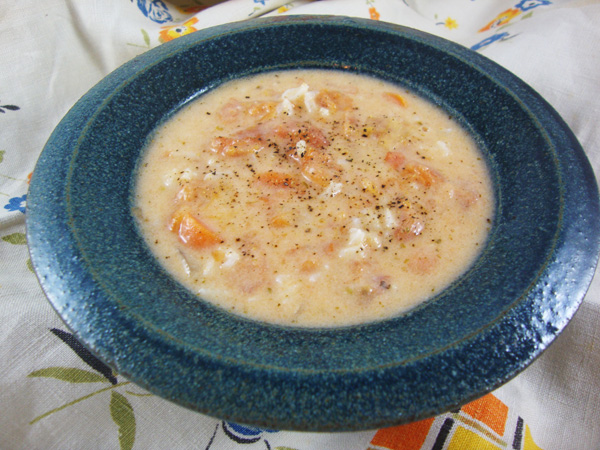 For years I have been a fan of  Campbell's Old-Fashioned Tomato Rice Soup, always prepared with milk because I like it creamy.  Then I realized that I could get the same taste by adding my own rice to regular tomato soup.  I frequently have left-over rice and always have canned tomato soup, but the bonus is that regular Campbell's Tomato soup is less expensive!  It's quick and easy for one or two servings, but when you need to the whole family, why not make soup from scratch?  It does take more of a time investment, but the taste is definitely worth it.  With that in mind, and because I got a really good deal on tomatoes at the 99 cents only store, I headed on my Creamy Tomato Rice Soup adventure.
Creamy Tomato Rice Soup
8 cups peeled, seeded and chopped tomato – it took about 5 lbs of Roma tomatoes
1 cup finely sliced carrot
1 cup finely chopped onion
1 – 15 oz can chicken broth
1 heaping Tablespoon sugar
2 1/2 teaspoons sea salt
1 Tablespoon dried oregano
1/2 teaspoon celery salt
1/2 teaspoon garlic powder
1/2 teaspoon ground pepper
5 tablespoons butter
5 tablespoons flour
1 cup half & half
2 cups milk
Cooked rice, about 1/2 to 2 cups
In case you're not familiar with how to peel tomatoes the easy way, here's a quick lesson:  Put a 3-quart pot of water to boil on the stove, about half full of water.  Wash tomatoes, removing any stems.  Put "X"  slits at the top and bottom of each tomato.  Have a large mixing bowl of ice and water by the stove.  Put 2 or 3 tomatoes at a time into the boiling water.  Leave for about 10 – 25 seconds, watching to see the skins start peeling back from the tomato. Don't leave it in too long or the fleshy part of the tomato will come off as well as the skin.  Remove from boiling water and immerse into the ice water.  This stops the cooking process.  Remove from ice water and cut into quarters; laying the tomato on the flat outside edge, use a knife to remove the inside seeded part. Dice into smaller pieces.
Now you're ready to start making the soup.  Combine tomatoes, carrots, onions and chicken broth in a large stockpot (about 8-quart).  Bring to a boil, then reduce heat to medium-low and cover; simmer for 30 minutes.  Next, add sugar and salt.
Melt the butter in a 2 quart saucepan over medium-low heat. Whisk in the flour, stirring constantly until thickened, about 2-3 minutes.  Slowly wisk in the milk and half & half and stir until smooth.  Cook and keep whisking until thickened, about 6 minutes.  Stir milk mixture into the stockpot.  Season with oregano, celery salt, garlic powder and pepper.  Continue to simmer the soup on low heat to reduce and thicken, about an hour.
Here's where cooking from scratch and "sort of" following a recipe can allow some flexibility.  I fully intended to puree that soup with one of those little hand-held blenders when I got done, before serving.  Since my kids don't like the rice part in their soup, that's why the quantity is left open for discussion.  When I got done simmering the soup, I kind of liked the chunky slices of carrot, tomato and onion in the soup.  It tasted really good without the rice, so I figured I could just add rice to my bowl and be happy.  As it turned out, everyone seemed to like the soup as it was, so no blender was required.  Here's the soup without the rice…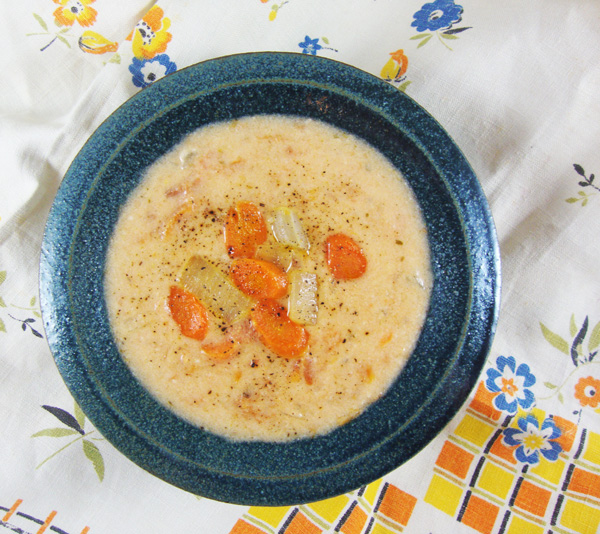 …and with the rice.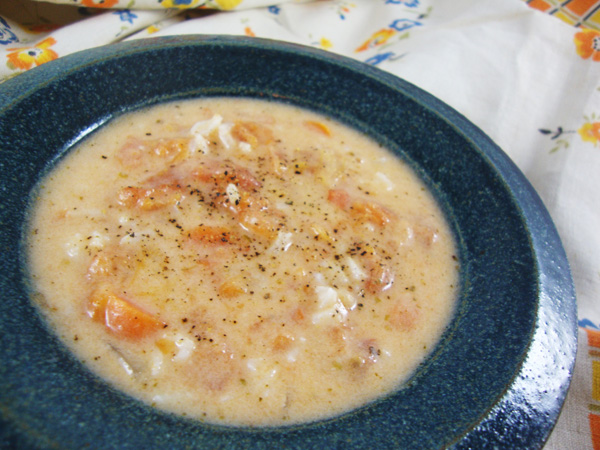 Delicious, with or without! 
Bowl, courtesy of Tom.