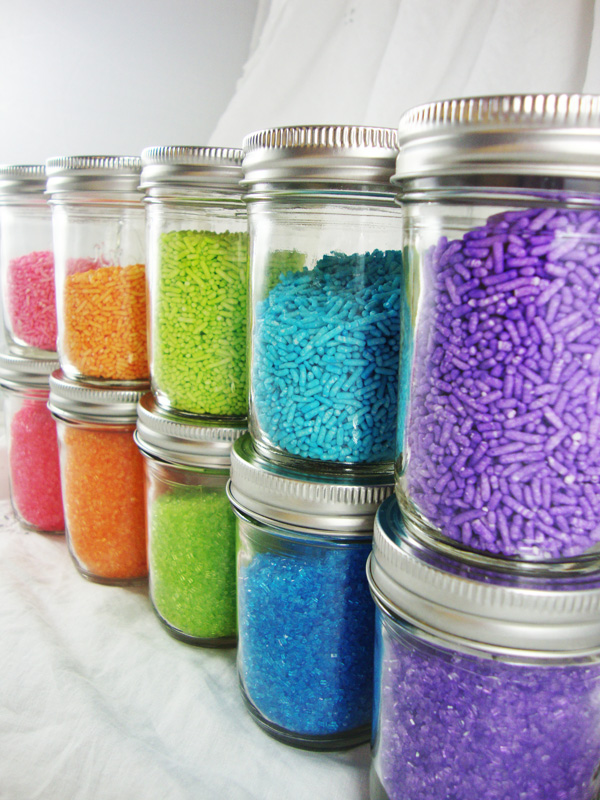 I think I have died and gone to sprinkle and sugar heaven!  Do you ever have moments when you want smack yourself in the head and say, "Why didn't I think of that?"  That's me, right now!  I have found the source, I have seen the light and I am forever changed! I have bought the basics and opened up a whole new world of possibility!  I have learned how to color plain, large crystal and sanding white sugar…and sprinkles!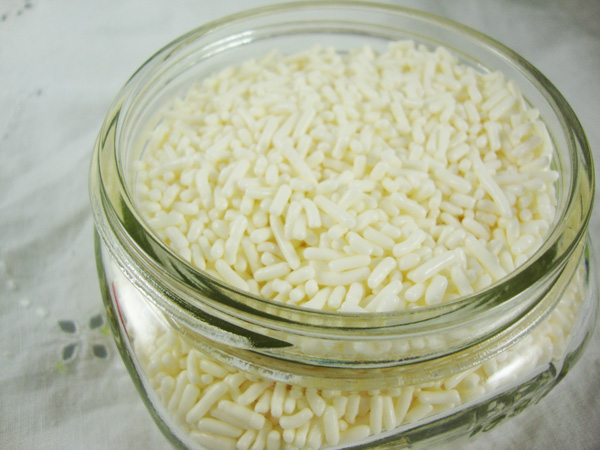 A few months ago I had a reader ask me if I colored my own sugar for my Jell-O cookies…my answer was "no".  If only that had sparked a deeper fire for investigating the process, I could have saved myself a small fortune!  I don't know why I didn't pursue this sooner. Maybe it was because I didn't know what to look for or the right questions to ask.  At one point, I found a bakery supply warehouse where I could buy sprinkles of all colors in bulk.  When I went there, and it was quite a drive, I found out that all the items I wanted had to be ordered in advance…nothing was in stock.  Discouraged, I put that the whole idea on the back shelf. Then I found myself needing specific colors of sprinkles again and I remembered seeing something on Pinterest (love my boards!) about coloring sprinkles and I looked it up!  Seemed easy enough!  Then I thought about coloring sugar and realized that there were different types of sugar: granulated, sanding and  large white crystals, to name a few…didn't used to know that, but now I do!  It seemed like a lot to buy at one time, but not when you consider how much stuff costs in the little containers.  I love my little cake shop, but in all honesty, I bake a heck of a lot and so I need large quantities.  I am thrilled with the idea that I can keep the white/crystal colorless basics and color them to my liking when I need them!  So if you already have the gel/paste food colorings, for about $25 you can have 22 lbs of raw material to make your own rainbow!  You can follow these easy steps to coloring chunky white sugar and candy sprinkles!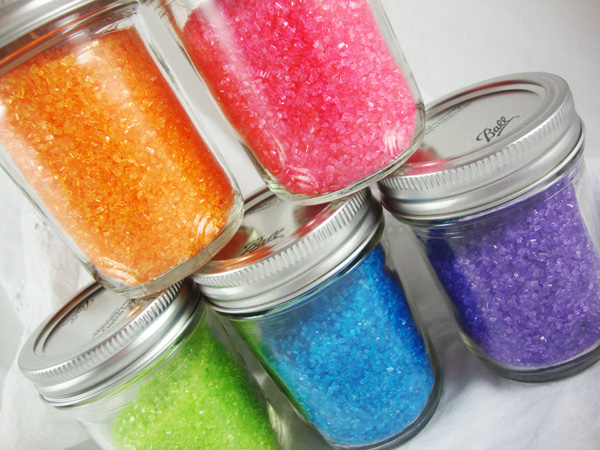 Aren't they beautiful?
So here's what I did.  I took quart-sized Ziplock Freezer Bags, put a heaping 1/2 cup of sugar in and added a drop of food coloring (I have only used Americolor, but I understand that Wilton Gel Paste works well, too.  Gently shake and mix with your hands until all the color is incorporated.  The sprinkles (aka jimmies) absorbed the color fairly quickly, as did the sugar, but once I mixed the sugar, they seemed to be a little wet, so I put it into a pie tin and let it dry out overnight.  When I got up in the morning, this is what it looked like…
I just took a fork and broke it up; then I put the sprinkles and sugars in a jar with a tight lid.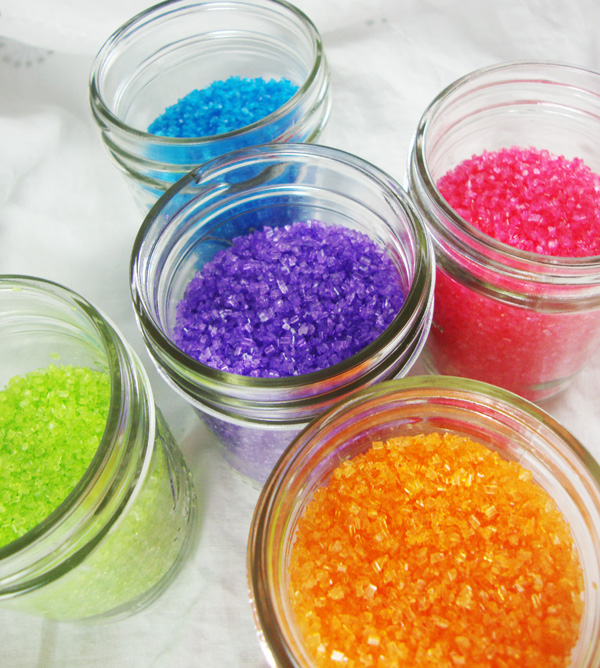 Here are the different sugars and sprinkles all in the same color…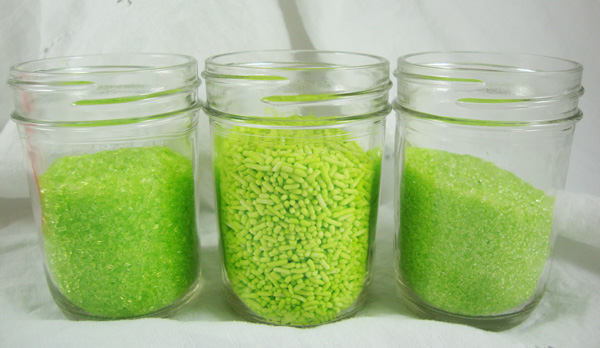 Sugar crystals on the left, sprinkles in the middle and sanding sugar on the right.  You can see the differences pretty good, right?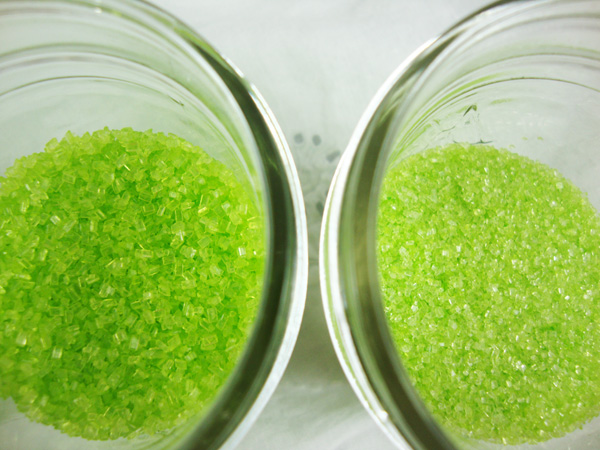 Crystals on left, sanding on the right.
This is soooooo much fun!
I have sprinkled sugar and sprinkles on a frozen cupcake, hoping that the moisture, as the cupcake thawed, would cause the colors to run, but it didn't.  That's good news.  Next experiment?  To bake them into a batch of Sprinkle Cake Mix Cookies…I'll keep you posted.  One more photo before I rush off to work…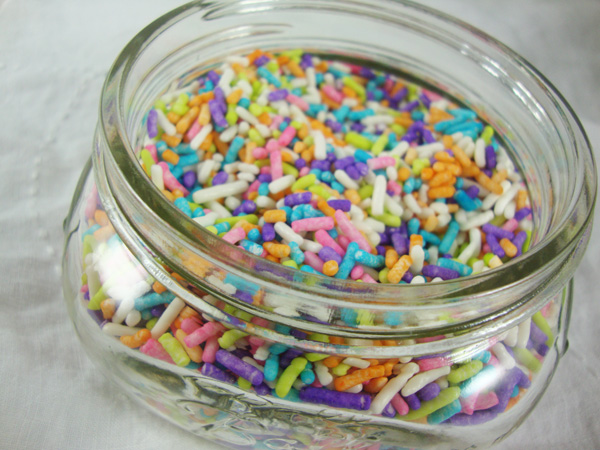 …my own Spring Sprinkles Mix!