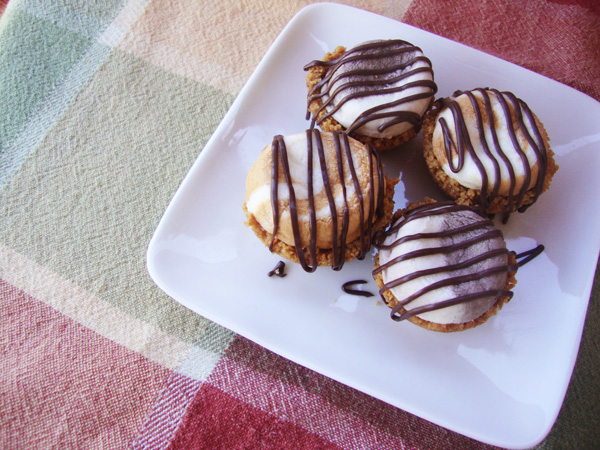 I recently did a post about S'More Bites – small, two-bite treats that are really delicious.  But anytime I make something really good, I can't seem to leave it alone.  I tell myself, "Come on…you can do better!"  While I try not to brag, I can't let this one escape sharing simply because it is somewhat similar to the previous post.   According to my friend Kent W., these are ridiculous!   And here's the secret ingredient… ingredients!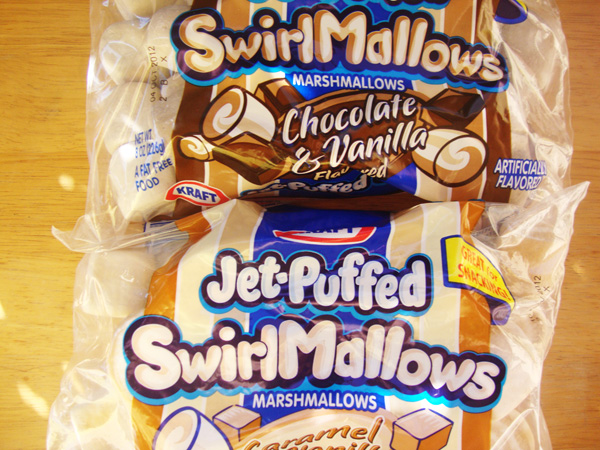 Megan found these Chocolate & Vanilla and Caramel & Vanilla Marshmallows at the Everything99cents store.  She didn't buy a bunch because she wanted to try them first.  I thought it would make an interesting deviation on the original S'More Bites. 
Start with the basic recipe for the graham cracker crust on the S'more Bites page.  Make the crust and press it into the mini muffin pan.  You can turn on your oven now to 350°; set the crusts aside.
Prepare the fillings.  Cut the marshmallows in half height-wise.  Unwrap the caramels and cut them in half height-wise.  Kitchen shears work really well to do these steps.  For the candy bars (I used Hershey's Milk Chocolate is 1.55 oz bars – have 2 or 3 on hand), break into the divided sections and then in half again.  If you are using other chocolate, break into smaller chunks and set aside.  You will want to do this BEFORE you bake the s'more cups, otherwise you won't be ready when they come out of the oven.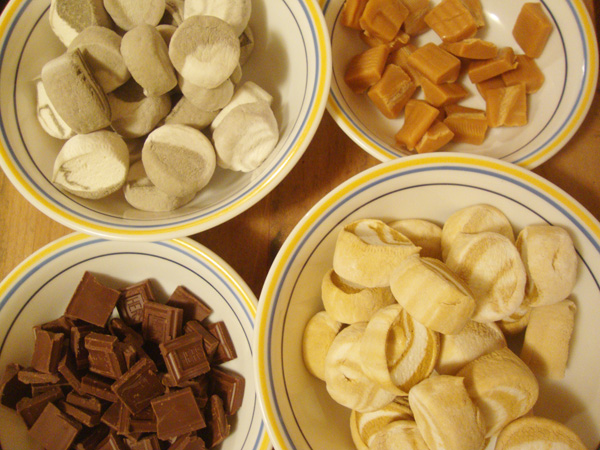 After the cups are done baking (about 5 minutes) take them out of the oven.  Immediately put either a piece of caramel into the baked cup and a caramel marshmallow on top OR 2 pieces of chocolate and then a chocolate swirl marshmallow.  Put the pan back in the oven for 2 minutes.  Remove them from the oven and place on a cooling rack; let them cool for 10 minutes before removing them from the pan.  You can use a toothpick or skewer along the edge to lift the edge.  Remove to the cooling rack; I put paper towels across the rack first – they do have butter in them and the paper towel will absorb a little off the bottom.  After they are completely cooled, swizzle some melted chocolate (I used Guittard Dark Chocolate A'Peels) across the top. 
This is what the caramel one looks like –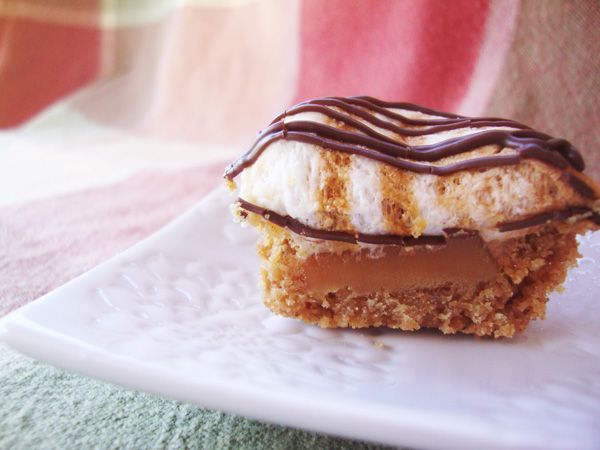 Here's what the chocolate one looks like!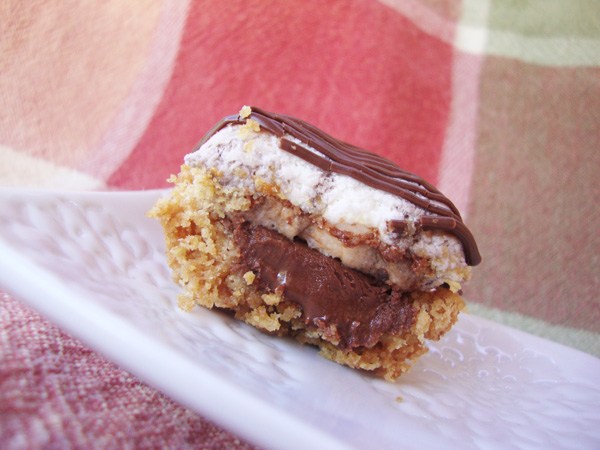 Don't these look yummy!  I even made some with the caramel and a piece of chocolate and they were fabulous!  In the ones that I made for the beach party, I used Hershey's Special Dark bars. Yum!  If you want to make a pan that is half of one and half of the other, this is a super easy process.  Make both flavors at once!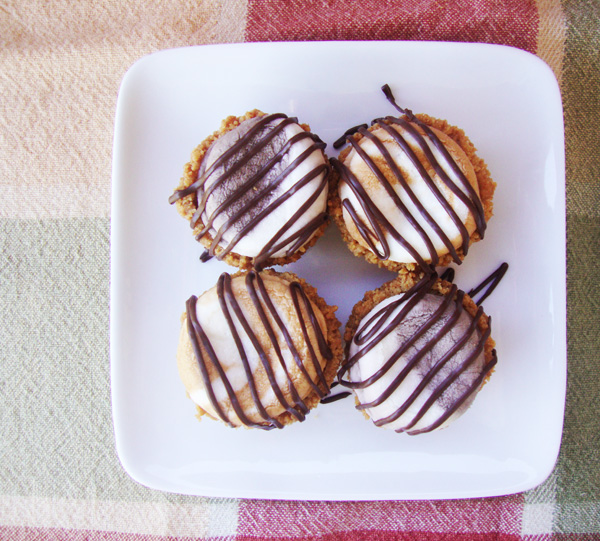 I thought that for fun, and please excuse my imperfect swizzling, I would plate it…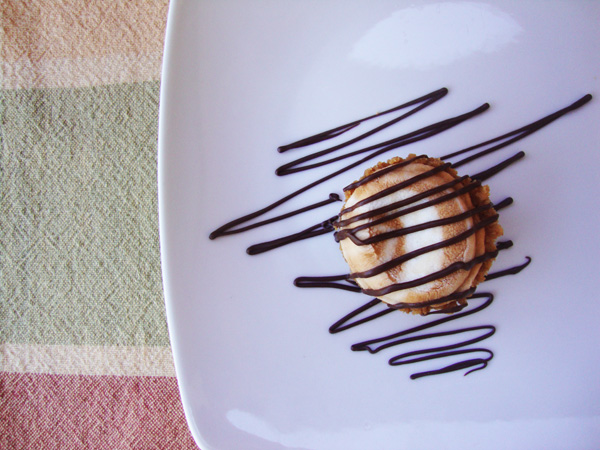 …like it was a fancy dessert.  I know it looks pretty, but these are all about taste and if you only get one, it is likely that will leave you wanting more!
 These are ridiculously tasty, but one of the best things is that they are not hard to make.  It takes longer to let them cool than to do all the other steps!  Keep your eye out for those marshmallows – I'm sure that they are seasonal and will be gone before long.  I went back to the 99cent store and bought a few bags.  When I was in Target last week, I saw cinnamon marshmallows that I restrained from buying.  I think they would be delicious with cinnamon graham crackers, but not sure what other ingredient I should use…any thoughts?  Let me know!

Tags: desserts, S'More Bites, sweet treats