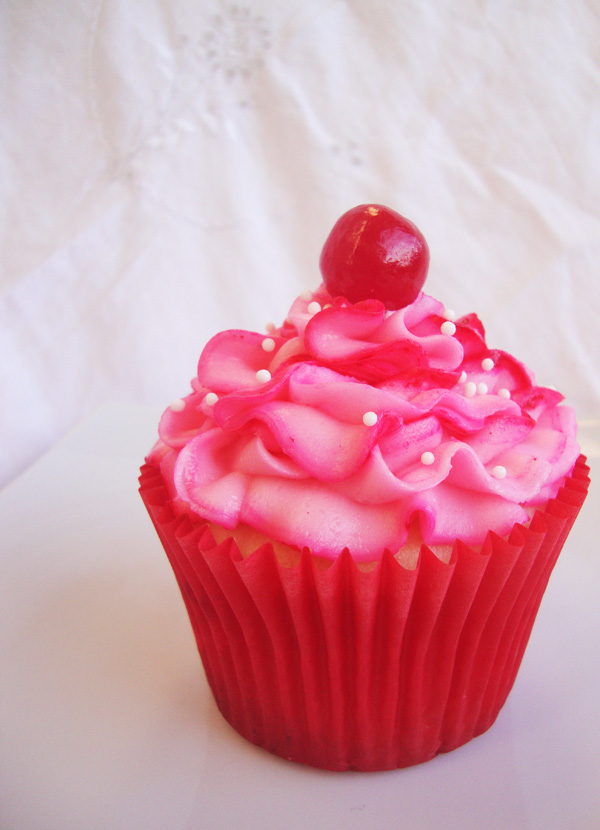 When life (or friends) give you lemons, make lemonade…cupcakes!  I have been in a cake-mix-altering mood for a few months now.  When I was taking in entries for a contest at the fair (Home and Hobby Department) last week, I overheard a Pampered Chef demonstrator talking about adding lemon zest to a plain white cake mix to make one of their dessert recipes.  That sounded soooooo good!  I had some lemons and I had just bought a pile of white cake mixes (I need to have some on hand for those Sprinkles Cookies!)   What came from this little experiment was de-lucious…Pink Lemonade Cupcakes!
Pink Lemonade Cupcakes
1 – 15.25oz white cake mix
1/2 cup unsalted butter, softened
2/3 cup fresh squeezed lemon juice
1/3 water
2 eggs
2 Tablespoons lemon zest
Technically speaking, follow the recipe on the box, substituting butter for the oil, equal amounts.  I used the juice from 2 large lemons, which came out to be a little more than 2/3 cup of juice, so I added water to the measuring cup to bring it to the 1 full cup of liquid that the box called for.
Put the softened butter in a bowl and beat until creamy.  Add two eggs, lemon zest, lemon juice and water and mix well.  Next, add the cake mix and beat together for about 2 minutes.  Use a scooper to scoop batter into cupcake liners.  Bake according to the directions on the box for cupcakes.  The smaller cake mix will only give you 16 – 18 cupcakes, depending on how big your cupcake liners are and how full you fill them.  These cupcakes didn't get the pink food coloring, but because the frosting did, that's what I called them.
Pink Lemonade Frosting
8oz cream cheese, softened
1/4 cup unsalted butter, softened
2 – 3 Tablespoons fresh-squeezed lemon juice
1 teaspoon lemon zest
7 plus cups of powdered sugar
Pink food coloring – soft gel paste is my favorite
Beat the cream cheese and butter together.  I like to use my stand mixer because I can keep adding the powdered sugar and use both hands at the same time.  Add about 4 cups of the powdered sugar and beat on a slower speed.  Add 3 or 4 drops of the gel paste and the lemon juice and keep beating, adding more powdered sugar, 1 cup at a time until you get to the consistency that you like.  I use disposable pastry bags, placing the tip right into the bottom of the bag. Before filling your pastry bag, drip some of the gel paste down the side of the bag.  I did it in 4 stripes, using a chopstick to drag it down to the tip.  Fill the bag and squeeze it all the way down into the tip. Pipe onto the cupcakes.  Add sprinkles, if desired.  I didn't have any maraschino cherries for the top, but I did have some chewy cherry sour candies, so I used them.
I found a cream cheese recipe online somewhere, but it said it used 5 to 7 cups of powdered sugar – I swear I just kept adding, and adding, and adding…I think I got to 9 cups of powdered sugar!  I'm sure that it was because of all that lemon juice, but it is delicious and I don't mind having some leftover frosting in the frig for the next batch of lemonade cupcakes that I bake.  I don't usually buy the 25 lb. bags of powdered sugar until Christmas time, but I am now almost out, so I think I will!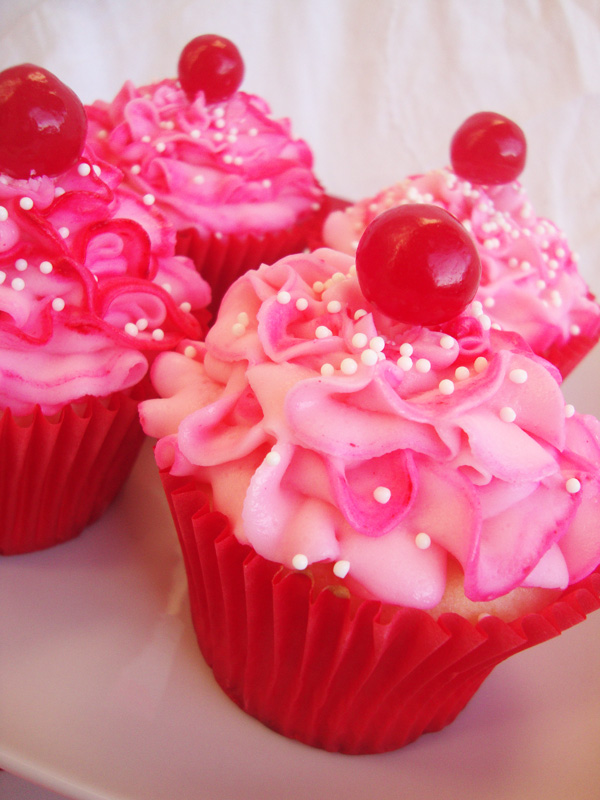 I didn't think about adding pink to the cake batter, so technically I believe these are Lemonade Cupcakes with Pink Lemonade Frosting!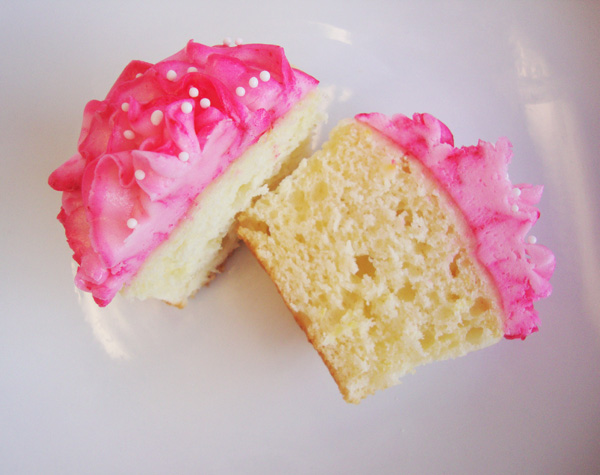 Now…this wasn't the recipe for frosting that I started out with.  I had seen Jell-O Frosting here.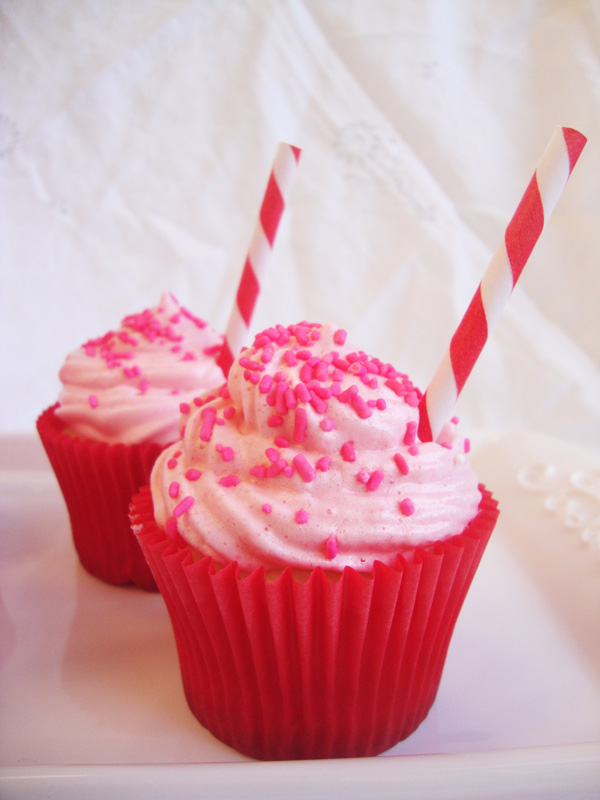 I had been wanting to try it, so I used one of the new Cherry Lemonade boxes that I bought – Lemon Cupcakes with Cherry Lemonade Frosting…sounds good, right?  Well, I tried to make it, but I didn't do something right.  I even used my stand mixer, but as you can see, I didn't get the same look as the originals.  I'm not sure where I went wrong, but it never reached that peak stage.  I just kept whipping it, and maybe that's where I went wrong.  They look cute enough, but not like the picture.  I will try this again, but I didn't want to frost all the cupcakes with this very airy bit of fluff up on top.  This was a very light frosting and I like a more sugary, substantial frosting.  But they did look cute!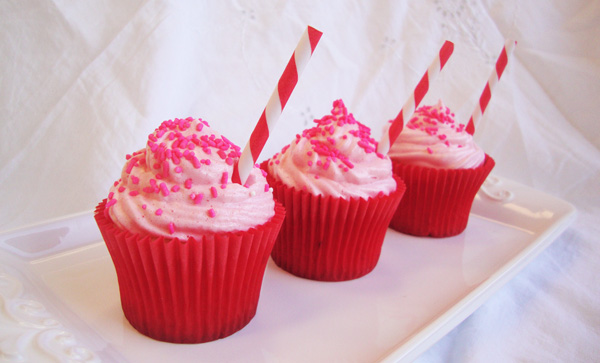 Been wanting to use straws for a while…super cute!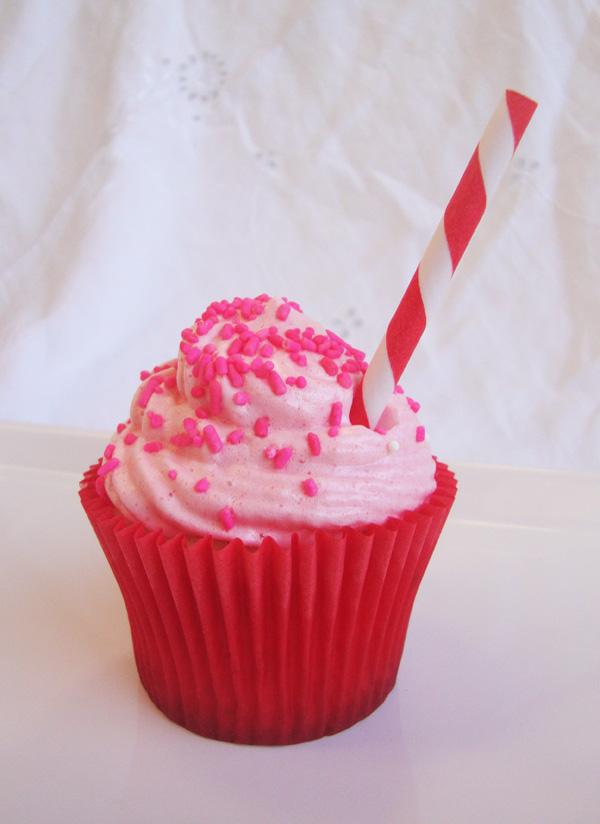 This lemonade cake and frosting are tangy and the best lemon-flavored cake I've ever tasted, if I do say so myself.  Love it!  Perfect for summertime celebrations!

Tags: altering cake mixes, cake mix recipes, jello frosting, lemon cake, Lemonade cupcakes, pink lemonade cake, Pink Lemonade cupcakes