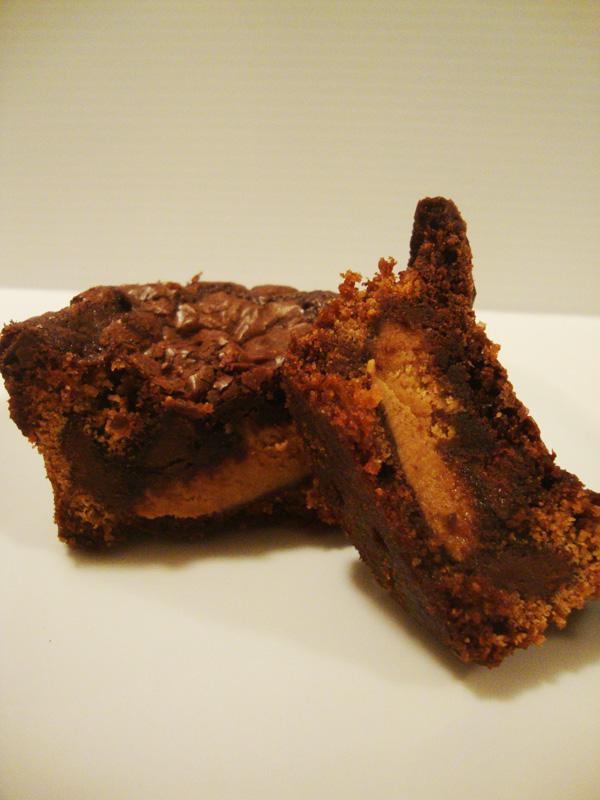 Is it a cookie?  A brownie?  A candy bar?  Well, sort of, if you consider a Reese's Peanut Butter Cup a candy bar.  For the sake of naming the treat, I'm going to consider it such…a Cookie Brownie Candy Bar!
I would definitely call this a fully loaded piece of pure delight!   Three treats in one.  I tried, but I couldn't figure out something cute to call it, so Cookie Brownie Candy Bar will just have to do!   It follows along with one of those new-fangled "hidden" treats inside a treat, and I am especially fond of anything with brownies involved!  Recently, I've made the Oreo Stuffed Cupcakes and the Oreo Stuffed Brownie  – those are both delicious!   But that's one of the hazards of blogging…on to something different.
When wandering around the web, I saw where someone had pressed chocolate chip cookie dough in the bottom of a brownie tin, placed a Reese's Peanut Butter Cup, top side down, onto the dough and then added brownie batter over the top.  I meant to pin the idea, but I got distracted and then I couldn't find it.  Don't you hate it when you do that?  I remembered that it used 1 1/2 pre-cut cookie squares, but I wasn't sure about the temperature and how long to bake them…blah!  Time for testing!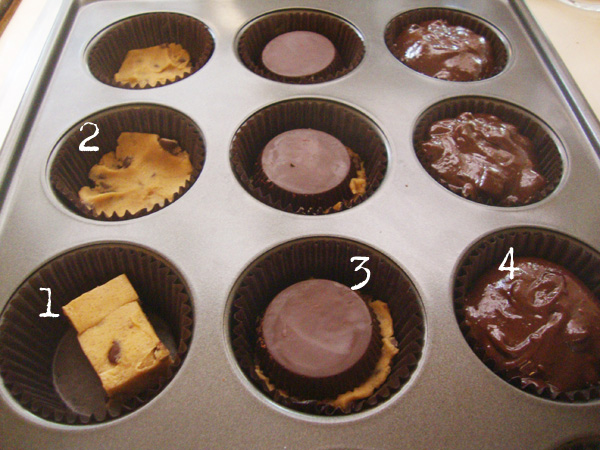 So here's the skinny on the not so skinny, but easy to make treat.
1. Place 1 1/2 squares of pre-cut, Nestle's Peanut Butter Chocolate Chip Cookie Dough (24 count) in the bottom of a 12-count muffin tin.  It is shown here with paper liners, but I think that the next time, I might just spray the tin and pop them out.
2. Press the cookie dough into the bottom of the pan.
3. Put an unwrapped Reese's Peanut Butter Cup, top-side down, on to the cookie dough.
4.  Make a family-size batch of boxed brownie mix – this time I used a Betty Crocker, but you can use what you have.  Spoon a heaping teaspoon of the prepared batter over the top of the Reese's Peanut Butter Cup, making sure to let it fill down along the sides of the peanut butter cup to the cookie dough base.  This will fill your cup about 3/4 full.
Here's the tricky part…how long to bake them!   I thought that I had read to bake for 18 minutes at 350°, but when I did, they were super doughy when I stuck a toothpick in along the sides.  I avoided testing in the middle.  I thought that wouldn't be a good indicator because of the Reese's being in the middle of the treat.  Anyway, 18 minutes wasn't long enough.  I kept testing and I took them out at about 35 minutes (I know, almost double!) which, for the depth of the treat, seemed about right…I overbaked them a little, but they were still delicious!
Just for the record, at the same time I was making the big treats, I had enough of the cookie dough and brownie mix to make some small Cookie Brownie Candy Bar Bites.  As luck would have it, I also had some mini Reese's Peanut Butter Cups!  Lucky me!  So I used my silicone mini cupcake pan, cut the remaining 6 cookies in half, placed the pieces in the cups, pressed them into the bottom, then the mini Reese's, topped with the brownie batter and after 18 minutes I had 3-bite (unless you're one of my boys) Cookie Brownie Candy Bar Bites!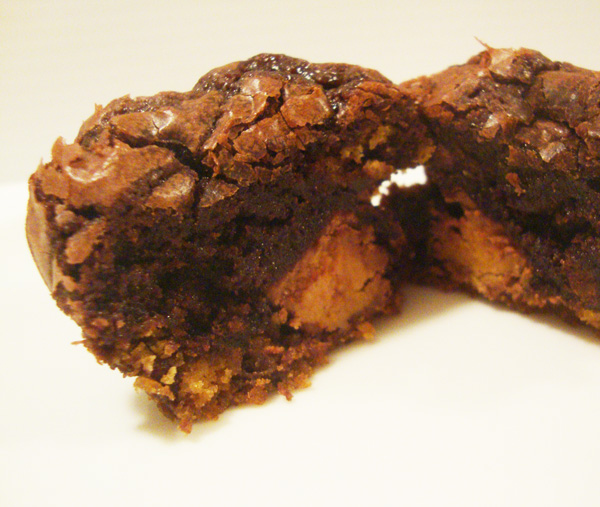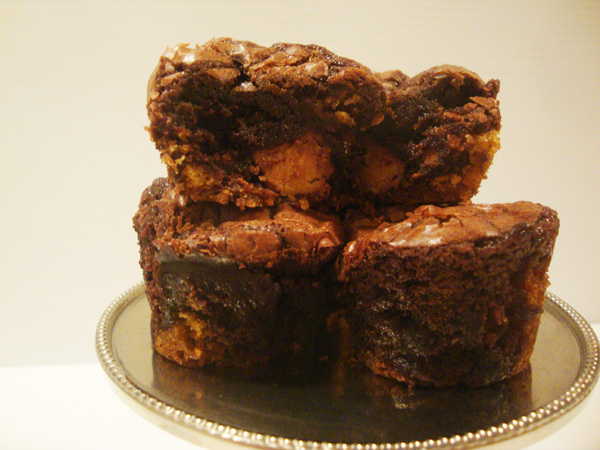 I think that I like the bites best.  It would be the perfect small treat for a dessert bar!
Anyway, another yummy treat with a "hidden" surprise inside!  Enjoy!

Tags: brownie treats, brownies, Cookie Brownie Candy Bar, mini dessert, peanut butter brownies, peanut butter chocolate chip cookies, peanut butter cups