Last Sunday, after a long, physically tiring day of community service on Saturday, we opted to have a really easy dinner after church, paper plate included!  Cheeseburgers were on the menu, but I wanted to do a side-dish and potato salad was a little much since I'm the only one around the house right now that even likes it.  Something that I used to make for summer barbecues was something more or less without a name…you know, the kind of thing you throw together and call it "those baked beans with hamburger, onions, green peppers and cheese".  Remembering the dish put me right in the mood for it, and I wouldn't have to eat it all by myself.  I know it's not quite time for summer barbecues, but I'll get a jump on the idea.  This is also a great stand-alone meal, almost like a chili or stew, but a little on the sweeter side like beans'n'wienies…another family dish.  I even gave it a name!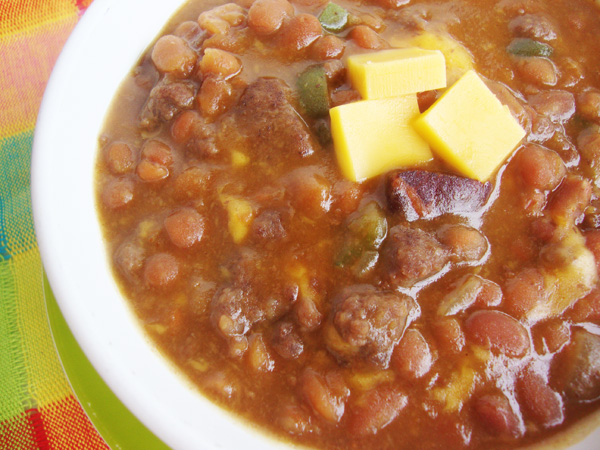 Cheeseburger Baked Beans
(No baking required!)
1 pound lean ground beef
1 medium onion, chopped
1 green pepper, chopped
2 -28oz. cans of Bush's Original Baked Beans
10-12 slices American sliced cheese, chopped into about 1/2″ cubes
2/3 cup brown sugar, packed
Put the ground beef, onions and green pepper in a 3 quart pan and brown; season with salt, pepper and/or Lawry's Seasoned Salt.  Drain any fat off…if you use good lean beef, there isn't much to drain.  Add the brown sugar to the beef and stir.  Next, add the baked beans.  Heat thoroughly; add the chunks of cheese.  You can bake these if you want to, but I don't unless I need to keep them warm until serving.
You can adjust the amount of sugar to suit your tastes.  Bush's Original Baked Beans already have brown sugar in them, but we like ours a little sweeter.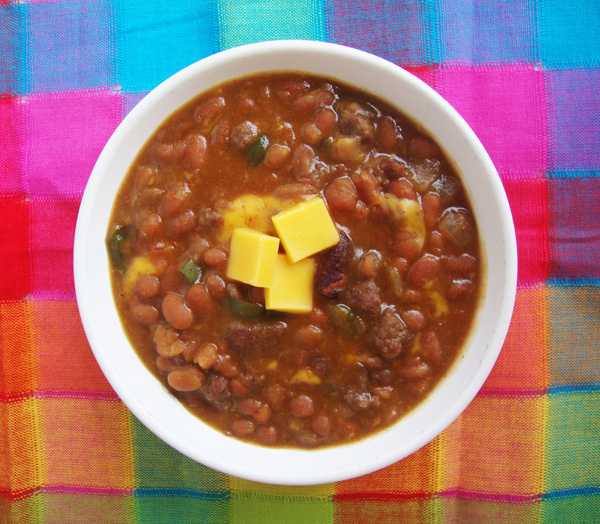 If you don't like the little chunk of fat, make sure to fish that out.  Bush's beans usually have acceptable chunks.  When I was growing up, we used to, but it seems like it was a little more fat than pork.  Funny thing…one time my friend and I were talking about that little chunk and she said that in her family, everyone used to fight over it!

Tags: baked bean sidedishes, baked beans, barbeque sidedishes, summer bean side dishes