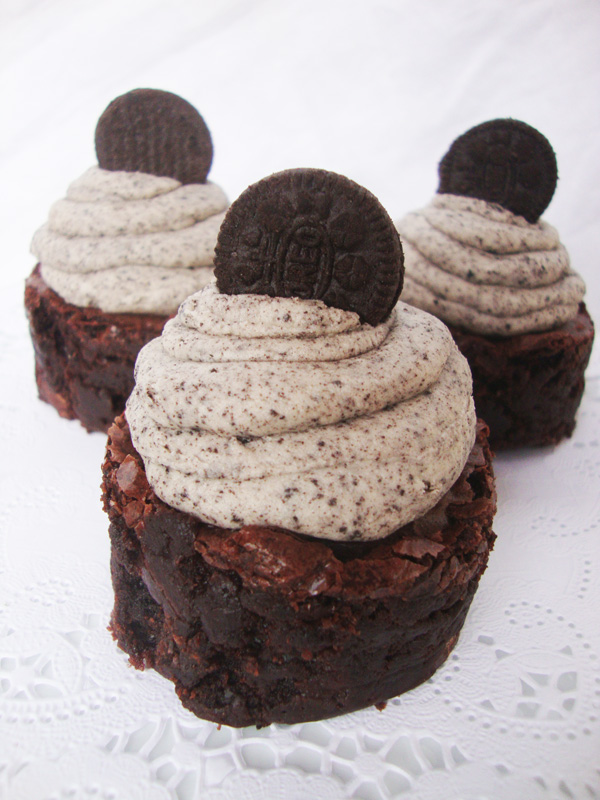 Yet another Pinterest inspired recipe…I am determined to try things out right away and expand my recipe collection, or toss the idea away.  Some people can snap a picture of something that looks really yummy, but the final  taste doesn't meet my expectations.  A couple of weeks ago, I found a delicious looking cupcake using Mint Oreos: Oreos in the middle, in the frosting and on top.  I didn't have the Mint Oreos, but I used regular Oreos and made them for our family Easter party, and they were delicious.  I had a little trouble with the frosting…all those crunched cookies had trouble going through the tip, and the pastry bag was already full, I needed to get out the door and on the road, blah, blah, blah…so they weren't as pretty as I wanted them to be…you can see them here.  Anyway, I was going to make the cupcakes again for the boy's party tonight, but then I decided to try something a little different – Oreo Stuffed Brownies – and they turned out delicious!
I didn't take a lot of pictures, but here's what I did and it was really easy.  For these brownies, I used two packages from a big box of Ghirardelli Brownie mix that I got from Costco, and prepared the mix according to the directions on the box.  Spray the bottom of the pan with non-stick spray, and put a little less than half the batter in the bottom of the pan.  I only had about a dozen Oreos left over from the last experiment, so I spaced them apart from each other on top of the batter, then poured the remaining batter over the top of the Oreos.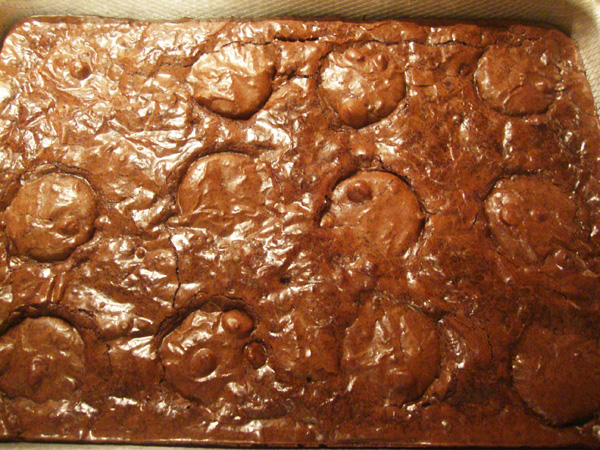 Put them in the oven (according to the directions on the box) and bake.  When I took them out, you could still see right where the cookies were. Let them cool.  I wanted to make sure that each brownie had an Oreo in it, so I used a biscuit cutter to cut them out.  I had leftover frosting from making the Oreo cupcakes, because even though I think the cupcakes I got the inspiration from are BEAUTIFUL, I just had to cut back on frosting that is as tall as the cupcake!  Here's the recipe that I used:
Oreo Frosting
2 sticks (1 cup) unsalted butter, room temperature
1 cup vegetable shortening
6 cups confectioner's (powdered) sugar…I sift mine to make sure there are no lumps
12 Oreos, finely crushed – they really should be crumbs…if the chunks are too big, they won't fit through the tip
3 Tablespoons milk
Mix the butter and shortening in a stand mixer until creamy.  Add powdered sugar gradually, scraping down the sides of the bowl as you go.  I bought a special Beater Blade by Metro  for my Kitchenaid that I love…I don't have to do so much work!  Add 1 Tablespoon of milk at a time until you reach the desired consistency.  Add the crushed Oreos and mix well.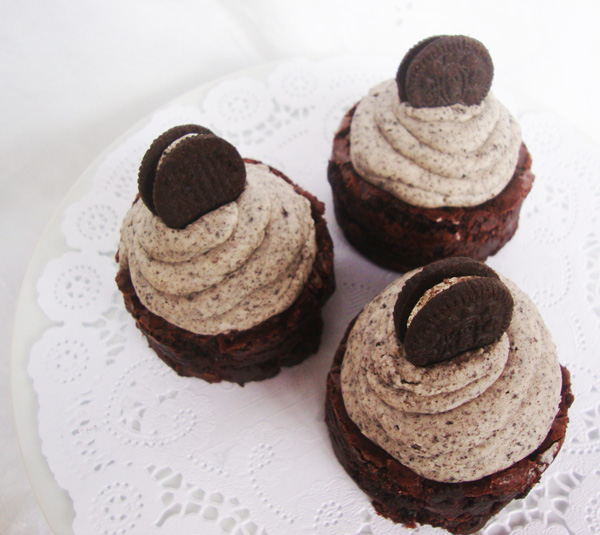 I still didn't have the correct tip, but I went right ahead and…VOILA!  Deliciousness!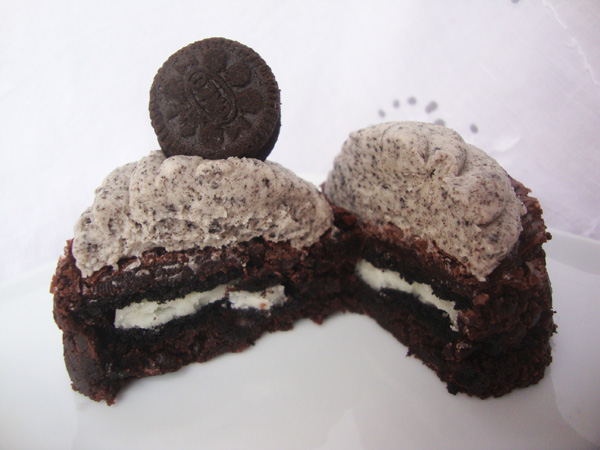 It is almost like eating fudge…with Oreos inside, of course…and on top, as well.  I can just imagine eating one with a scoop of Cookies and Cream ice cream on the side!
What can I say?  Yum!!!  I think I will be hard pressed to NOT stuff everything I make anymore!  I do think, however, that my next post will have to be a recipe with a few less calories involved!

Tags: brownies, ghirardelli brownie mix, oreo brownies, oreo frosting, rich brownies, sweet treats