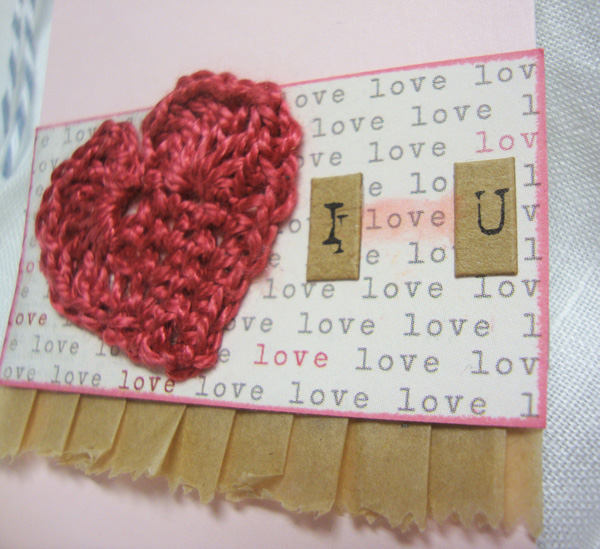 Out with the old, in with the new!  I must admit it…I'm ready to leave the tinsel and pine behind and to move on to hearts and roses!  Do I sound a bit  fickle?  Not at all – I am simply anxious to get ready for Valentine's Day, and if you have a lot of people that you love, there's no time like the present to get started.  I am on the move to making things cute, sweet, red and pink…all things "lover-ly"!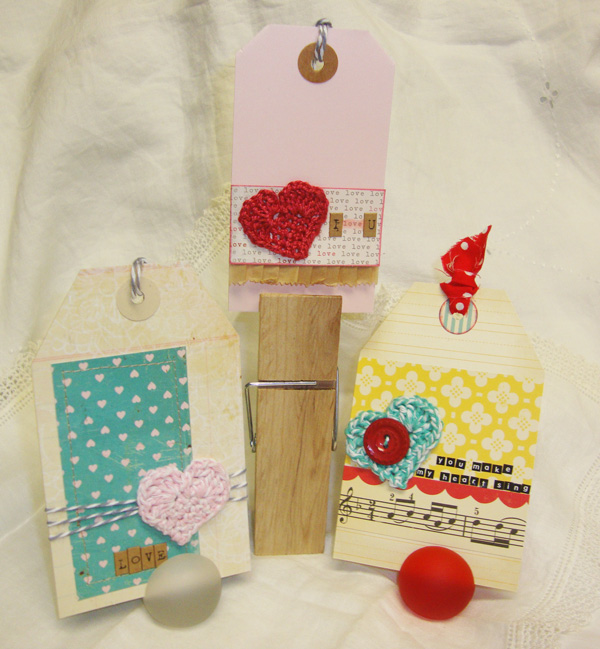 I remember seeing, some time ago, a cute little circle garland that had been crocheted out of baker's twine; I tucked the idea away, somewhere in the recesses of my mind…it randomly popped up again last week.  I made my way to the hooks and knitting needles aisle of Joann's and picked up a small 2.75mm hook that I thought would work with the thin twine.  Mind you, I haven't crocheted anything for about 30 years; but, ah…the wonderful Internet!  It took me less than a minute to find a YouTube video of how to crochet a heart…thank you, Teresa, for the super easy instructions.  (Since I am a total novice, I suggest you go check out Teresa's video!)
My first hearts were made with the Blossom and Pink Sorbet colored twine from The Twinery, along with some thinner twine I got from Crate and Barrel last Christmas.  It only requires 2 or so yards of baker's twine.  There are different ply sizes, but both twines works fine with the 2.75 hook.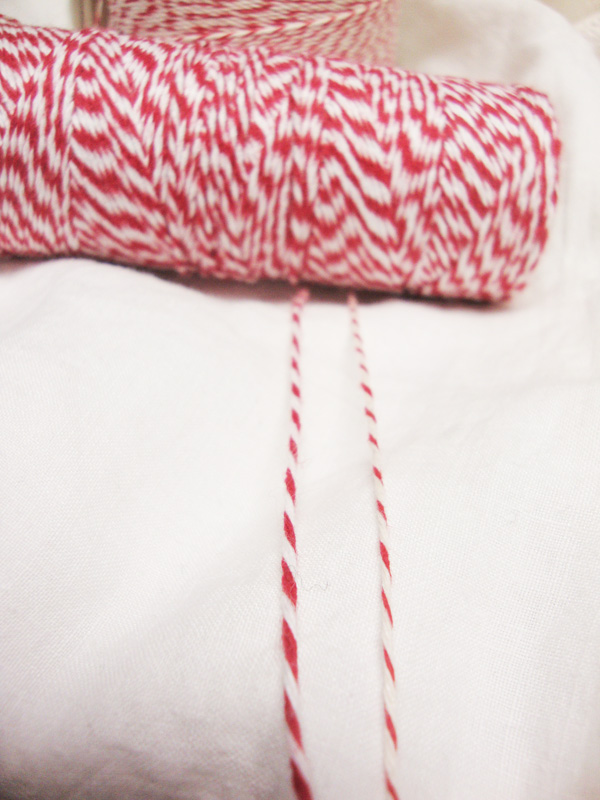 Can you tell the difference?  The Twinery on the left; Crate and Barrel on the right.  My little pile of hearts is beginning to grow!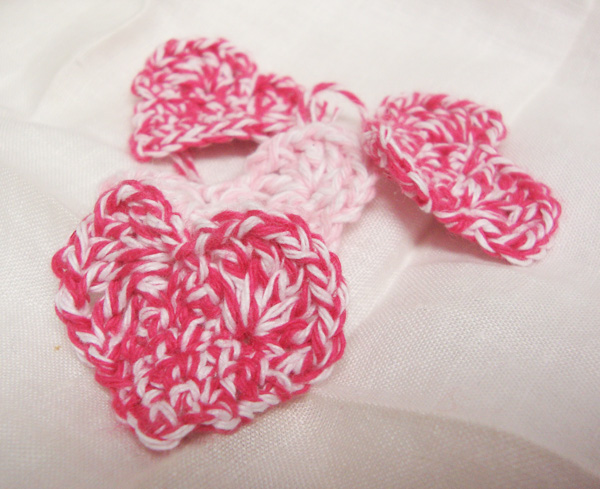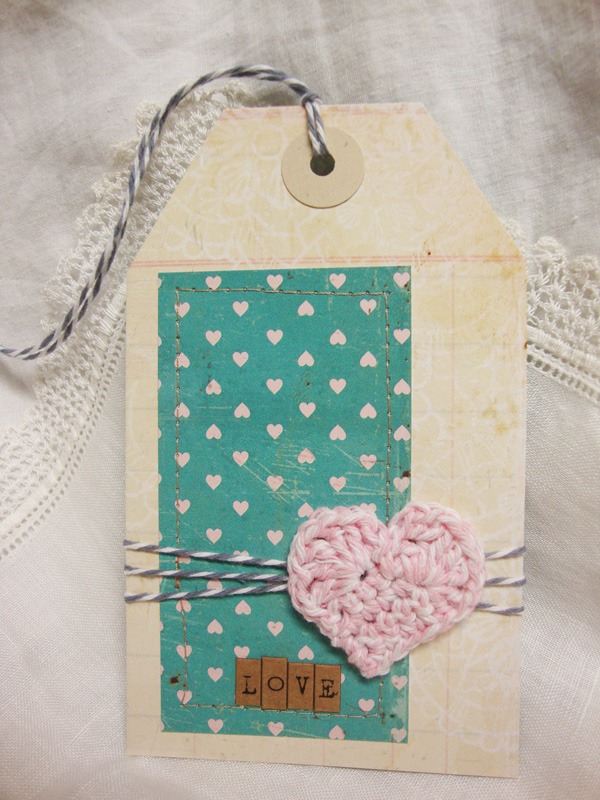 The paper is from Crate Paper, the alphabet letters from Jillibean Soup.
After I made a few hearts, I got out some DMC Perle Coton.  It was a little slippery to work with, so it was a little harder to keep the shape of the heart, but I really like the finished look.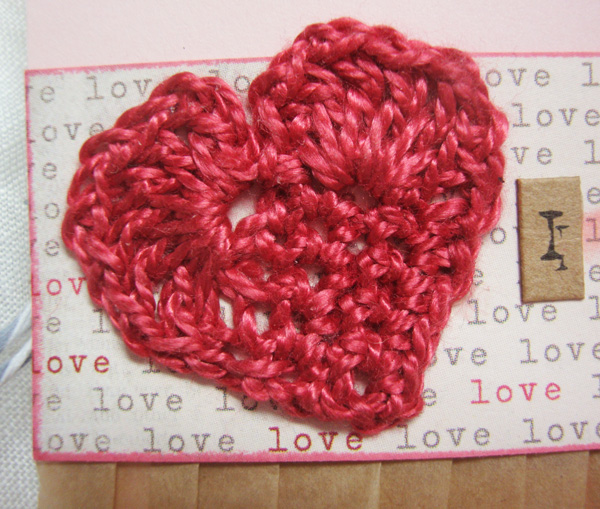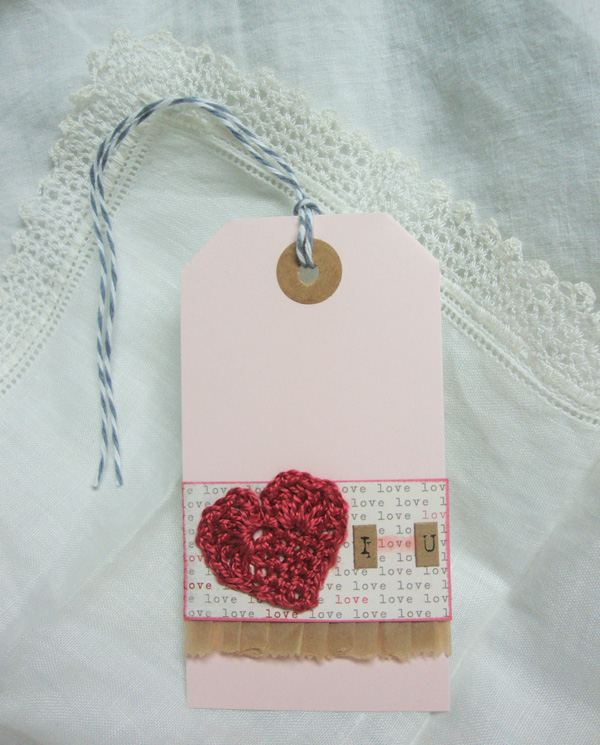 The paper is from the My Mind's Eye "Love Me" 6″ X 6″ mini pad…I know!  I haven't done a mini Monday for ages, but I still love them, especially for my cards and tags.  The kraft-colored paper is EcoCraft deli paper…a box of 500 was $4.61 at Costco Business – I'm sure that I'll find something to do with the rest of the box, maybe even food related.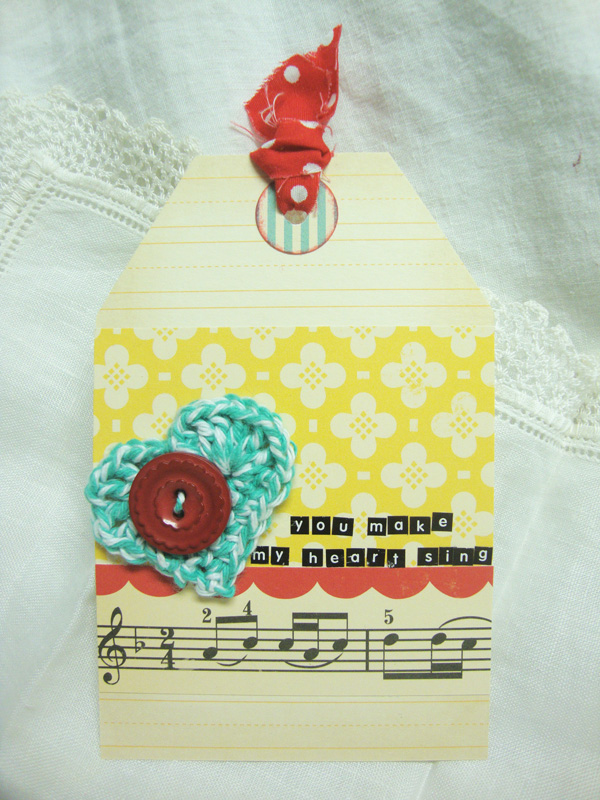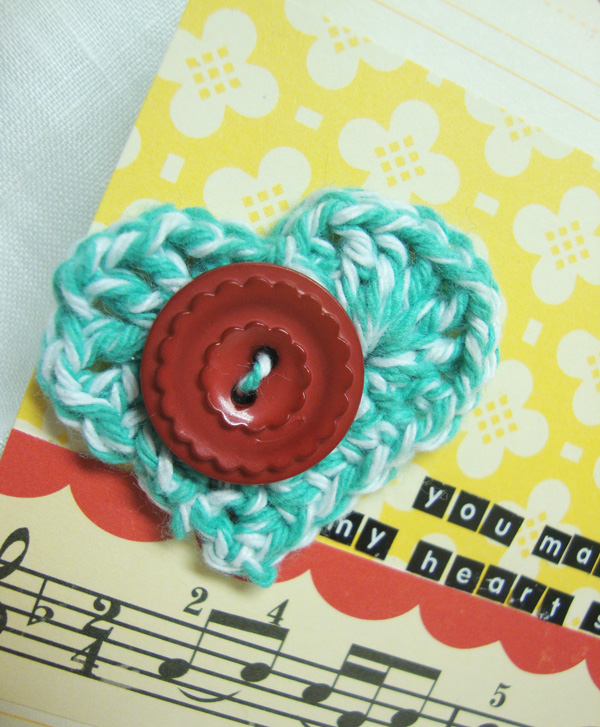 Patterned papers are from October Afternoon; button and Memo Notebook Paper by Jenni Bowlin.
It takes a few minutes to make one of these hearts.  It takes a little practice to keep the stitches even, which balances the sides.  I like to practice a few times and toss my early attempts on something like this, but I only had to toss a couple; now that I've got the pattern down, I'll be able to do these while watching TV.  I need to be careful or I'll have a big old jar full of them before I stop…actually, I think that might be a good thing!

Tags: bakers twine, Crate Paper, crocheted embellishments, crocheted hearts, Jenni Bowlin Memo Notebood paper, My Mind's Eye Love Me line, The Twinery, Valentine cards, Valentine tags