A few weeks ago, Megan and I saw the cutest Halloween album EVER at Cool Scrapbook Stuff in Poway.  We hemmed and hawed about it, but couldn't commit.  But when the day came and Jennifer still had a couple of openings in the class, we decided last minute to join in.  It was a very busy, intense class…there were 27 pages PLUS the cover to work on and the class was only 3 hours long.  I am a veteran scrapper and can stay pretty focused when working, but neither Megan or I got ours done.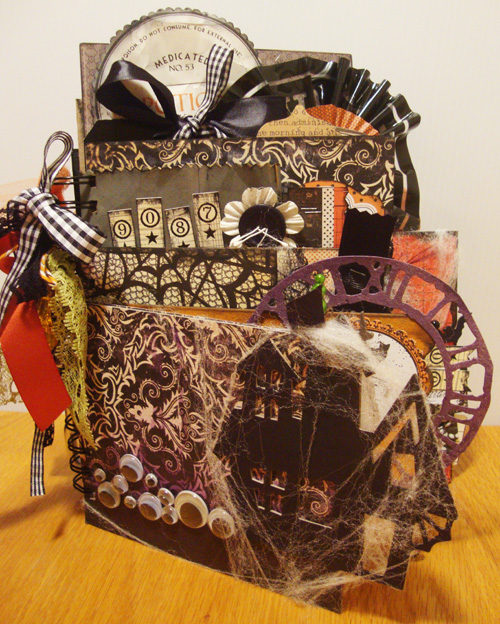 Fast forward a couple weeks…I finally finished it, minus the photos.  I think I may do it of this years snapshots, but if I can find enough, I may just do vintage-style with photos of my children years ago.  The papers were from Authentique, the Caution tape from Martha Stewart, Smooch Spritz from Clearsnap, touches of Jenni Bowlin and many pieces from places unknown.
Here are a few of my favorite pages:
Anyway, this was such a fun project.  Go to Jennifer Priest's website, Hydrangea Hippo and check out some of her other projects.  She is very creative and a super fun teacher – if you get the chance to take a class from her, jump on it!

Tags: Authentique Glowing, Echo Park Apothecary Emporium, Halloween, Halloween album, Halloween mixed media project