Fall is finally here!  The drop in temperature signals it is once again safe to go back to the kitchen…and resume baking!   San Diego is not the hottest of climates even during the summer, but turning on the oven and heating up the whole kitchen makes it a little uncomfortable, so I avoid it as much as possible until the weather cools down a bit.  Yesterday was really warm, but overnight it turned cold enough to need a jacket and it rained on and off all day.  Heating up the kitchen actually sounds like a good idea!
Two years ago I found this recipe on the Rhodes Frozen Bread company's website – Wicked Witch Dippers.  I made mine out of the Multi-Grain Rolls, and they turned out like this: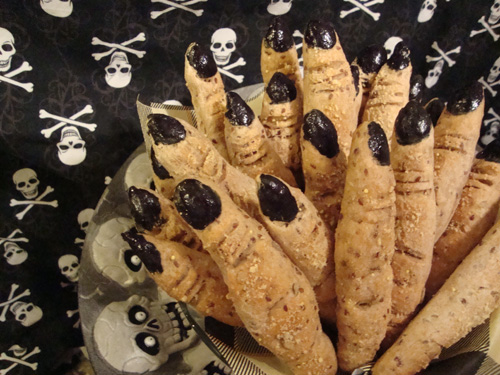 I still need a little practice, but not bad for my first time.  Getting the hang of working with the dough defrosted, but still cold is key to success.  I know that you would love to make some of these for your favorite ghouls and boys.  How about a little giveaway?   I have here in my workroom 2 cookbooks that I would love to get into someones lucky hands…that and some great coupons for free Rhodes, both the Warm-N-Serve Rolls (yum…and easy!)  and coupons for any free package of Rhodes bread or rolls.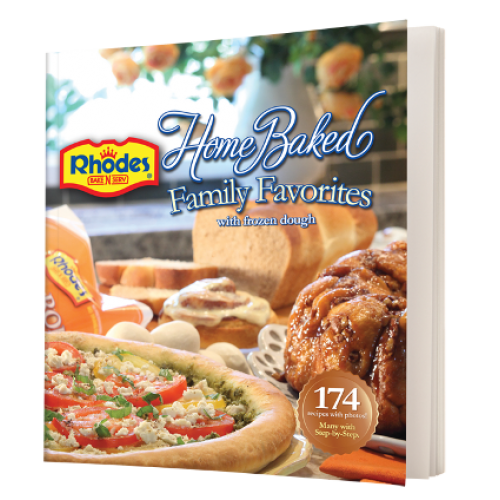 You have two opportunities to win.  First, leave a comment about something fun you have prepared for a Halloween meal or party here on JustHelen.  For another "name in the hat"…(since that is what I do),  please go to Facebook and "like" Just Helen (click there for the link) and leave a comment there.  Easy peasy.  Comments for this giveaway will be taken until October 28, 2011 at 8:00am, and I will announce the winners later that day.
I will pick two winners and then the ball will be in your court to make something fabulous for the holidays.  Good luck everyone!

Tags: breadsticks, Cookbook giveaway, Free stuff, Giveaway, Halloween breadsticks, Halloween food, Halloween party food, Rhodes Frozen Bread Dough, Wicked Witch Dippers, witch finger breadsticks