One of our annual Halloween traditions is over…Trunk-or-Treat.  There were hot dogs, tons of delicious side-dishes and fabulous desserts.  Everyone out-did themselves.  Our cookies were a fun addition and were gobbled right up.
Mike went as an office guy that was the last survivor before the zombie contagion spread through the masses…or something like that.  I'm sure that he will correct me later.  Obviously, he was triumphant over at least one zombie.  Tom went as an army guy…same as last year, but with more equipment (helmet) borrowed from a friend.  Sam went as an army guy like Tom did last year.
  Camo and a white Sunday shirt can always be dressed up for a Halloween costume in a pinch!
I was so busy with the trunk that I didn't get any good pictures of any of the other cute little kids!  But here is our trunk, along with James, who couldn't tear himself away from "Coraline".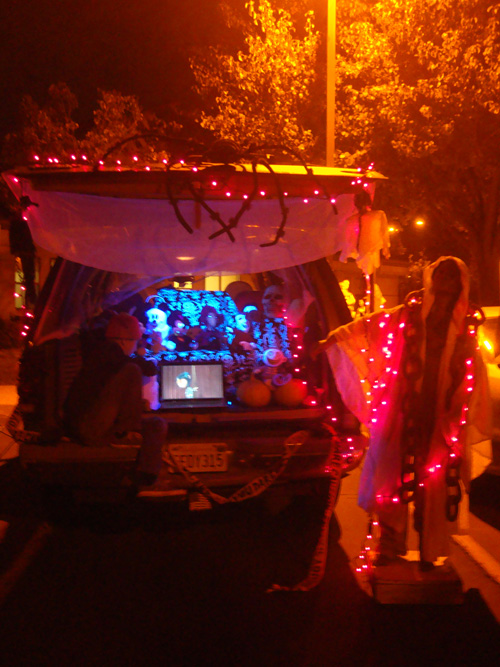 We were parked next to our friend's car.  Can you tell that Seija's favorite color is orange?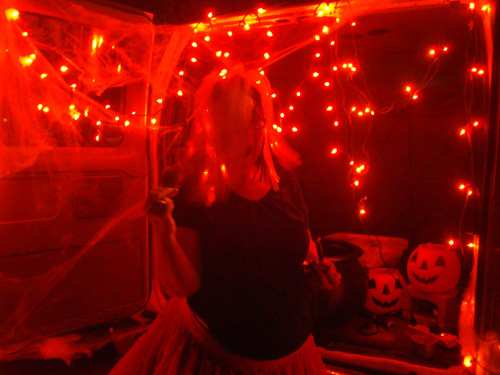 It's all a blur right now.  The whole day went by so quickly.  But while I long for the comfort of my warm bed, I still have to do the card samples to show in Relief Society tomorrow.  Scott used to say there's no rest for the wicked.  I thought it was supposed to be there's no rest for the weary.  But what I think it should be is there's no rest for Helen, whether she's wicked or weary or whatever.  Do you suppose there will ever come a day when I'm not absolutely exhausted, drop-dead tired when I finally get to bed?  I guess not.  It has been absolutely ages since I sat down to watch a movie in the evening, and longer still when I didn't fall asleep during the first 15 minutes of even a good movie.  It's much easier to drop off to sleep when you're too tired to care about all you didn't get done, as long as you are so tired that you don't worry about it all night and not make the best out of the time your head connects to your pillow.
Trunk-or-Treat is done, but not put away or forgotten.  Baskets of spiders, skulls, costumes, lights, critters and Halloween characters of every kind are sitting in baskets in the living room, waiting to be put away.  There is more than enough stuff to be a distraction for tomorrow, but too much to think about tonight.  And with that sad bag of woes, I bid you all goodnight, farewell and adieu!  Off to my workroom I go!

Tags: Halloween, Trunk-or-treat