When the attack on the World Trade Center happened, September 11, 2001, a lot of people in this country found a way to show their support by displaying an American flag.  They put them on their houses, their cars, lapel pins for their suits, clothing…you name it, anything and everything "flag" was popular.  The flag companies were making and shipping them as fast as they could, working around the clock, trying to fill the demand.  Overnight, the store shelves were empty where they had once been well stocked.  People were scrambling to get one.  But not at our house.  The flag was already flying here when those planes flew into the Twin Towers.  It was a daily event.  Scott made sure of it and we have continued to show our support.
When I went to bring the flag in last night, I noticed that the fading had progressed and become a small tear.  We have been delaying the retiring of this flag.  Scott had attached it to the pole a couple of months prior to his passing and we were having a hard time letting go.  We would usually retire it long before it tears, as even flying it too faded isn't proper etiquette and does not treat the flag with the respect it deserves. 
The ceremonial burning of the American flag comes with a great deal of attention to respect, and has some precise steps to go through, so it isn't a simple task.  The idea of burning is to ensure that the flag doesn't end up atop a trash heap, as if to be something that has been discarded, something of no worth.  As a symbol of the freedoms that we enjoy, united as a body of states in one cause, to protect those freedoms, retiring the flag properly is another way we show our allegiance and determination to remain strong.
This morning when I was waking up, I heard footsteps coming up the stairs.  Mike brought me a nice breakfast in bed, along with the neat and properly folded old flag and a note (shared with permission) that reads:
Mom,
I switched out the flags for you.  Its funny, when Dad was with us the Flag never seemed faded.  Its old, tattered, and torn but it still is a beautiful symbol.  I was thinking we should have the Scouts retire it.  Or maybe even Tom, Jake, and I.  We could do it to honor Dad.  I love you Mom, don't forget that.  Love, Mike
P.S. You should blog about this flag.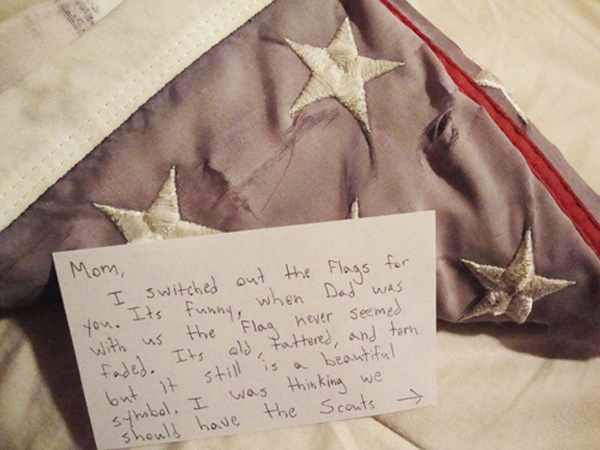 There are lots of sad times at our house, but so many more instances that inspire and give us a sense of the enduring love we share as a family.  There is much to treasure and hold dear, like the wonderful tradition Scott taught us of flying the Stars and Stripes at our home and in our hearts.