I am not very adept at guessing how much frosting I am going to need to make for any given recipe, so I usually have extra frosting in the frig.  There's nothing wrong with that unless you make a lot of desserts that require frosting and already have a fully-loaded refrigerator like I have.  So every once in a while, I make a batch of cupcakes and use up random, odds-and-ends frosting.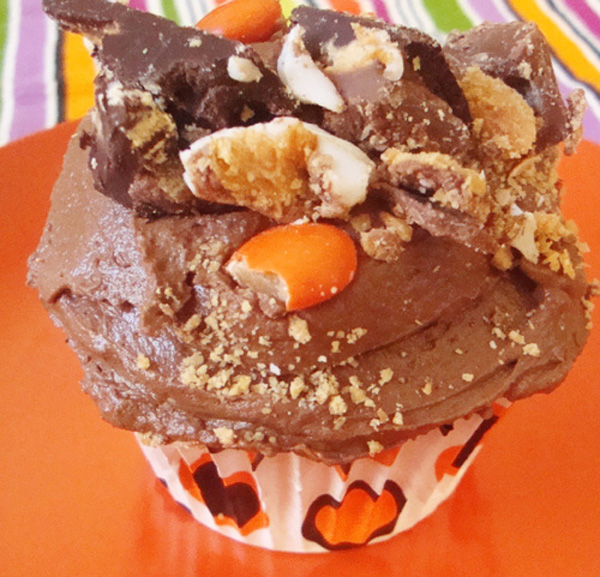 This time I decided to use up a couple of  different toppings along with the leftover frosting…some of the crumbles of the Halloween-Bark-at-the-Moon and Jet-Puffed StackerMallows…those flat ones that you can use for S'mores.  Well, guess what else you can do with them?  Use mini Halloween cookie cutters and cut out shapes like this little ghost.
This is how it turned out…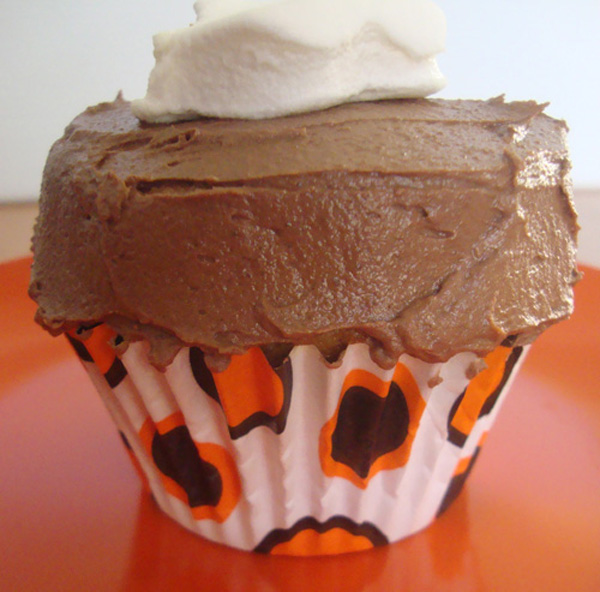 Now for the cupcake paper review.  I got a box of the Reynold's Baked For You StayBrite Baking Cups…that is a really long product name!  These cups are foil-lined so you don't get any of the oil from the cake seeping through.  I really like the "brite" color and these are perfect for Halloween – I believe we got these at Target.  These can be used with or without a cupcake pan, which is nice if you want to cook cupcakes assembly line, or if you don't have a special pan.  I really like these.
I have several more brands to try but we have to either eat or share all these cupcakes before I want to make more.  I think I will go try that "Bark at the Moon" cupcake…I'm sure it is quite tasty!

Tags: candy toppings on cupcakes, cupcake paper liners, cupcake papers, ghost cupcakes, Halloween cupcakes