It is almost too late to be posting ideas for Halloween and I think I'm too early for Christmas stuff, but I am positioned right in the middle of both holidays.  I'm in a bit of a quandary as to what to post about.  I have several assignments this weekend and I seem to need to focus on all of them at the same time, some of which involve:  baking and decorating for Megan's bake sale at work for a breast cancer fundraiser; gathering some of my food storage for a lesson on…what else – storing food; making desserts for the Trunk-or-Treat meal (as if we really need treats!) and gathering decorations for the event; reading "The Friend" in preparation of my first solo appearance as "Sister Friendly"; making sample Christmas cards for our Relief Society meeting next week; and making Christmas cards and tags for a kit for a friend…and all before Monday.
So today I've been to the everything99cents store and found just what I need for trick-or-treating at the trunk-or-treat on Saturday, a treat from "Sister Friendly" on Sunday and something for the house-to-housers on Monday, when it is actually Halloween – mini-Fruit Roll-ups, 40 count and that's right…for a dollar.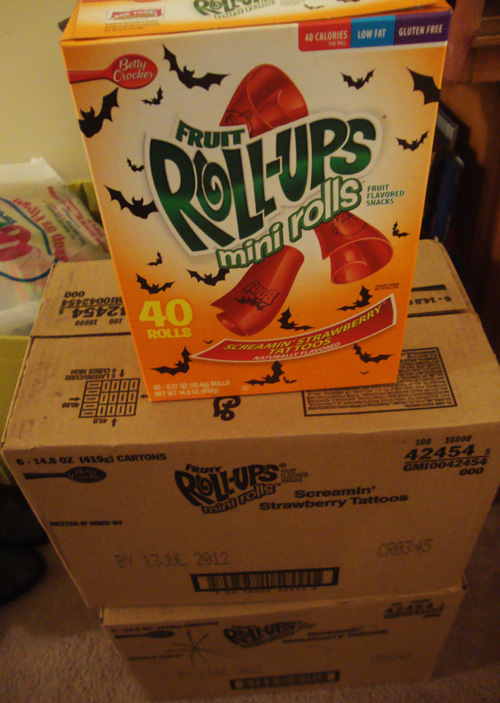 I bought twelve boxes!  We are expecting 150 kids, so I wanted to make sure that I had enough.  I'm not kidding myself into thinking that this is actually a "healthy" treat, but it does have the word "fruit" in it and it is gluten-free, so I'm hoping that will help out a little on the allergic-kid side.  Besides…that's 2 1/2 cents a treat, and the bigger ghouls and boys go past my "trunk" more than once, for sure!  I also picked up 2 more pumpkins to carve and other great deals.
I made a triple batch of Pumpkin Chocolate Chip cookies so Megan would not have to worry about those when she gets home.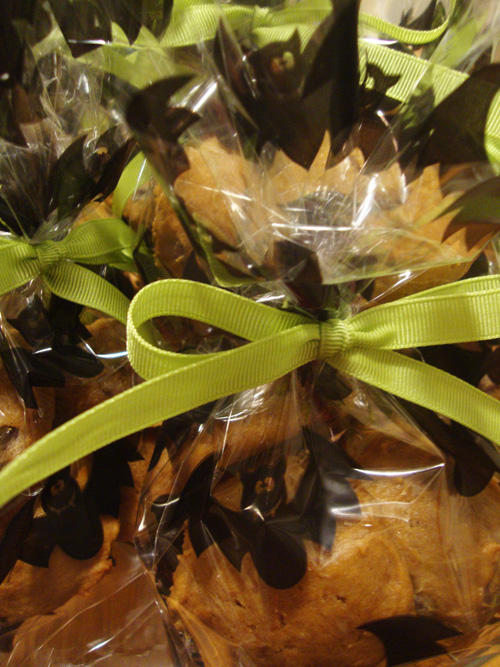 We like to bag things up cute when we do items for a bake sale.  Our motto?  Make it look as good as it tastes!
Last night, Megan made 3 colors of cookie dough so that when she got home from work today, she could start baking.  She started with her famous candy corn cookies with Aunt Margy's sugar cookie recipe.   Yummy!

Meanwhile, I went upstairs and started bagging some candy treats.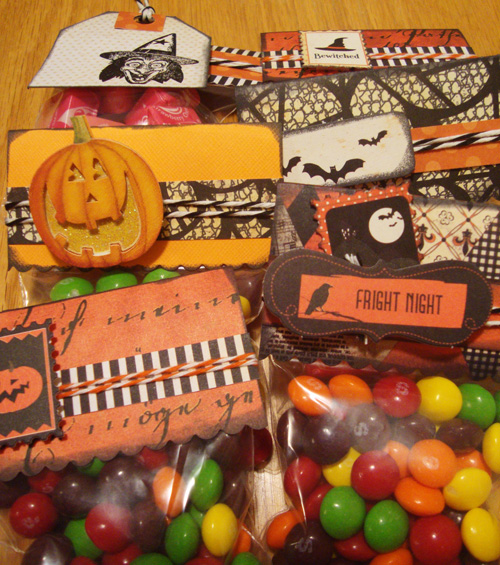 After I got done with that, it was time to clean up Halloween and start in on my Christmas cards assignment…it looks like a Christmas sneeze at my work table!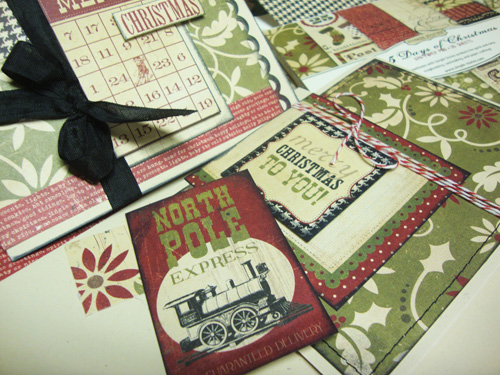 I am definitely not done for the night but it's a good start!
Confusion say:  When in doubt as to the direction one must go, just do it…all!

Tags: Christmas cards, Halloween cookies