Thursday, September 8, 2011. I was so proud of myself. It had been so hot during the first part of the week that I really hadn't felt like cooking. When you get to the dinner hour and it is still hot, there isn't much impetus to add more heat to your kitchen.  But I was in the mood for a home-cooked meal, and when I stopped by Costco to pick up milk and the last few coupon items – to avoid the Saturday rush – and the meat department was putting out fresh rotisserie chicken, I got it in my head that Chicken Tortilla Soup would be yummy. 
After de-boning it, I started gathering the other items for the soup.  Critical to the recipe is fresh onion…okay, maybe I should have just tried to use some of the dehydrated onion in my food storage, but I really like the big chunks of onion.  I put the cut-up chicken in the frig and ran to the store.  It was about 3:30pm.  I did a little wandering, looking at the specials.  I was in the check-out line when the lights went off, somewhere around 3:40 or so.
"I'm sorry to announce that our customers need to exit the building immediately, please.  Just leave your baskets and please leave the store," said someone over the loud speaker.  I understand that when the power goes off, their registers won't work so they can't sell you anything.  Without scanners, they have no way to know the price of things without going to the aisle and looking for them.  So I left the store…without my onions. 
The street lights were off or flashing.  I thought maybe it might be a localized problem, so I headed to a different store.  More flashing and un-lit street lights were along my way, so I headed back home. When I turned on my radio, and realized that the station I had been listening to was not broadcasting, I could tell the problem was more widespread.  After tuning the dial, I finally found an AM station that was reporting that the power was out across the county and parts of Arizona and Mexico were also affected…what the heck was going on?
Needless to say that as I headed home it was with one purpose in mind…prepare for the impending darkness and dinner.  It was almost 4:00pm.  I like to think that our family is fairly prepared, but what I failed to realize right away was that we were not organized.  We have stuff, but it isn't all located in one centralized location.  We had to work with a pretty tight deadline…nighttime.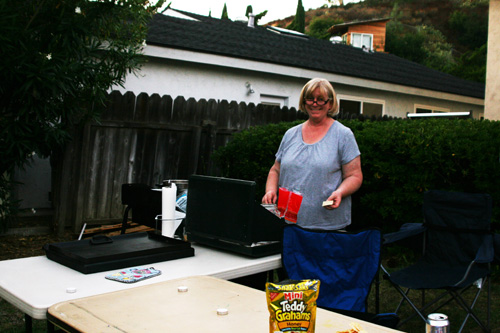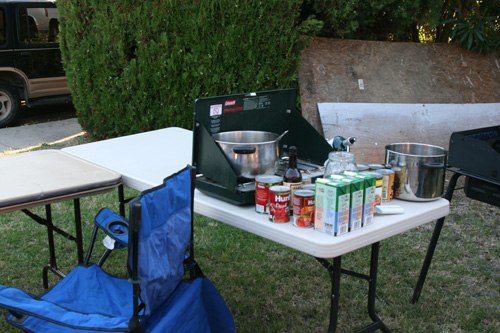 To make a long story short, we got out the camp stoves (I made the soup and fresh tortilla chips), lanterns and candles.  The kids figured out how to power up the generator, which we shared with a neighbor to keep all our refrigerators going.  We plugged in an old phone to our land-line.  We set up tables on the front lawn – next time it will be in the back, but we are still working on the backyard.  I want to purchase more lanterns because they give off the best light.  Headlamps are great to have because you can direct the light without having to use your hands to hold a flashlight, but you must include batteries in your stash because they will need to eventually be replaced.  Our biggest problem?  Nothing was easily accessible except for the one small camp stove.
I'll be darned if I don't have a pile of backpacks ready to be loaded…haven't loaded them yet.  It is important to have a kit ready in times of emergency, not just the stuff somewhere in the house.   On occasion, the emergency will be where you can stay in your home, like last week.  But sometimes you have to be ready to leave and don't have time to do much gathering.   FEMA has an easy to follow program for creating your 72-hour emergency kits.  Another government web page provides important information about how to keep your food safe during a power outage.  What is important is for you to familiarize yourself with what to do beforehand because, as we found out, the Internet isn't always available when you need information.
The soup turned out great.  I borrowed onions from my neighbor.  She and her family shared the soup, as did a bunch of friends.  The boys thought it was quite an adventure.  It took me the whole next day to get it cleaned up…I wasn't quite so excited about that part of the adventure!  But I am going to keep at it until I get it right.  Remember that Rome wasn't built in a day…neither does your 72-hour kit need to be.  Start off with things that you have around the house.  Make a plan and add something to it every week.  Or if you want to get it all done at once, you can check out the following websites:  Essential Packs;  Emergency Essentials;  The Ready Store; Survival Solutions; Shelf Reliance…these are just a few.  I am not personally endorsing these sites, but the idea is to think about it and be prepared.  There are a lot of really cool things out there, but keep in mind the basics and work within your budget.
Last Thursday, when I was at Costco buying the rotisserie chickens, I sampled some freeze-dried food…can't remember the brand name, but it was about $39 and it was actually pretty tasty.  If you have food that requires water to prepare it, just make sure that you include more than just drinking water in your kit.  If that water needs to be heated, consider something to heat it with.  I think that freeze-dried food will be on my list for this week…that and to make sure that each family member with a car has a case of water in it.  Consider keeping it in the car, rotating it occasionally and replenishing it when it gets half gone.
There is an activity coming up in California called "The Great California Shake Out" this October 20, 2011.  Will you be ready when the big one hits?
Cute true story.  Before school started this year, my 17 year-old son, Tom, had just given the van a thorough cleaning – seats out, vacuumed and washed.  He then proceeded to take one of our big duffelbags and plop it in the middle of the living room.  He began to load it up with important stuff, like food, extra clothing, towels, a sleeping bag, etc.  I asked him if he was planning on going somewhere.  He said, "No, it's my 72-hour emergency kit."  Good to know that at least one of my family members was good to go!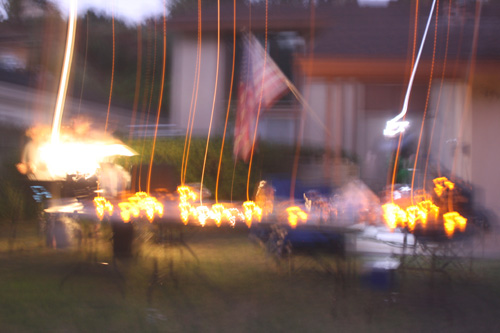 (Megan took this picture…dinner was served with a combination of real candles and LED votive and tealights…and one lantern!  I don't know what setting, but I thought it looked cool.)
Do I feel great about our current emergency preparedness condition?  Nope…we're not quite there.  But there's nothing like a little power outage to encourage you to work harder at it.  So to the one individual out there that caused the power outage?  Thanks for the trial run.  I hope this will be incentive enough for everyone to get prepared. 

Tags: 72-hour emergency kits, Being prepared, California power outage