It was just two weeks ago today that I was on the verge of an adventure.  Scott and Tom had departed for Boy Scout camp on Sunday after Sacrament Meeting and Megan had taken two days off of work for us to embark on a little mother/daughter trip.  The plan was to head north a little, do some "research/shopping", sightseeing and photo-taking, and sampling of cuisine other than our normal Taco Bell/McDonald's/Subway fare.  We had tentative plans, but nothing too specific as far as an itinerary goes.  We were looking forward to a little fun, without having to worry about things at home.  Little did we know that when we got up Monday morning we would find ourselves far from our plans of the day and that our lives would be forever changed.
I was on the Internet, looking up addresses to Mapquest our destinations when the phone rang.  The caller ID showed up as Boy Scouts of America.  "Oh dear, I thought…I wonder what they forgot."  When I heard the very calm voice of the other Scout leader (Thomas) on the other end, I was immediately concerned.  "I'm calling from Scout camp and you know that can't be good news."  It was early in the morning and I couldn't imagine what could have already happened.  He said that Scott had gotten up early, like he always did, and had gone around waking the boys up to get ready for inspection and breakfast.  Thomas had gone into Scott's tent a few minutes later and found him lying on his cot, unconscious.  He began CPR on him right away, sent some boys to go to the office to get the camp leaders, while some of the older boys tried to keep the younger Scouts away.  Thomas called me and then went with my Tom to the hospital.  I changed my destination on Mapquest and printed out the directions.  Somewhere along that very long 3 hour drive I discovered that Scott, my husband of 34 years, was gone…just like that.  No long, drawn out sickness, no medical treatment, no warning.  They had been unable to revive him.  My driving had new purpose – I had to get to my son, Tom.
It has been a very long two weeks.  Without getting into details, we couldn't have the funeral services until this past Wednesday.  My family started arriving the Monday he died.   With each greeting of the arriving family, new tears were spilled.  I had visitors at my door, flowers delivered, meals dropped by.  There was a flood of prayers and kindnesses that I will never forget.  With past opportunities to serve, I have tried to be there for others, but now I know how it feels to be on the receiving end and that will change how I serve others in the future. 
Scott wasn't young, but he was too young to leave.  He is the second oldest child, the oldest brother.  He was the first of his siblings to be married, the first to have a baby.  We never imagined that he would be the first in death.  It is a shock to have someone leave for camp and not come back.  With some gentle counseling and encouragement, his troop stayed in camp, working to complete the merit badges that Scott had scheduled for them.  I'm sure that Scott got that memo and that he was pleased.  I can only imagine how hard it was for those boys to finish off the week there, but I know it's what Scott would have wanted. 
Family and friends from Arizona, Idaho, Iowa, Nevada, Washington and Utah came.  People that we hadn't seen in years came.  I'm not even sure how everyone found out.  We had chosen our ward building for the services, but it was standing room only.  As I walked into the chapel, there were dozens of Boy Scouts on the stand, all dressed in their uniforms.  It was all I could do to keep my composure.  It was one of the most touching scenes that I have ever seen.  I know how important Scott is to our family, but seeing all those that knew and loved Scott – in their own personal relationships – come out for his funeral services, made my heart full of love and appreciation for their support.  It was a warm embrace that will not go away soon.
This was an not the adventure that I had in mind when I woke up July 11th.  This has marked a change of course, a sudden new chapter in my life story, and I wasn't done writing the last one.  Things are supposed to transition more smoothly, with some sort of rhyme or reason.  I guess that's because in life, we are never really in control, no matter how much we think we are or would like to be.  I begin this new chapter with a great deal of uncertainty, but with great resolve.  I am surrounded with wonderful people that love our family and will be there for us.  I feel a calmness that I know comes from an outside source, from a loving Heavenly Father that will be there with me as I begin this new leg of my journey.  This is a temporary parting…Scott and I will be together again and that knowledge gives me great comfort.  It is almost as if he is still gone to camp and will be walking through our front door at any moment.  I know there will be times of great sorrow – it is bound to come.  But there is a good deal I have yet to do.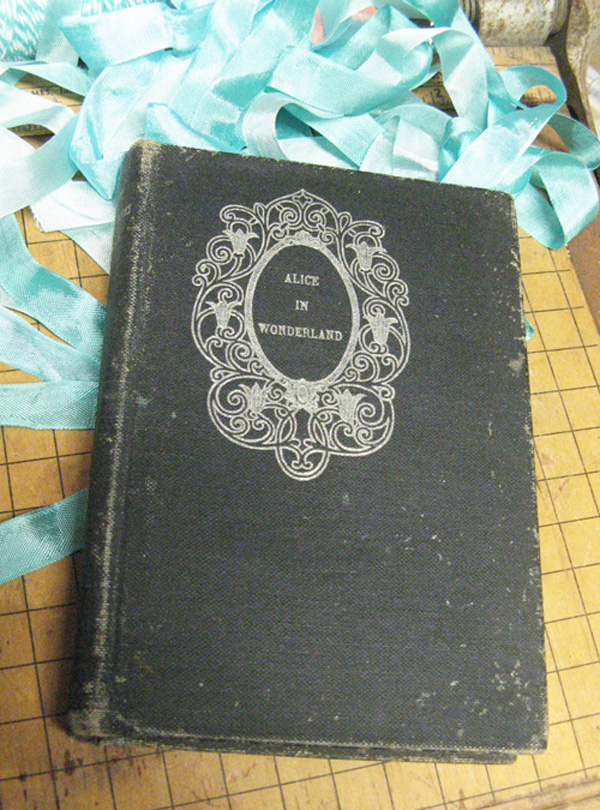 While going through Scott's things, I came across a small book in his closet…the front of the book reads "Alice in Wonderland", but the title page reads "Alice's Adventures in Wonderland".  I can only suppose that he bought it for me, knowing how much I love the Alice stories and artwork.  There are a couple of pages missing from the front, so I don't know the age of the book.  It is old and somewhat brittle, but the words are the same.  There is a passage that I recall, when Alice is talking with the Cheshire Cat, sitting on a bough of a tree…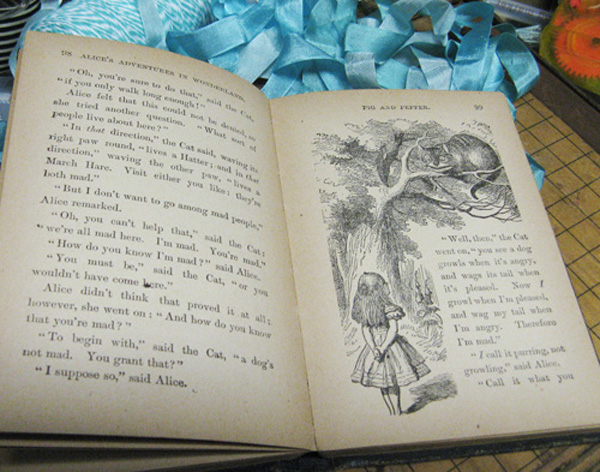 "Would you tell me, please, which way I ought to walk from here?"
"That depends a good deal on where you want to get to," said the Cat.
"I don't much care where," said Alice.
"Then it doesn't matter which way you walk," said the Cat.
"—so long as I get somewhere," Alice added as an explanation.
"Oh, you're sure to do that," said the Cat, "if you only walk long enough."
I have a long walk ahead of me.

Tags: Alice in Wonderland, classic Alice in Wonderland illustrations, Vintage Alice in Wonderland