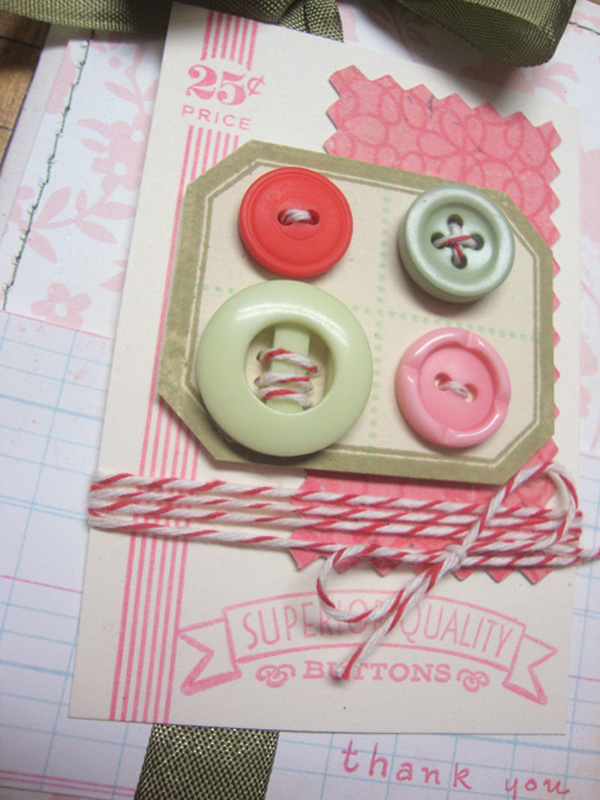 Easy to lose oneself in this project…these little button cards.  I have to say that as I am trying to down-size my "stuff ", I still find myself drawn to certain tools and supplies.  I have really cut back on what I buy.  I think I've said this before, and if not…I've voiced it to my husband, family and friends, much to the dismay of my LSS owner, whom, by the way, I just adore.  But it is a practical move. 
If clothes were my weakness, there wouldn't be room in the house to hold everything.  But I don't buy clothes, as my daughter Megan would attest to…she buys most of what I get new anymore, and she holds out to the last mark-down at Target which is pretty reasonable full price!  She is also a bargain shopper.  But I am distracted once again to the subject: my new project, the Button Boutique.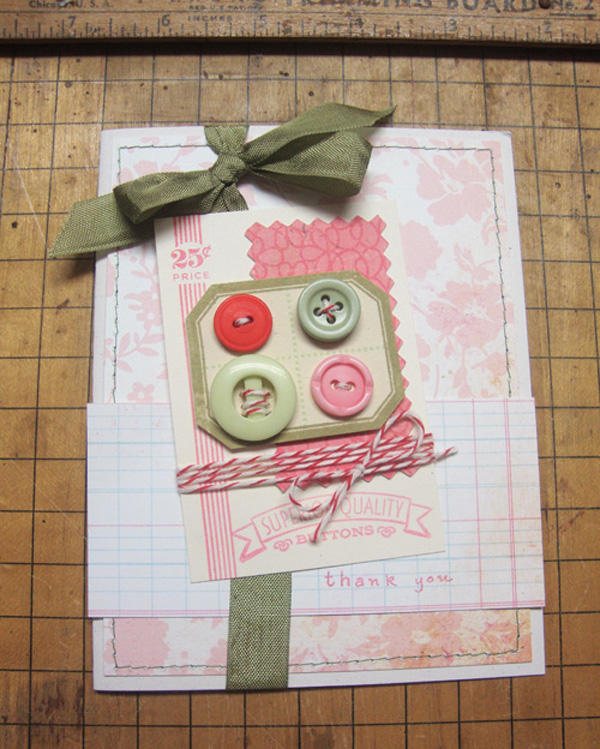 A few months ago I came across a really great blog – Mish Mash , Michelle Wooderson's blog.  She is on the Papertrey Ink design team and does amazing work!  Visiting her blog has encouraged me to do a lot of experimenting with some of the supplies I already had, but also perked my interest in keeping my eyes open for stuff that I have long since abandoned, like that lace seam binding that we used for hemming dresses and skirts.  I gave that up YEARS ago, but I saw where she had used a bit on a project and I recognized it at once!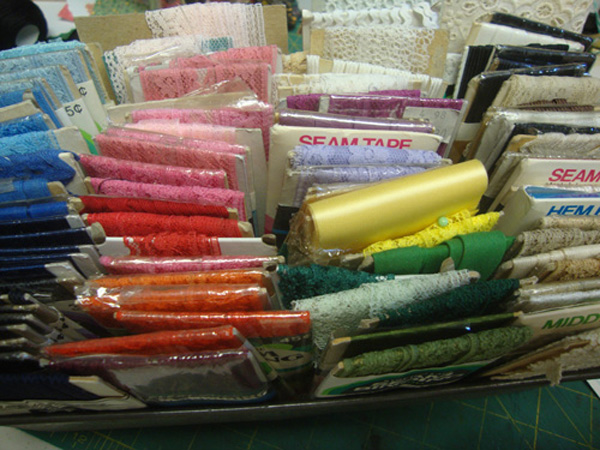 It was an ah-ha moment.  So when I found a good-sized box of it at a yard sale, I snatched it right up without even really looking at it…a treasure chest of little vintage finds that were waiting to be sorted and used.  This is just the stuff that was still in the original packaging.  There is a load of lace, not all stuff that I want, but some really cool older stuff.  Back to the new project.
I have always loved buttons.  I have a fairly decent collection, mostly organized by color, although a few are organized by manufacturer AND color – a toss back to when I needed to include supply information for publication.  So one day, while I was visiting Michelle's blog, I came across this…
http://www.papertreyink.com/stamps_buttonboutique.html 
I hadn't expected it, but this was something that I could really use! Perfect, perfect, perfect!  Love it! 
And so my journey has begun.  I have stamped a big pile of base cards and labels so that they will be ready for me when I'm in the mood to do some more of these…which I am sure will be soon!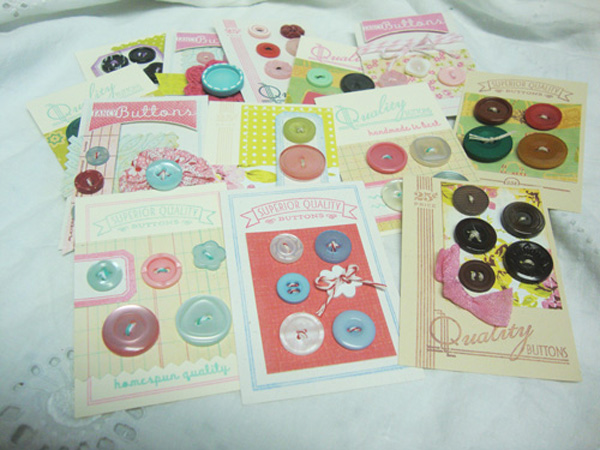 I have a while to go before I get up to Michelle's speed, but she's had a while longer to work with them.  Not bad for the first go-around!  Trust me…these are like Lays Potato Chips, except you don't eat them.  And as Shirley would say:

Tags: button cards, how to use buttons on card, Papertrey Ink Button Boutique, Papertrey Ink stamps