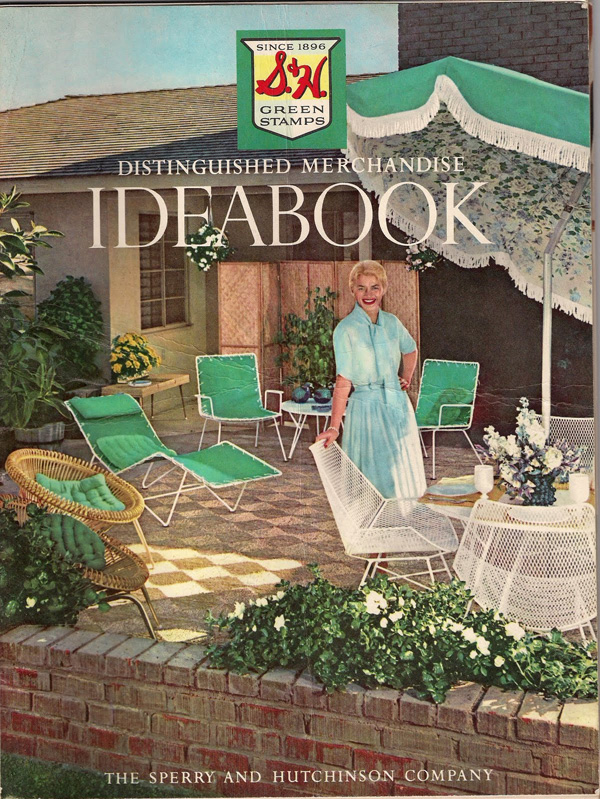 S&H Green Stamps.  I hadn't thought about Green Stamps for years!  Not too long ago, I was at an estate sale, looking for vintage kitchenware and linens, and I came across several full books of Green Stamps.  It was such a blast to the past that I had to purchase a full book, possibly to use in a "remember when" layout about myself.  I resisted the urge to take them all, even though they wanted a pitance for them.  I am trying not to be a hoarder, after all.  How many of these would I ever actually use?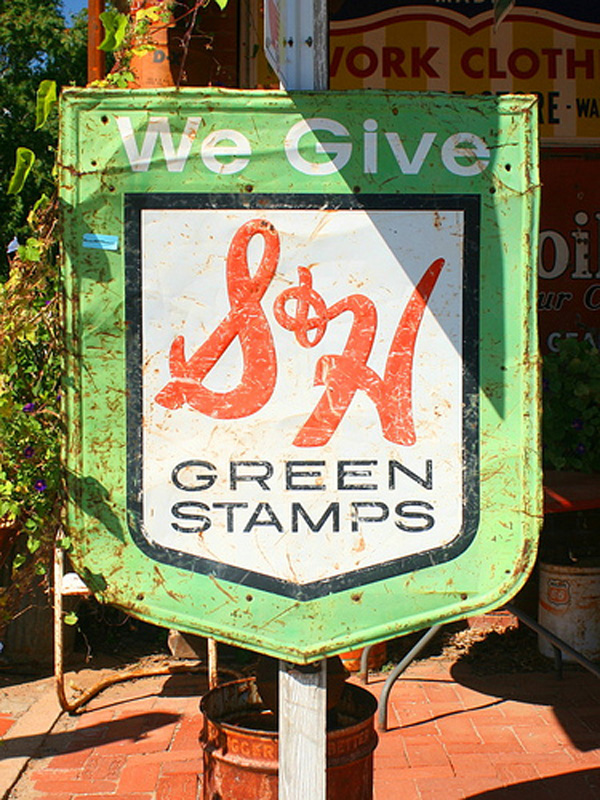 For those too young to remember, S&H Green Stamps used to be a big deal.  Businesses would prominently display the S&H Green Stamp sign in front of their shop.  It was an extra incentive that stores used to get you to encourage you to shop there.  We would check for that sign, even though I don't think we would have refused to go to a store that didn't give them…it was just the preferred option and developed customer loyalty.  I would make sure to grab a pile of the Quick Saver Books from the check-out counter at the store, as if merely posessing the book would somehow make it fill up…the possibilities were exciting!!!  
My Mom entrusted me with the job of pasting the stamps into the books.  Looking back, it was something nice she did to keep me busy and chances are that she probably didn't like the taste of the glue on the back.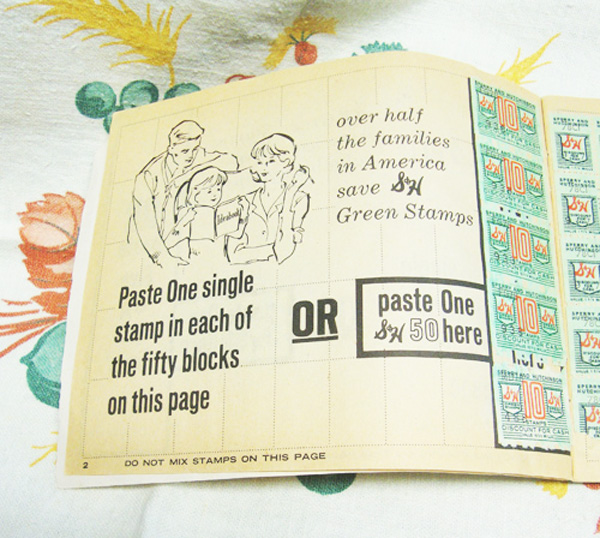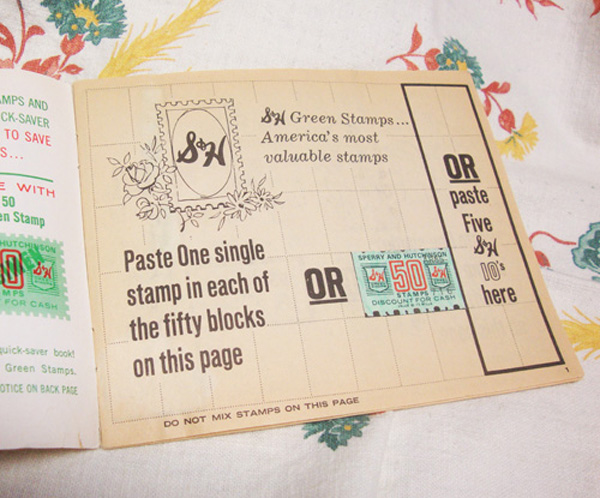 It was always exciting if we got stamps worth 10 or 50 points…more spent, less licking!  Fifty stamps/points to a page.  Somewhere along the way, we figured out that we could moisten a dishcloth to do the job, as long as it wasn't too wet and we were quick to adhere them to the page.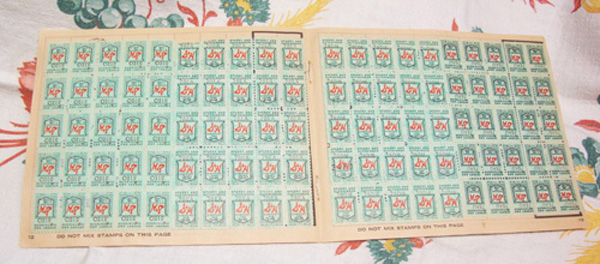 Do you know what was even more fun than pasting the stamps?  Looking through Ideabook of Distinguished Merchandise to dream about what you might be able to redeem the stamp books for…or better still, go to the Redemption Center to pick things out in person.  It was even better than browsing through the Sears & Roebuck Christmas Wish Book – Green Stamps were like money!
As reminiscent as these lovely little stamps are, guess what?  They have actual value to them, albeit not much.  When I went online to find some photos of the catalog, I perused the links and to my surprise there was a link in answer to the statement, "I have some books of Green Stamps.  Are they worth anything?"  Find the question on the list and it will link to give you more information.  The website is www.greenpoints.com.  Their concept has survived for over 100 years, so they must be doing something right!  I think I'll have to order one of those catalogs and keep my eyes open next time I go to an estate sale for anyone else's green stamps that are lingering, tucked away in a box or bag somewhere, waiting to be redeemed. 

Tags: Green Stamps, greenpoints.com, remembering green stamps, S&H Green Stamps