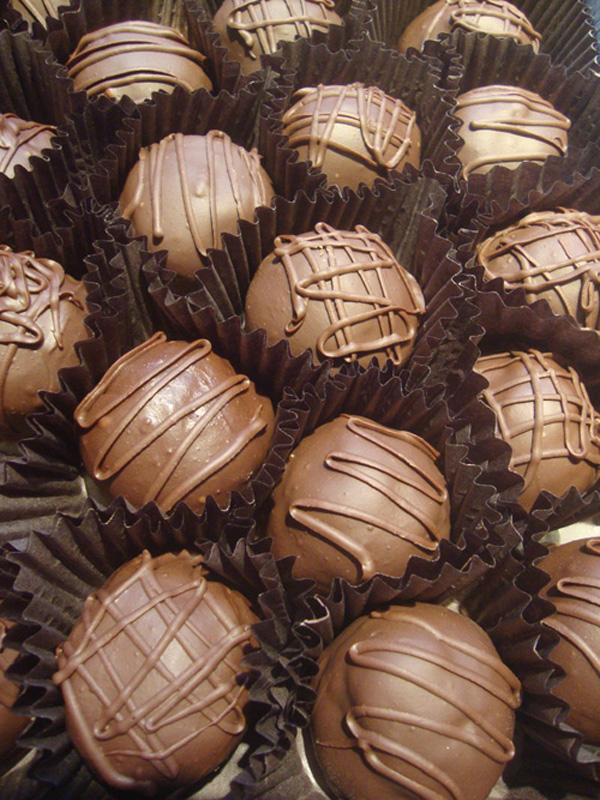 I have been trying to keep these under wraps until the big debut for a friends wedding…then I found out that these, or something similar, have been done before and quite a while ago.  I love the Internet, as I've said before, but if you don't surf it you'll never know that you aren't the first one to come up with an idea.  That is probably why I hadn't heard about cake balls until they had been out for years!  Better late than never, I suppose – these are so yummy that I'm just sad I didn't know about them before so we could have been enjoying them all along.
That said, I did make these without anyone else's recipe and they are so yummy that I can't wait to share this easy, although slightly time consuming process with you…and if you're the very first person that came up with this idea, sorry if I don't recognize you (since I don't know who you are)…I am making these mine, all mine!
A Big Batch of Brownie Balls
2 lg (18-19 oz) packages of brownie mix, plus whatever the box requires you use to make them
2 – 12 oz. bags of Nestle's Semi-sweet Chocolate Chips, PLUS a cup for inside the brownies, if desired
Prepare brownie mix according to the directions on the box.  If there is an option for making them more cake-like, I didn't.  If you want them extra chocolaty, add 1 cup of chocolate chips to the batter. Spray the bottom of your 9″ x 13″ (117 sq inches) cake pan; pour batter into the pan.  Bake at the temp and time according to the directions for the thickest brownie (for an 8″ x 8″ pan, which is 64″ x 2″ = 128 sq inches) since it is a double batch of brownie mix; check to make sure that the brownie is starting to pull away from the edge of the pan before removing from the oven.  Set it on a cooling rack and let cool thoroughly.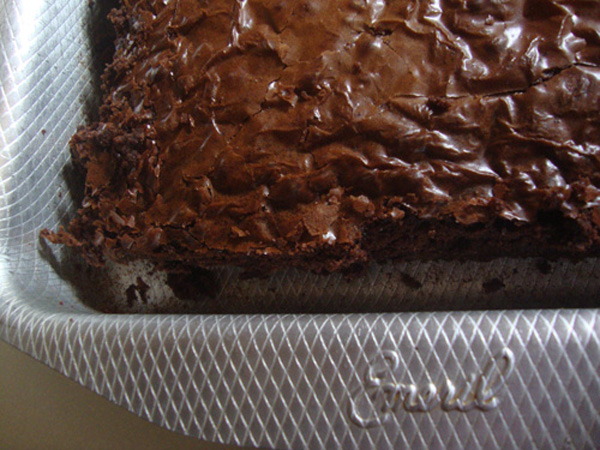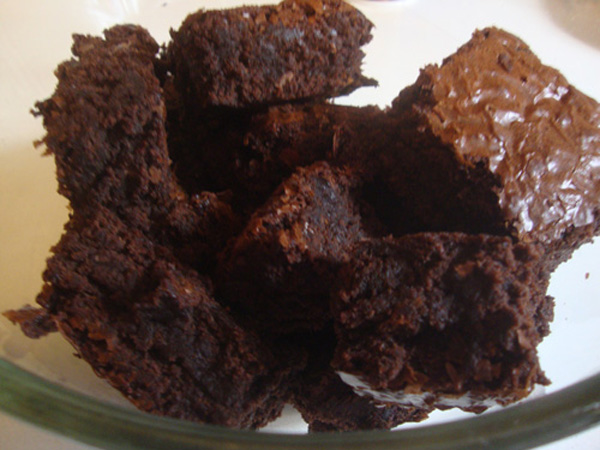 Cut, or break up the remaining pan of brownies into a large mixing bowl.
Roll up your sleeves, or elicit the assistance of a helper to break up the brownies until it looks crumbled; add a tub of chocolate frosting and mix well. (I only had a tub of chocolate with candies, but I didn't add the candies.)  Mike was happy to help.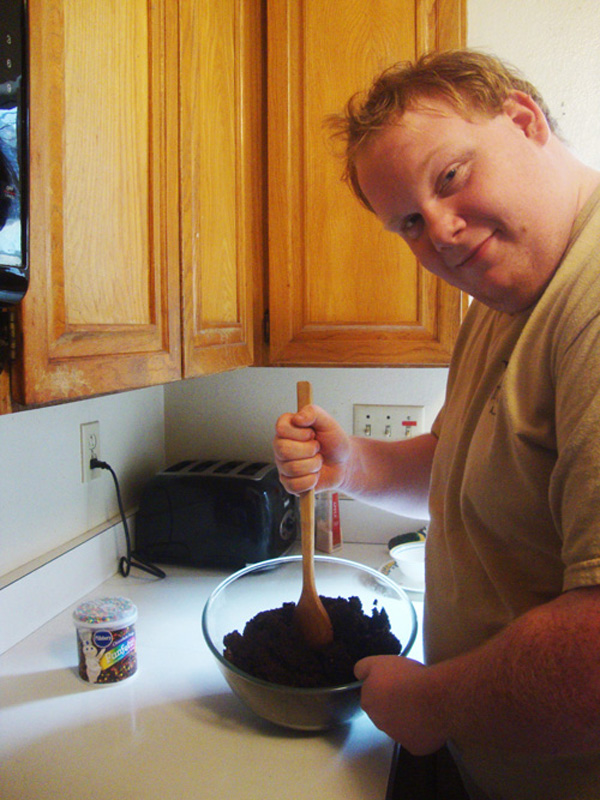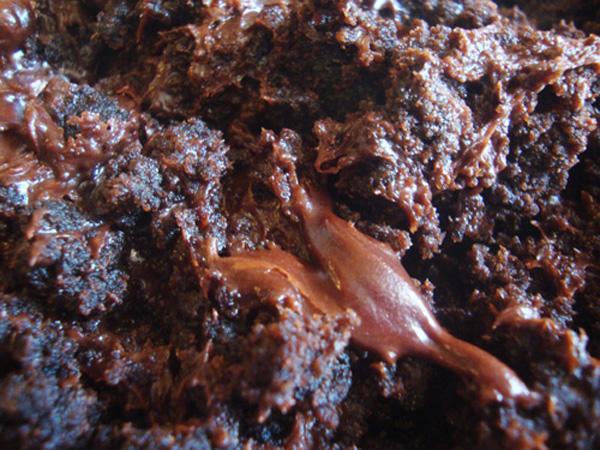 Mix until you don't see any swirls of the chocolate frosting.  Once mixed, use a small cookie scoop to divide the brownie mixture onto waxed or parchment paper.
 
They are now ready to roll into balls.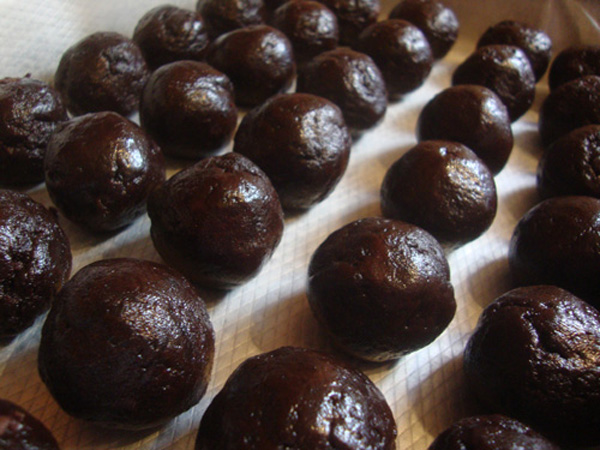 Didn't Mike do a good job?  Next, cover and place in the freezer for at least an hour.  (I have made another batch since then and was distracted with some other more pressing matters, so I left them in the freezer for a couple of days.  At this point, they start gathering moisture, which I don't think is good for the chocolate, but they turned out fine.)
I know that there are different schools of thought and methods of melting chocolate, getting it ready for dipping.  I have melted it in the microwave when I am spreading chocolate over something like Scotcheroos, but to keep it totally melted so it can be used to dip into, I think it is better to use a double-boiler method. 
For this double-batch recipe of brownies, you will need 2 – 12 oz. packages of chocolate chips.  They should be fresh!  Chocolate chips last for longer than the suggested-to-use-by-date for eating or baking, but they don't melt well once they have been around a while.  I have discovered this the hard way, and I mean when you get a pan full of something that refuses to melt.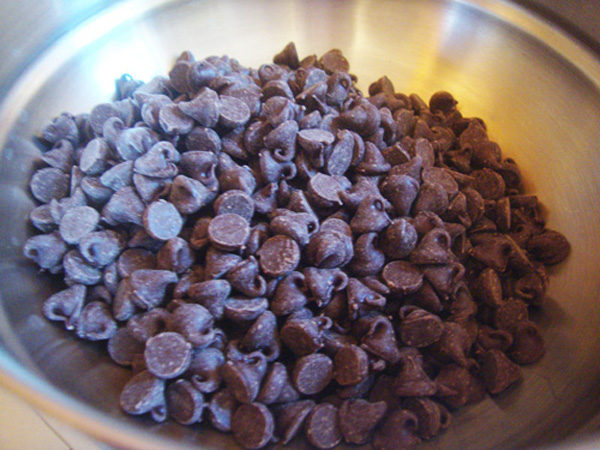 When you are ready to start dipping the balls, get a pan of water boiling, about 1/3 of the way full; reduce heat to low and put the double-boiler into the pan.  Don't get water into the pan of chocolate.  Add 1 full package and about 1/2 the 2nd package to the double-boiler.  The heat from the water below will melt the chips.  Stir as they are melting.  When they are completely melted, you are ready to dip.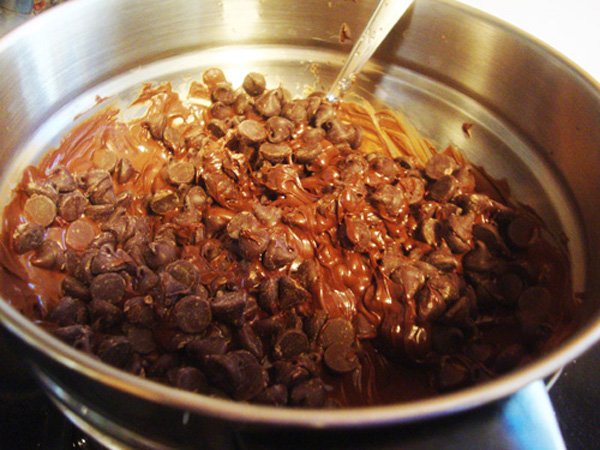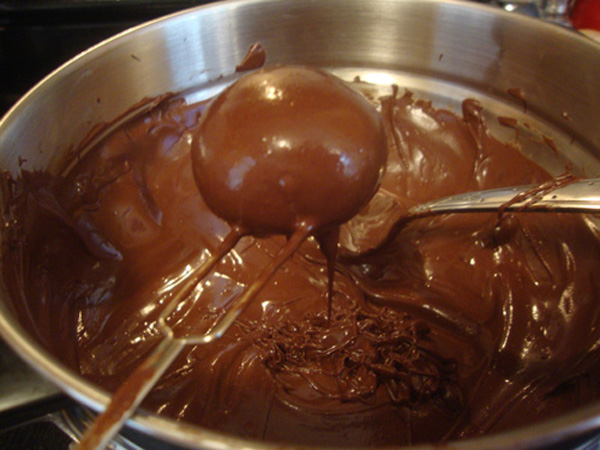 I used a little tool from Wilton called a Metal Dipping Set that helps you to get it covered and out of the pan.  I dipped the bottom of the ball into the chocolate, set in on the forked tool, scooped chocolate over the top and then gently tapped the excess off.  If you keep the balls well chilled, they don't start falling apart in the chocolate, so only take about 15 balls from the freezer at a time.  Set onto a sheet of parchment paper- covered cookie sheet to set.
When you are putting the dipped balls onto the sheet of parchment paper, there is a certain amount of excess chocolate flows onto the paper that doesn't look pretty, although anyone eating it doesn't usually complain.  I'm sure there is a trick to avoid that, but I haven't figured it out yet.  However, if you don't want all that uneven leftover chocolate, here is a little remedy that I did.  Let them sit for just a few minutes, and then take a toothpick and make a line around the base of the dipped ball, through the excess chocolate.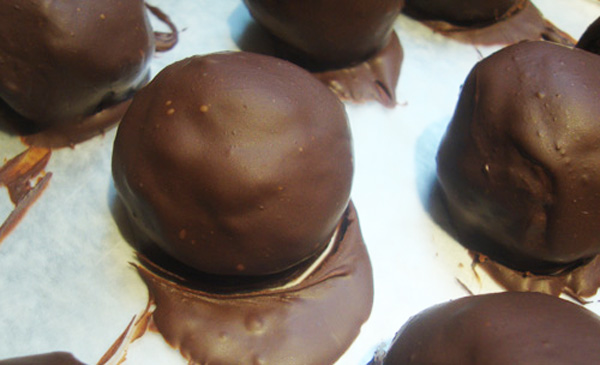 This makes it really easy to break off the extra.  If you start running low on the chocolate, add the rest of the bag of chips to the double-boiler and stir until melted.  Continue dipping. 
When you are almost out of chocolate in the double-boiler, save a little (approximately 1/4 cup) for decorating the top; scoop into a decorating bag and cut a very small portion of the tip off.  Drizzle the melted chocolate across the the top.  I had 5 balls left that I didn't dip, but there was extra from the decorating bag that I drizzled on them when I was done decorating the dipped balls and they were eaten right up, even if they weren't as pretty!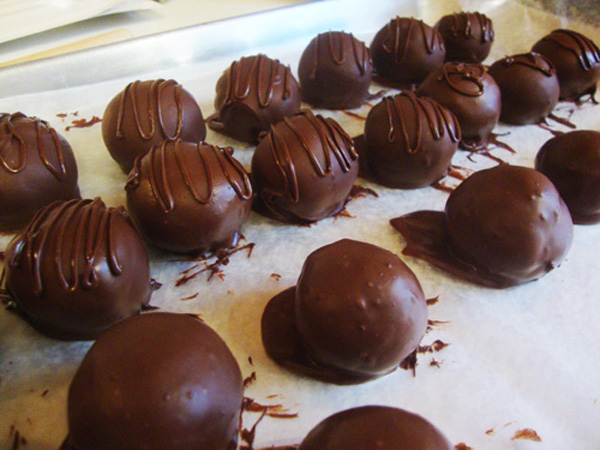 So, there you have it.  I would say that these are really rich, tasty, actually about 4 bite brownie balls, although my boys like to pop them.  Here's what they look like on the inside…
 
With the first batch I made, I returned them to the freezer to set them up faster.  They got some condensation on them, but it did disappear after sitting outside of the frig.  They seem to need the cold to fully set up.  I put a pan from the second batch in the frig; there was a little less condensation this time.  I'm sure that I will find a solution – this is where training might come in handy!  If you have any hints, let me know!  This batch will make 55 – 60 Brownie Balls.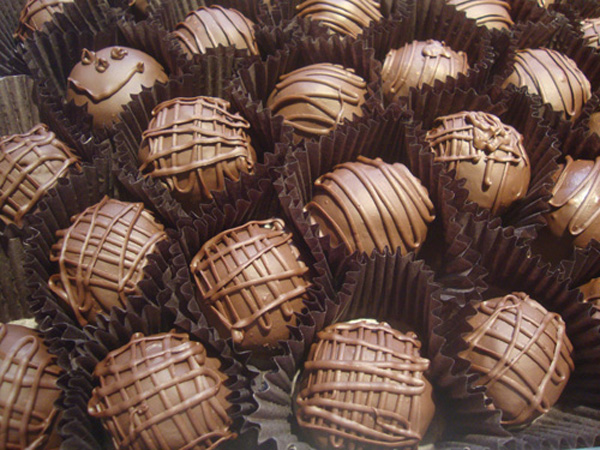 I hope that whoever gets the smiley face notices before it gets eaten!

Tags: a little different take on the traditional brownie, Bite-size Brownie balls, Brownie Balls, like a brownie truffle