Here on a sunny Southern California winter day, the balmy breeze was the perfect attraction to draw me out of my still-chilly house and out into the warmth of this February morning.  I am somewhat a creature of habit and try to get to the everything99cents store in the morning, trying to get there before 10am.  Yesterday I went there and left with nothing – nothing!!!  There were a few things I would have stocked up on, but Scott is working on more shelves in the garage and I'm determined to wait to buy canned goods until we are better organized.  So I resisted. 
Everyone that knows me knows that I love the everything99cents store.  Depending on how you look at it, there is a problem with the 99cents store: they stock all day long.  In the mornings, its usually produce and the refrigerated area.  Sara Lee breads come between noon and 3pm.  If I go in the morning, I miss out on bread.  If I wait until afternoon, limited good deals on fresh produce are gone.  Do you have any idea how that can mess up your daily schedule?  What's a girl to do?  Go at least twice a day, I guess!  Don't worry – I don't go EVERY day, TWICE a day, but when I went this morning, I only bought blueberries – 18 oz. containers of some of the most beautiful, HUGE blueberries ever!  Delicious!  I restrained and only bought 5 boxes…I had to share with everyone else at the store!  I always feel greedy when I buy so many.  But Scott loves blueberries and it was such a deal, so I got a few extra to freeze.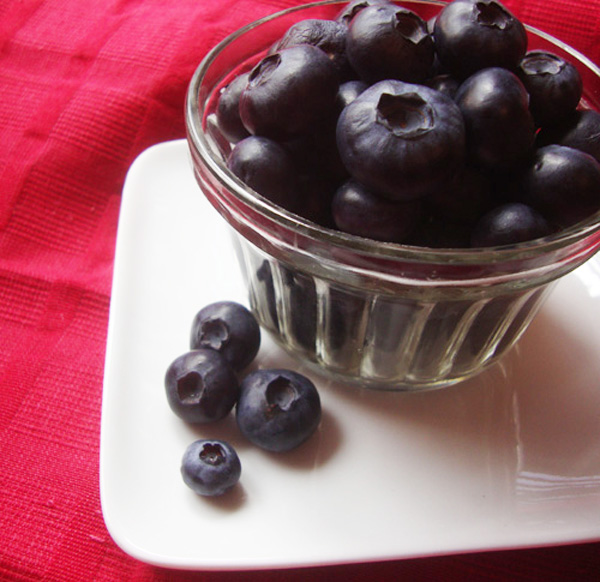 This is how Scott likes to eat them…after I add brown sugar and half&half.
First, I wash the berries…aren't they pretty?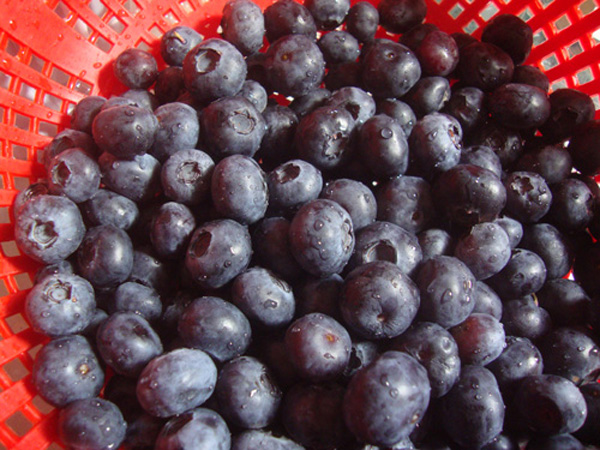 Then, I put a couple of paper towels down on a cookie sheet and gently spread the blueberries around.  This is a good time to sort them and get out any mushy berries and stems.  Over-ripe berries are not good to freeze but are tasty to pop right in your mouth.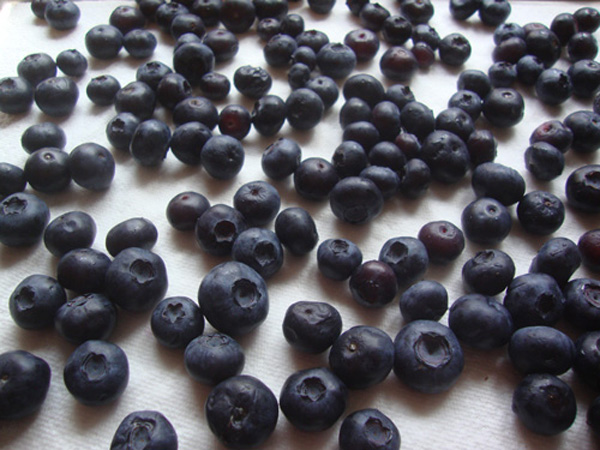 The paper towels dry them off.  Roll them around a little – the drier they are, the better they will freeze as single berries, which is easier to use like fresh when you defrost them…make sense?  Remove the paper towels before freezing; make sure that they are a single layer, but there doesn't have to be space between them to freeze as long as they aren't wet.  When frozen this way, you can take out one berry, or a whole cup and they are just like when you first bought them! 
Here's what they look like frozen…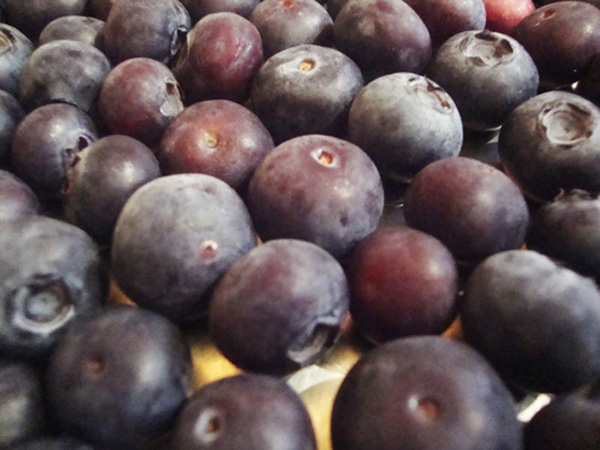 and they roll around like little purple marbles.  It takes a couple of hours to freeze them.  I store them in quart-size freezer Ziploc bags. On to the next pan full.  You can use these on ice cream, in fresh fruit salad, in smoothies, or maybe…muffins?
With all these beautiful blueberries, it seemed like a good time try to make my first batch of blueberry muffins…from scratch!  I know, how did I get to be fifty-something and never made blueberry muffins from scratch?  Well, there are perfectly good boxed mixes, so why do more than just open a box and add the liquid?  Well, these blueberries were so enormous in comparison to the ones in the little cans (you know what I'm talking about), or worse still…the little "imitation" blueberry bits that they throw into the bags of mix, that I had to take a chance.  Next, what recipe would I use?
I love the Internet!  Type in: basic muffin recipes from scratch…850,000 choices!  I could spend all day just trying to decide.  I started comparing the ingredients.  There were slight variations, but the one with melted butter, vanilla and a little heavier on the sugar (although not the heaviest of all the recipes I saw) sounded good, so this was my choice.
Muffins from Scratch
In a mixing bowl, combine:
2 cups flour
2/3 cup sugar
1/2 teaspoon salt
1 Tablespoon baking powder
In a separate bowl, combine:
1 cup milk
6 Tablespoons melted butter
1 teaspoon vanilla
2 eggs
Pre-heat the oven to 500 degrees.  (When you go to put the muffins in, turn the heat down to 400 degrees.  One of the websites I visited said that this would help give the muffin that high, rounded top.)
Mix the dry ingredients in one bowl, and the wet ingredients in another.  Add the wet ingredients to the dry, and mix.  Add 1 1/4 cups fresh or dried fruit (chopped up if bigger chunks).  For my blueberry muffins, I added at least 1 1/2 cups of berries; fold in gently.  They were fully loaded and delicious!  Scoop into muffin liners or greased muffin tin.  Sprinkle the tops with a little sugar, if desired.  I used my Tahitian Gold and it was yummy with that extra hint of vanilla.  Bake for 15 – 18 minutes or until lightly golden brown on top.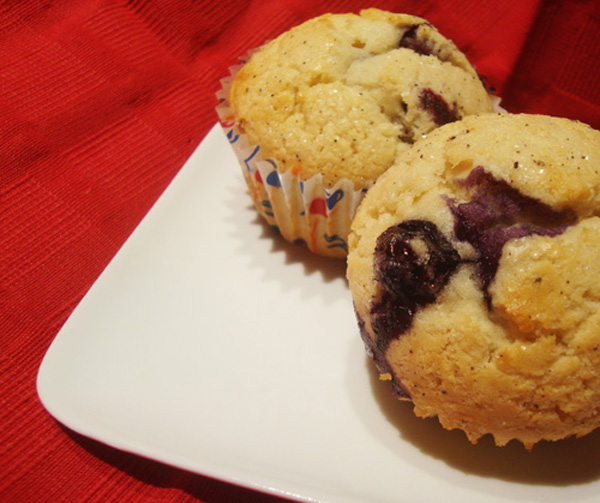 Don't laugh at my muffin papers…they are left over from years ago and I decided that it's time to get them out of my cupboard, but I'm not throwing them away, so muffins seem like a good way to use them up!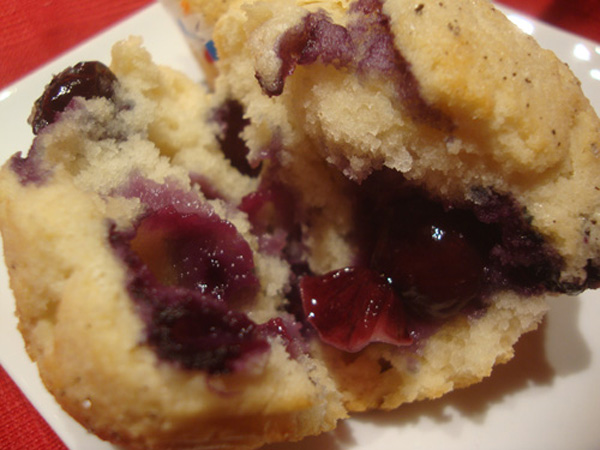 These muffins are so yummy!  I froze about 15 cups of berries and still have most of one box left, so I might have to make more in the morning to share with someone.  My one regret is that I didn't walk away with at least 8 boxes.  Maybe they'll have more tomorrow!  The thing about the everything99cents store is that you can't count on it ever repeating a deal, but you can always hope!

Tags: blueberries, blueberry muffins, everything99cents store, freezing blueberries, muffins from scratch, storing blueberries