and it's almost ready to come out!  Thanksgiving will be here before you know it and I am practicing!  Not that I don't know how to make bread, but as anyone who does the whole 9 yards knows, with all the other food preparations that you do on that busy day (and in my kitchen, lack of space in both oven and counter), trying to bake bread from scratch can be an overwhelming addition to the meal.  I'm sure that most of you need no introduction, but if you aren't familiar, welcome to the wonderful world of Rhodes Bread!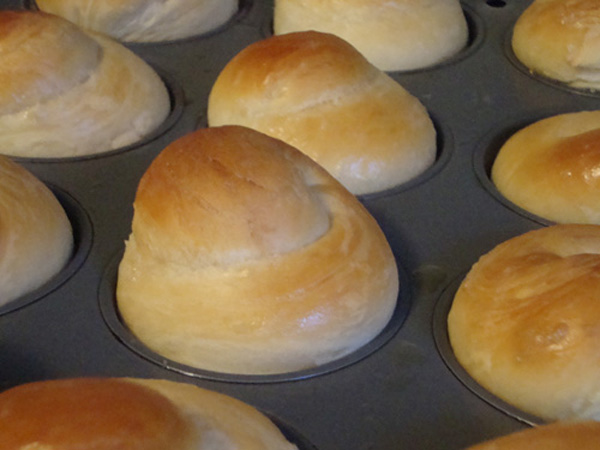 I wanted to try out some of the different techniques that I discovered on the Rhodes website and it is a good idea to play around with that sort of thing BEFORE company is scheduled to arrive so there are no surprises!  Besides, my family never seems to mind the taste testing!
There's nothing I like more than a good deal…except for a really good deal!  Okay, even better – an almost free or FREE deal!  The only thing I like better than getting a good deal for myself is to pass the good fortune on to others.
Part of my game plan for doing a blog was to eventually have giveaways.  I have been trying to get used to the routine of blogging before I started pushing the "free" button, but my end goal is to drive up traffic and what better way to get people to your website than to offer something for nothing.  Actually, the whole website right now is something for nothing…craft, card and scrapbooking ideas, shared recipes and photos, all meant to keep me moving and share that motivation, or maybe inspiration, with others, both family and friends…even strangers!  This blogging thing is kind of addicting!  So tell your friends and family and let's get this thing started!
So here's Just Helen's "new" deal…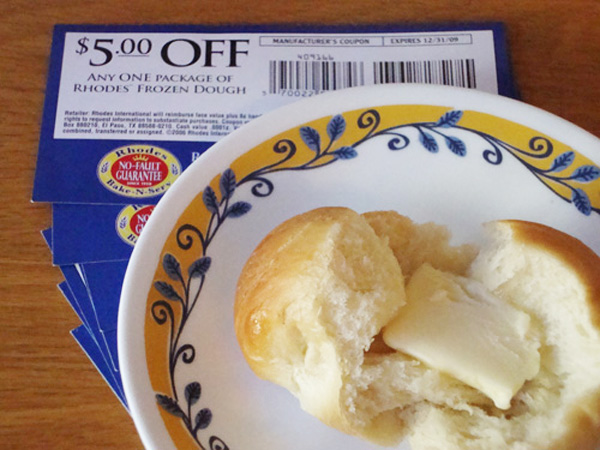 I have a handful of $5.00 off coupons for any kind of Rhodes Frozen Dough…an almost free deal!  The Rhodes at my Ralph's are under $6.00 for a large bag of bread, Texas rolls or cinnamon rolls.  May I suggest going for the biggest bag you can and just pay the difference.  I used the Texas Rolls today for both the rolls and the mini monkey bites, and I did 24 mini monkey bites and 12 rolls out of one bag.  You can go to this page on the Rhodes website for directions to make Mini Monkey Bread.  I wanted to make smaller bites, so I used my silicone mini muffin pans from Crate and Barrell to put 2 big or 3 smaller snips of a roll…about 1/2 of a Texas Roll…into the cup.  I think these would work great for a breakfast buffet.  Make sure to cruise around their website for more great ideas on how to use their bread and roll dough as a base for many wonderfully delicious recipes!  I just wish I had seen the Witches' Fingers before Halloween!  They look wicked!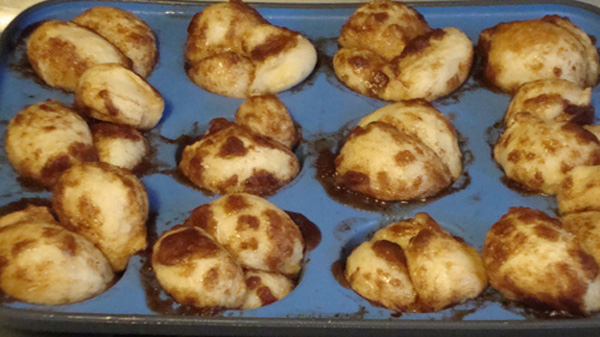 These have been renamed:  Messy Mini Monkey Bites!
Here's how you enter:
Leave a comment at the end of this post – that will enter your name/email address.  I haven't done this before, so please be patient if there are any kinks in the process.  You have until Friday midnight, Pacific time, on November 6th, 2009.  Only one entry/comment per person.  Feel free to share my blog with your friends.  The more traffic I get, the more visits, the better the giveaways will end up being.  They will come randomly, but I hope with increasing regularity.  I will announce the winner sometime Saturday, November 7th.  This isn't going to be a scientific type drawing, no independent oversight and the giveaways are open to family and friends of justhelen, so there will be winners that are related to me.  You will just have to trust that I will be fair.  I'll count the comments and tell my kids to choose a number/numbers between 1 and ??? and the number/numbers they pick will be the winner/winners.  I will send your coupon/coupons in the mail next week.
Now you will have to excuse me while I go eat a hot roll out of the oven:  butter, although not necessary, is a welcome addition to the treat!  Hot bread in the afternoon…that is something to be thankful for!  Just counting my blessings!

Tags: dinner rolls, Monkey Bread, Rhodes bread coupons, Rhodes Frozen Dinner Rolls, Rhodes Texas Rolls