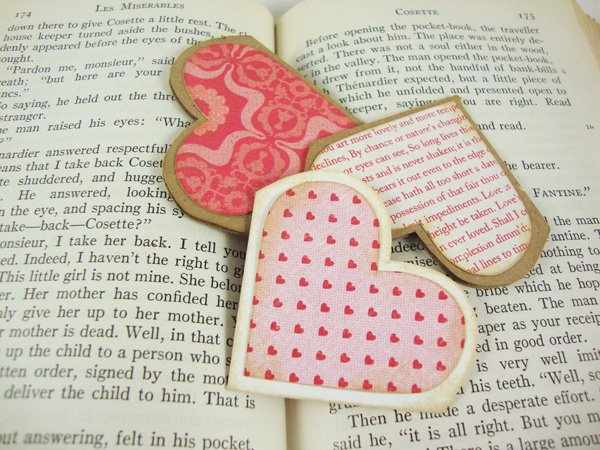 I found a little old library copy of  Les Miserables at an estate sale.  I've been trying to read it for a while because I know that the book is usually better than the play or the movie, although I do love the music almost as much as the story.  I was watching the PBS 25th anniversary edition the other day and the phrase came to mind that some of the lyrics would make the angels weep!  But I digress.  When I was at church, a friend of mine showed me some really cute bookmarks that she had made.  I thought to myself, "Hmmmmmmm…I could use one of these to save my place!"  Then I came across the idea here.  These heart corner bookmarks were nothing like the ones my friend made, but they were very cute, nonetheless!  I wanted to quickly make some before I forgot all about them.  These are super easy to make and if you wanted, you could recycle envelopes…I was too lazy to go looking for ones to recycle, so I just took one from my desk!
Here's what you do:
First, take a piece of paper and fold it from the bottom right corner to left right side – you don't need to use a full-size sheet of paper, I just did it because I didn't want to look for a scrap…do you think I'm totally lazy now?  Yep!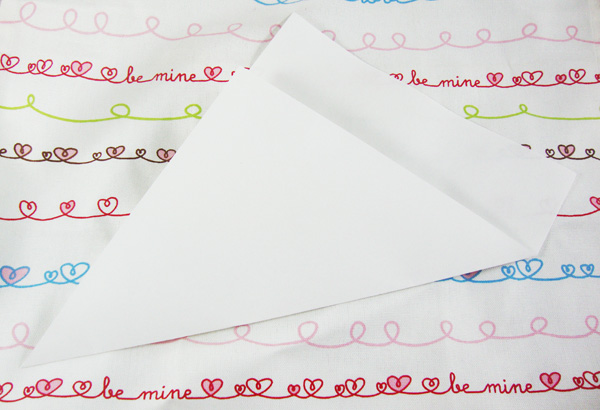 Next, prepare your envelope.  I wanted to use a kraft-colored one and all I had was the kind with a straight flap, so thinking ahead and not wanting to waste any corners, I decided that it would be best to seal all the edges and just licking the gummed edge wouldn't be enough, so…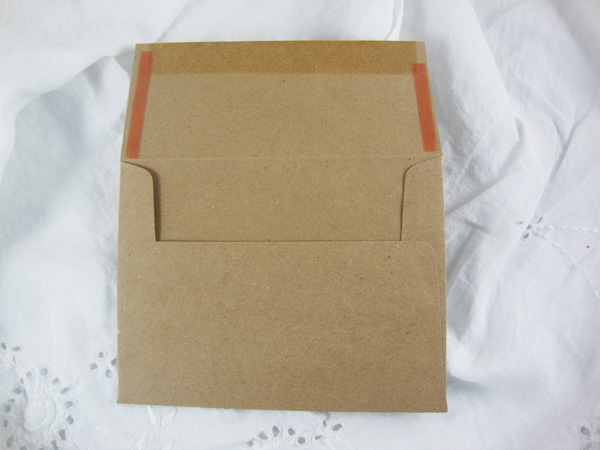 …add red-line tape, pull the red strip off, lick the envelope and seal…or you can use a different adhesive.  I was just too lazy to find another one.  Kind of measure about how big you want your heart to be (depending on the size of your envelope) and make a little curved line…like this!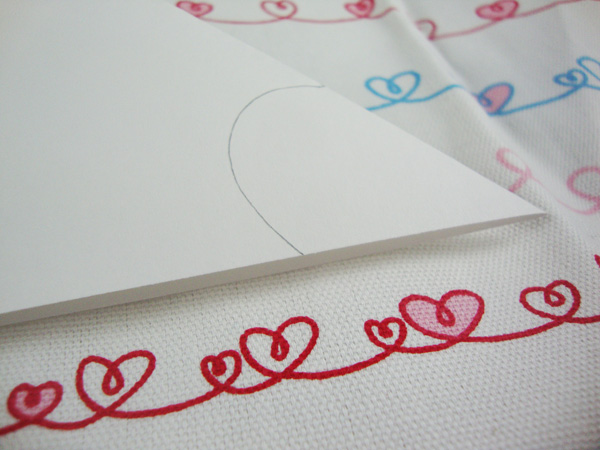 Cut it out, place it on the corner…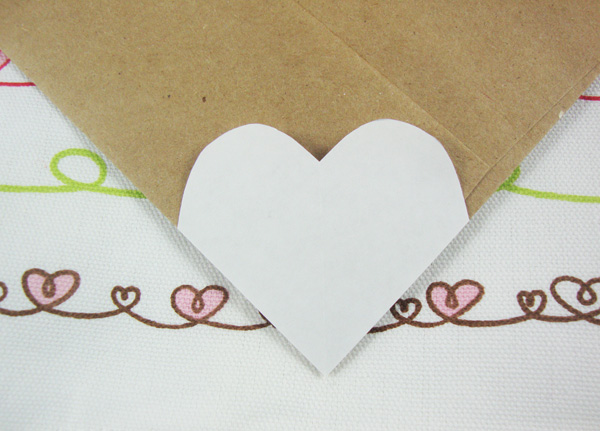 and trace; repeat on all 4 corners.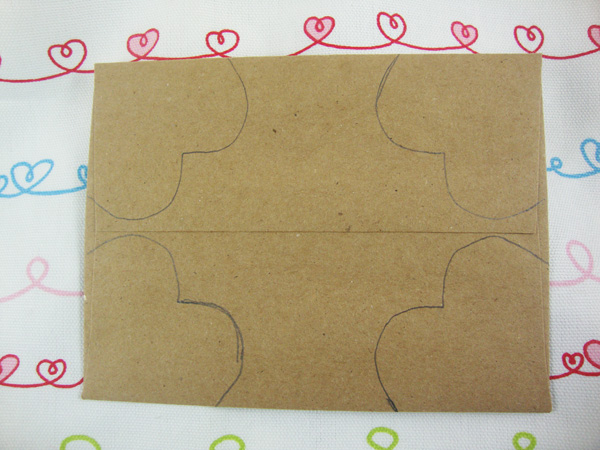 Cut out…I cut mine a little smoother than I traced them.  You can erase the pencil mark.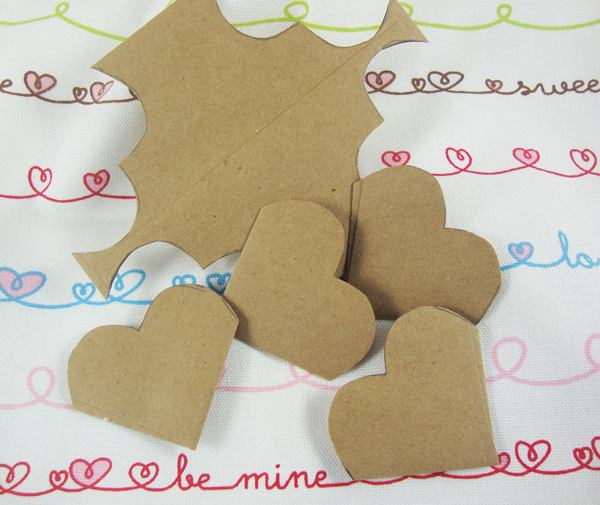 At this point it might be a good idea to make a cardstock template because you're going to take the lightweight template and cut the heart down a little bit for the patterned paper heart; make sure to round the heart a little…didn't take a picture of that part, but that's easy to do.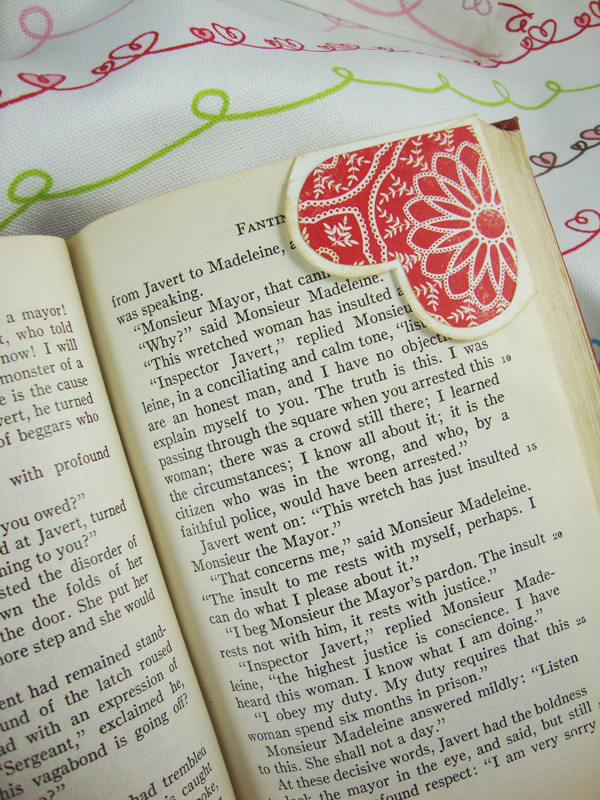 I inked the edges and made a few.  On some, the direction of the patterned paper matters so you need to decide whether you want it to be top or bottom oriented…or it that doesn't matter to you, nevermind!  But if you want to add words, you might want to reconsider.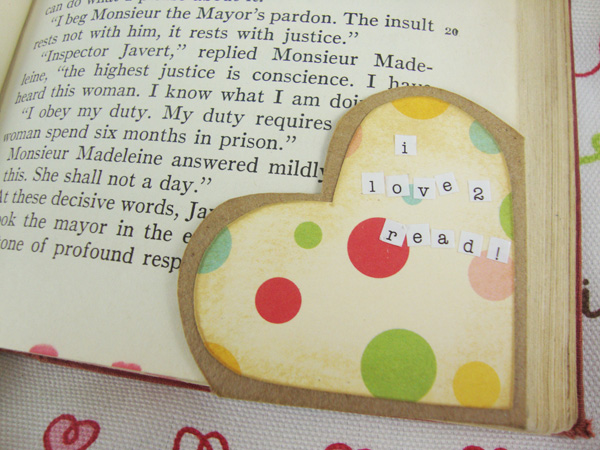 Wouldn't this be a cute little party favor for your next book club, for a teacher or classmates?  Now, if I could just get through the book so I could participate at my next book club!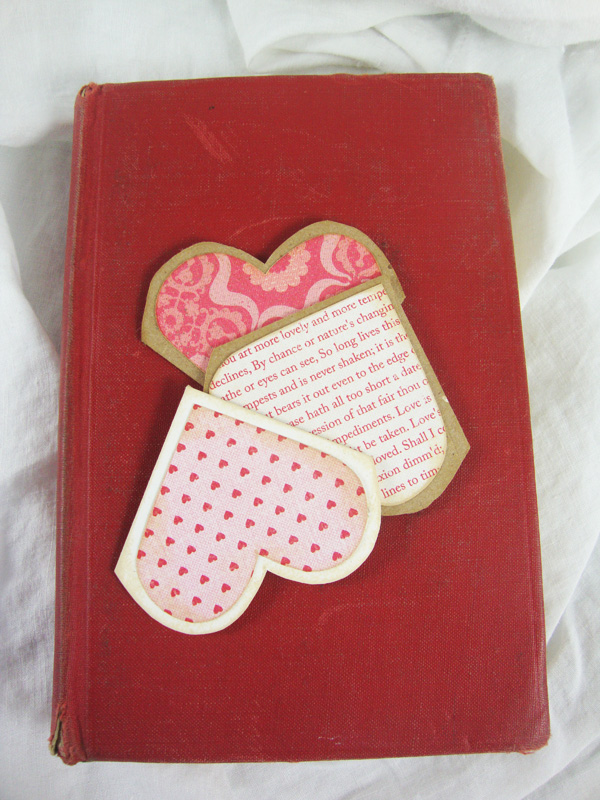 These are all kind of Valentine-y, but I'm thinking that there would be lots of different applications to these corner cuties!

Tags: Corner bookmarks, envelope corner bookmarks