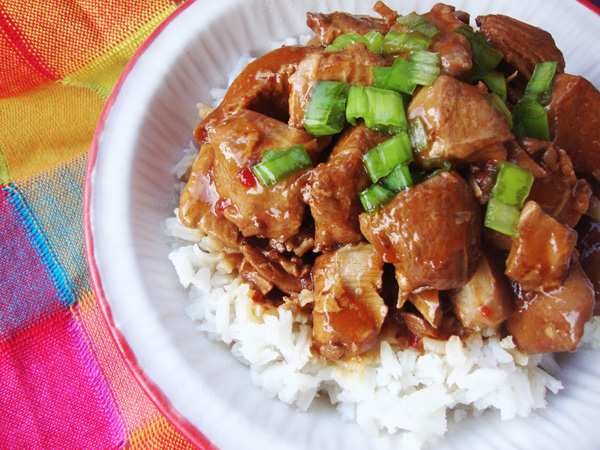 Our family really loves Asian-style food. We adore PF Chang's, but going there usually surrounds an event like a birthday or a graduation.  When time is of the essence, our favorite go-to is Pei Wei, a PF Chang fast-food alternative.  Good food, reasonable prices and it's quick.  But I have been determined for a while now to start experimenting with main dishes that might satisfy our chicken and rice cravings right here at home.  I came across this recipe for Bourbon Street Chicken and adapted it for a larger quantity, to be prepared in the crock pot. 
Bourbon Street Crock Pot Chicken
Serves 8 – 12, depending on how hungry you are!
5 lbs. raw boneless, skinless chicken breast, cut into bite-sized pieces
5 – 6 tablespoons olive oil, 1 – 2  tablespoons per pan of chicken (my frying pan only cooked up about 1/3 of the chicken at a time)
Sauce
1 cup apple juice
1 1/3 cup brown sugar
1/4 cup apple cider vinegar
1 teaspoon ground ginger
1 tablespoon crushed red pepper
5  large garlic cloves, minced
1 1/3 cups soy sauce
1 cup hot water
1/2 cup ketchup
1/4 heaping cup of cornstarch
Combine all the sauce ingredients in your crock pot, with the temperature on high. Put the lid on the crock pot.
Next, add olive oil, 1 – 2 tablespoons per pan full of chicken to a frying pan and turn temperature to medium high.  Add about 1/3 of the chicken to the pan and brown.  Add to the crock pot, keeping covered.  Repeat with the rest of the chicken until it's all done, then add to the crock pot.  It takes about 4 – 5 hours to cook.  After 2 hours, reduce crock pot heat to low.  Serve over hot, cooked rice.  I quadrupled the sauce recipe because we like a lot of sauce.  If you would like, you could steam some vegetables, add to the rice first and then put the chicken and sauce over it.  Garnish with a little fresh green onion is so desired.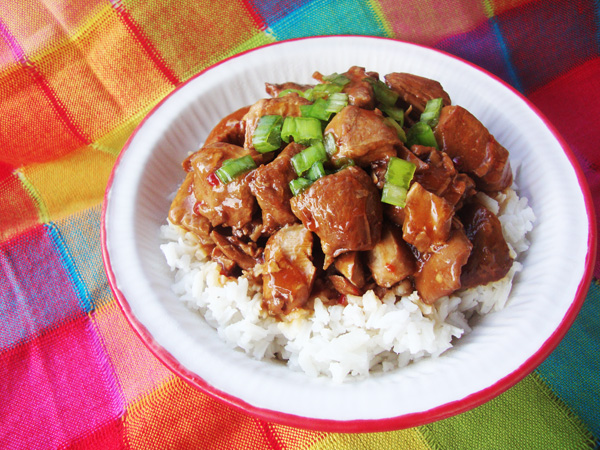 This was so yummy!  It took a little while to cut up all that chicken, but then the recipe was easy peasy! Mike said that it smelled just like Pei Wei in our kitchen and that's quite a compliment!