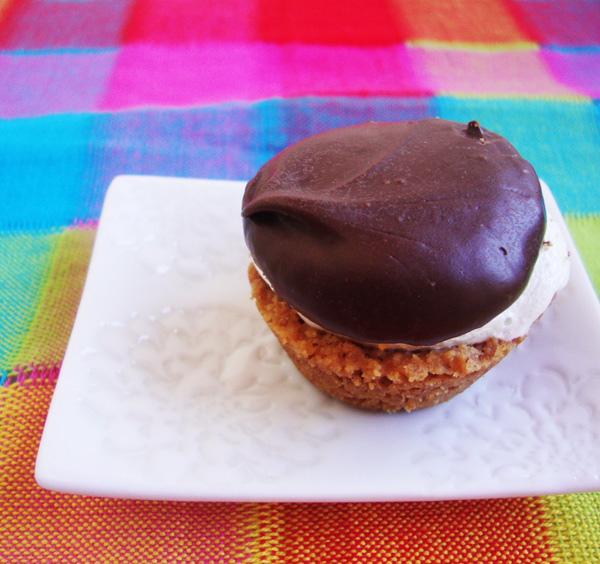 I can't believe it!  Summer is almost over and I have yet to make it to the beach.  That's right – no sandy feet, looking for shells or even much of a sunburn…and I got that at a garage sale!  But there's a church beach party coming soon and I signed up to bring a dessert.  What to bring, what to bring?  Then I came upon the perfect thing – S'More Bites!
I have to admit that I am not much of a traditional S'More lover.  Even though I love the taste of this traditional campfire treat, I have an aversion to so many unwashed hands reaching into the same marshmallow bag and the struggling to assemble them, not to mention the messy hands and faces that result while eating them.  I know…I'm such a old fuddyduddy!   But when I saw these little S'More Bites with the same flavors, pre-assembled and bundled up in one bite (or two), I knew that these would hit the spot, at least for me!  (Adapted from the recipe at Pampered Chef.)
S'More Bites
7  whole graham crackers (1 cup, finely crushed)
1/4 cup powdered sugar
6 tablespoons butter, melted
4 bars (1.55 ounces) milk chocolate, divided into sections – I decided to make these late at night and didn't have  candy bars, so I used a bag of Nestle's Milk Chocolate Chips
12 large marshmallows, cut in half height-wise – I had Jumbo Kraft marshmallows, so I snipped them in half and then used a small cookie cutter to cut them into a smaller circle…more work, but that was the size thatI had!
Pre-heat oven to 350°F.  Place the graham crackers into a Ziploc bag and seal, squeezing the air out of the bag.  Use a rolling pin to finely crush the crackers.  In a medium-sized bowl, combine the graham cracker crumbs, powdered sugar and melted butter; stir until well mixed.  Using a small scoop, put a scant scoop of the crumb mixture into each cup of a mini-muffin tin and press it into the bottom using a mini tart shaper, leaving a little on the sides.  (That tart shaper was the only thing I wasn't sure if I had, but I looked in my drawer and was delighted to see that I had one, brand-new in the bag!)  Bake 4 to 5 minutes or until the edges are bubbly.  Remove from the oven and place about 1 heaping teaspoon of chocolate chips in the middle of the graham cracker cup – about 8 chips, but don't count, move quickly…the idea is to get them to start melting. Place a marshmallow on top and return to the oven for 1 – 2 minutes, or until the marshmallow is soft to the touch.  Remove from the oven and place on a cooling rack.  After 15 minutes, remove from the muffin pan and let cool thoroughly on the rack, about 1 hr.  After completely cool, melt remaining chocolate in a microwaveable bowl, heating for 15-30 seconds at a time; dip just the top of the marshmallow into the melted chocolate.  This is the tricky part – if the chocolate you use isn't really fresh, you might have trouble getting it to melt properly.  I was using chocolate chips (which I have used, and successfully so, in the past), but this time the chips were having nothing to do with melting.  I had Guittard Milk Chocolate A'peels, so I used those this time, about 1 cup.  Next time I think I'll just pop an unwrapped Hershey's Kiss on top to see what they do.  Let them set.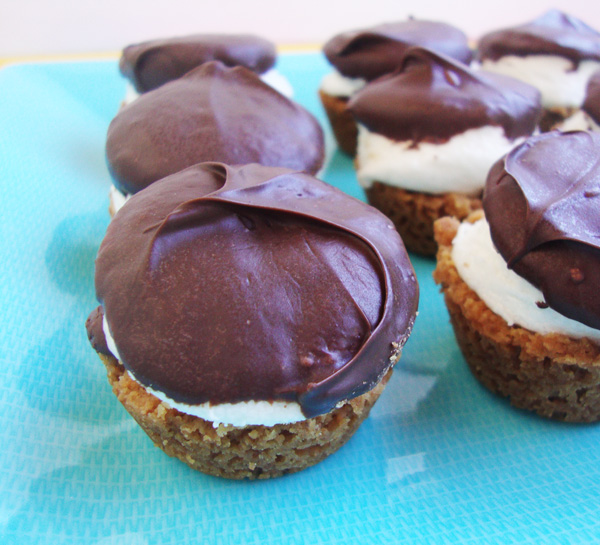 So I always do a test run before I plan on taking newly tried recipes to a function, so I made these on Saturday.  I got an email for some treats for something after church, so I decided to try them out there.  They flew off the plate, and according to Kent W. (who's wife, by the way, is an EXCELLENT cook) stated that they were "straight from the Celestial Kingdom"…a little Mormon phrase, but it means the same as "heavenly"!  Watching hands reaching for seconds is always a good sign, especially when there are so many yummy treats in view!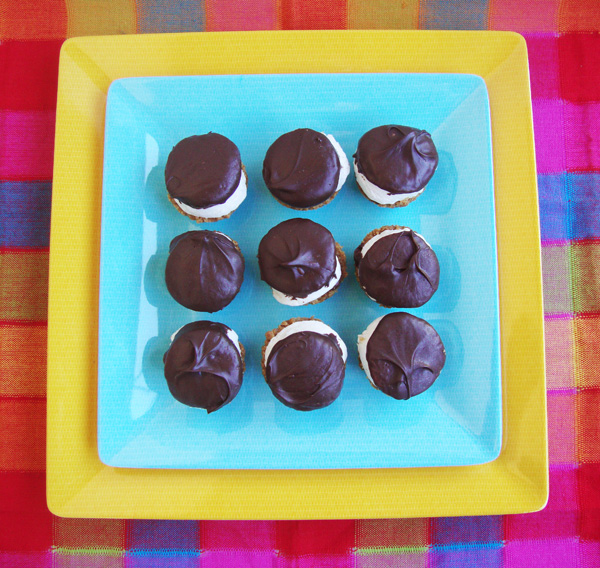 This treat is quick and easy to make.  I will definitely be making these again…and soon!