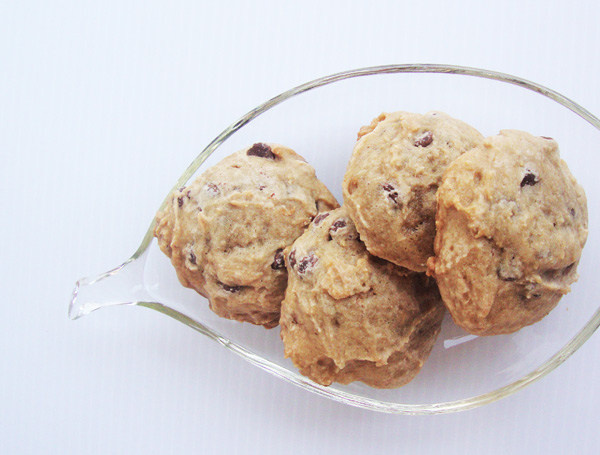 Last week, on our trip up to Utah, we stopped for the night at Jake's house.  As per Tom's request, Jake treated us to one of his specialties…Banana Chocolate Chip Cookies!  They are soooooo delicious!  Lower in fat than many of our other recipes, the banana adds a delightful flavor that makes it hard to stop eating.  Tom had wanted some for the trip, which Jake kindly obliged us with, but he made enough for us to pick up a few on the trip home to take home and share with Mike.  The cookies are so good that I asked Jake for the recipe.  He didn't answer me in the affirmative, so I assumed that it was "top secret"…no problem, I didn't mind.  But I hadn't gotten my fill of banana cookies, so I determined that I would go with the minor info he had given me and begin my experiment.  You know what?  My first attempt was a winner!  Here's the recipe.
Banana Chocolate Chip Cookies
1/2 cup butter, softened
1 cup ripe bananas, mashed (How many bananas?  It depends on size – I used 2 1/2 bananas)
2 large eggs
1 cup light brown sugar
1 cup white granulated sugar
2 teaspoons vanilla
1 teaspoon salt
1 and 1/2 teaspoons baking soda
4 1/2 cups flour
1 – 12oz bag semi-sweet chocolate chips 
In a large mixing bowl, combine the butter and banana; add brown and white sugars and cream.  Add eggs and vanilla and beat until just mixed.  Add the flour, baking soda and salt and mix well.  Finally, add the package of chocolate chip and mix until well distributed.  Use a small scoop to distribute to a cookie sheet, about 2″ apart.  Bake at 325° for 13 – 14 minutes, or until the bottom turns light brown.  Let cool on a cookie rack.  When storing, use waxed or parchment paper between stacking the layers.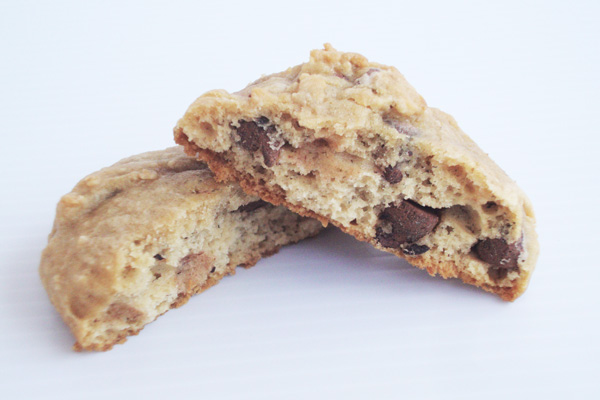 The cookies are really moist and remind me of the pumpkin cookies I shared on my website as fall favorite.
My little experiment didn't turn out to be a cookie just like Jake's, but it was successful, nonetheless.  In Jake's defense (in case you might think that he doesn't share recipes with his mom) I do believe he may have been teetering on a food coma after our lunch buffet at the "Wicked Spoon" at the Cosmopolitan in Las Vegas and wasn't totally aware that I was actually asking him for the recipe.  There is still hope that I might be able to get that Banana Chocolate Chip Cookie recipe from Jake, but if not, these are great.  In the words of one of my co-workers:  "They are the bomb!  You could sell these.  They are really good!"  I think I would have to agree!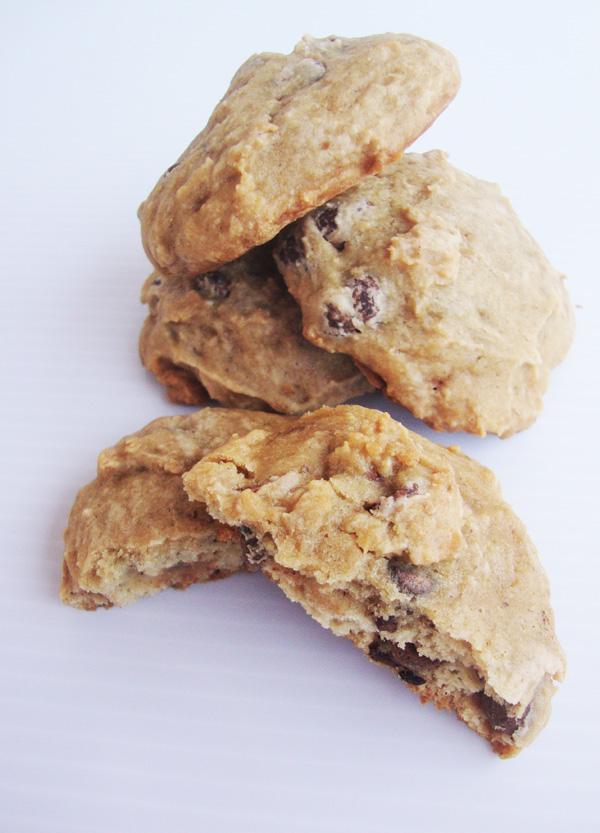 I used a new website to figure out the nutritional breakdown on the recipe…it was very fun!  You can check it out here.  The cookies are about 135 calories each…too bad you can't stop with one!

Tags: Banana Chocolate Chip Cookies, Cookies, recipes