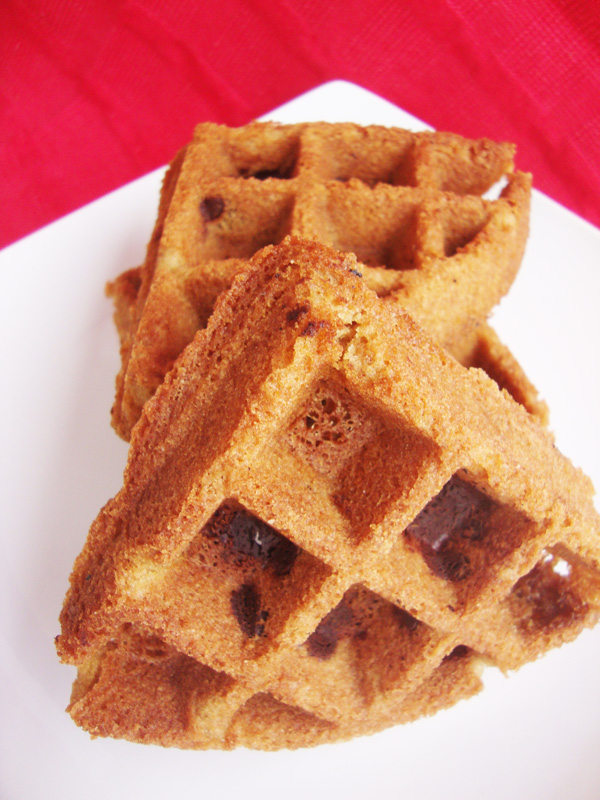 Recipes are best when shared, especially when friends share something super yummy and it comes with samples!  Our family has a few deep, dark secrets…family recipe secrets, that is, that a certain one of my children (you know who you are) don't like to share, so I am really excited when I ask a friend for a recipe and they will actually give it to me!  Sometimes it comes with a story, usually anecdotal, that makes the recipe more fun.  Thanks for the samples, Jeremy and thanks for typing up the recipe and sending it to me, Mandy!
Chocolate Chip Waffle Cookies
1/2 cus unsalted butter, melted and cooled
1/2 cup firmly packed light brown sugar
1/4 cup granulated sugar
1 large egg
1 teaspoon pure vanilla extract
Dry ingredients:
1 cup plus 2 tablespoons unbleached all purpose flour
1/2 teaspoon baking soda
1/2 teaspoon salt
1 cup bittersweet chocolate chips or chunks
Heat the waffle iron.  In a  large bowl, whisk the butter and sugars until smooth.  Whisk in the egg and vanilla.  Sir in flour, baking soda, and salt; finish by stirring in the chocolate chips.  Coat the waffle iron with nonstick cooking spray.  Use a tablespoon to portion out a cookie onto each waffle square.  Close the iron and cook until they begin to brown, about 1 1/2 to 3 minutes.  Transfer cookies to a wire rack  to cool; repeat with the remaining dough.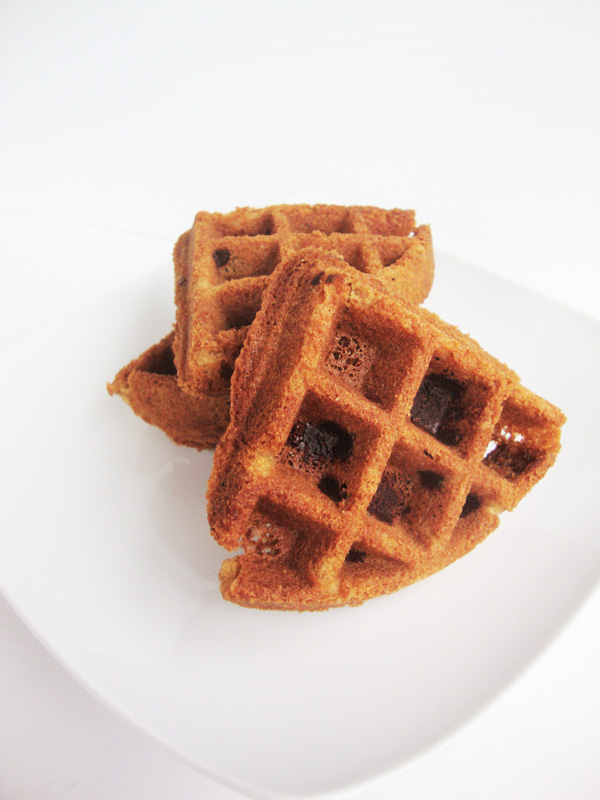 So delicious and easy!  The texture was different that a regular chocolate chip in a really pleasant way.  I am anxious to try the recipe again and make a couple changes to what I did this time around.  First, I used the Ghirardelli Bittersweet Chocolate Chips and they are bigger than regular-sized chocolate chips…just a little too big.  There were spots where there wasn't any cookie, just chocolate – okay, maybe that isn't a bad thing.  If I use those same chips, I'll chop them up a bit before mixing them in.   The other thing is that I want to try to bake them in a regular waffle iron, not a Belgian waffle maker…if I can find one.  My old one finally bit the dust – 35 years of use has a way of doing that to appliances!  Oh, and by the way…I have another recipe for waffle cookies.  As soon as I get a new waffle iron, I'll be making some of those up!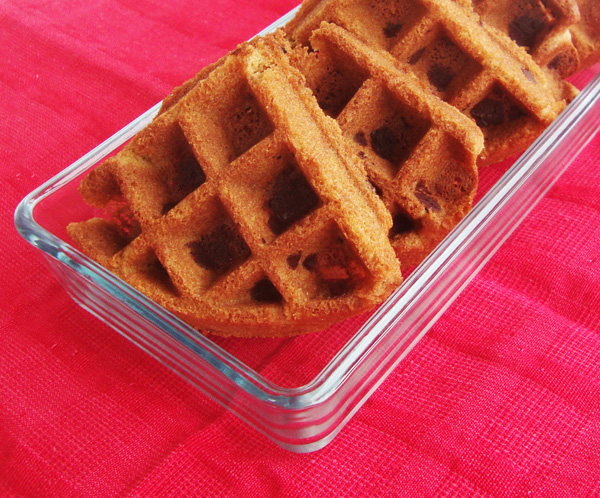 Tags: Bittersweet chocolate chip cookies, bittersweet chocolate chip waffle cookies, bittersweet chocolate chips, chocolate chip cookies, chocolate cookies, chocolate waffle cookies, waffle cookies