I try…I really try.  I have been trying since I came back from CHA to get back to business of blogging.  It's not that I don't have ample material that is inspirational.  I was fully loaded and ready to go last Wednesday, the last day of the trade show.  The product was fun, I experimented with new techniques and developed a frame of mind that will lead me to styles I can add to my repertoire…I even revisited some of the supplies that I already have in my stash.  I had a great time and now I want to play.  But I added something new to my schedule…a very short-term, seasonal job. 
Let me just give a brief description: call-center and Valentine's Day.  Need I say more?  It has been a serious brain-drain!  Don't take this wrong – I'm grateful for the work, the schedule is flexible, it's super close to home and it's a great company to work for.  But it is a completely new type of job, doing something I have never done before, and  I started the day after the show – need I say more?
 It should come as no shock that it is difficult to be creative when you are tired, harder still when you are truly exhausted.  Changing one's sleeping pattern can result in serious creative block and I am there…blocked.  Learning the skills needed for my new, very short-term, seasonal job has been a brain drain – the computer system, applying the policies and talking over the phone has used up all the spare gray matter available.  It will only take up another 10 – 14 days, but until I'm done with this job, it will be really hard to blog.  But I have high hopes that after a good night's sleep, I will be able to clear enough of my brain space to actually create something.  Unlike tonight, when the best laid plans…went, essentially, awry.
We had 2 leftover gingerbread house kits from Christmas.  We had purchased them on sale, but never got around to making them up.  I don't like to waste things, but I wasn't sure how well it would last until next year.  Then I had an  idea – how about making a "love shack" for Valentine's Day?  Sounds like a cute idea, don't you think?  Well, I still think it's a cute idea.  But let me just say that I'm glad we have 2 gingerbread house kits, because the first one is just all wrong!  I used the frosting in the kit and it just didn't dry right.  So, in the morning (if I can talk Megan into it) I will try, try again.  If it works, I will share both versions.  If it doesn't, it will have to be one of those ideas I hang on to for another time.  But for tonight, I will share a layout I did recently for a Graphic 45 project.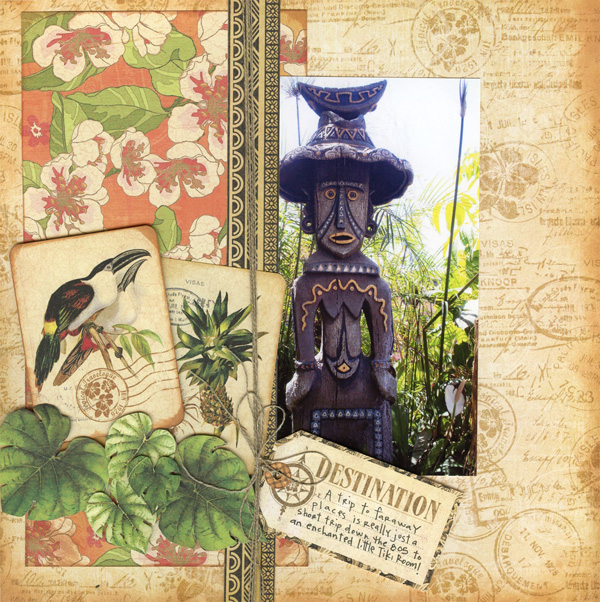 I really love the Tropical Travelogue Collection.  The colors are rich and vibrant and the graphics are wildly exotic.  I look forward to making some more projects with it…a little travel would be nice, too.  It is simply gorgeous!
So wish me well and sweet dreams…hopefully tonight I sleep peacefully and get up ready to face the new day.

Tags: Graphic 45, Graphic 45 Tropical Travelogue, tropical paper, tropical scrapbook page