Thanksgiving has come and gone, another year slipped away.  That big clock seems to keep ticking even if you desperately want it to pause, even for just a few moments.  If you gauge time by the holidays, they really do go by quickly.  Two years ago, I wrote a poem (sort of) in the middle of the dinner preparations.  This year the roof was completely silent – as of yet, no lights adorn our home.  Last year, I didn't blog until the day after Thanksgiving.  Here I am in 2011 and its "Cyber Monday" and the post still needs work!  Something – and someone – is missing.
This year, I thought I would try something different and give myself a Thanksgiving Report Card – a progress report of sorts…you know, to see what (if anything) I have learned from last year.
Thanksgiving Morning (Top Secret) Service Project…A.  This was one of the things we did for the first time.  It went well.  The kids did a great job and there were no complaints.
Defrosting the Turkey…A-.  We picked up the rock, hard frozen turkey on Monday and instead of putting it in the frig in the garage (which gets extra cold and tends to freeze things) we put it in the frig inside the house and it thawed it out nicely.  It would have been just perfect if we had prepared it for roasting our traditional way, but this year I decided to brine the turkey before cooking it, so it wasn't totally thawed out when it was time to get it into the solution…but close enough.
Moist Turkey…A.  I have to say that the turkey was super moist this year.  I looked up how to brine a turkey early, so I gathered all the different ingredients that I needed ahead of time and actually figured out what I was going to do before I was ready to put the turkey into the oven.  I happened to have a giant stock pot that the turkey wedged into with enough room for the brine…I didn't need to weigh it down like some recipes say to do.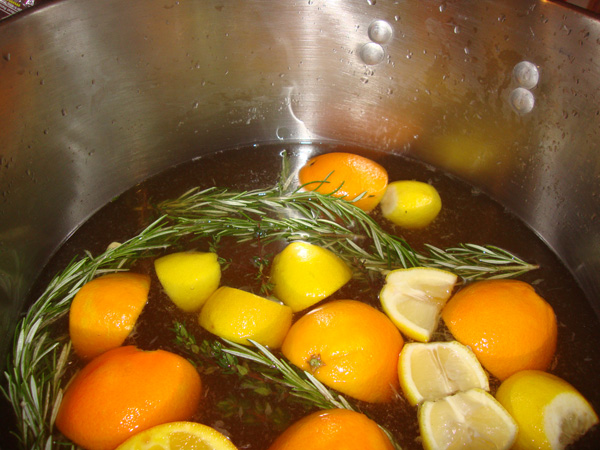 The recipe I used was from Emeril Lagasse on the Food Network website.  The scent of the herbs and oranges mingling with the turkey was divine!
Making Food Assignments/Cutting Corners…A. I let Liz do the yams and the potatoes and it is amazing how much time that saved.  Megan made the "pink stuff", so that was three things off of my regular list.  We also cut out having a Coke ham along with the turkey – we'll save that for Christmas.  Combine that with Stovetop Stuffing (which the kids LOVE), Costco rolls and pumpkin pie, and the food (although it still took all day) was much easier.  This was a good year for easy.
Clean-Up…A.  I will have to give that one to Liz.  She always does a fabulous job cleaning up this grand-sized mess.  The family rule is that dinner has to be cleaned up before dessert is served.
Dessert…F-.  You have to actually EAT dessert to get a better grade – we failed miserably.  It wasn't that we were all too full to have dessert.  There just wasn't time to let dinner digest before we were out the door and off to our respective "Black Friday" waiting places at Walmart (the store that never closed) and Target (that opened at 12:00am, midnight). 
I have to say that this is probably the last time I will do this after dinner madness.  It isn't the same as when we were looking for toys for little kids.  We don't go for the great deals on electronics because we don't really need anything major.  Fighting for $2 movies isn't worth the lack of sleep!  I got better deals from the stores that opened at 8am.  Next year, I'm going to stay home, watch a movie and enjoy dessert!  Getting up early is doable…not going to bed at all has got to go.
I have to say that I noticed stark differences between Walmart and Target and how they manage crowds.  Since Walmart didn't close all day, we had to pay attention to the times certain items were available to purchase.  We arrived and got an up-close parking spot right next to the barricade.  Yep, they barricaded the space between the front of the store and the first row of parking spaces, all the way across the front of the store.  Cars could come in, but it was difficult for them to get out of the aisle because if there were no open, available spaces to park in, they couldn't turn around and would have to back out.  I don't think the fire marshall would have approved.  The parking was unbelievable!  It went across the street, around the corner, spilling into other business parking lots. 
Customers were in the store as early as they wanted, so there was no real benefit to getting there early.  The first items were available to start grabbing at 10pm; you had to wait to purchase (pay and remove from the store) most electronic things until midnight. I was there with Megan and Joydelee, so we kind of scoped out where we needed to be, and positioned ourselves accordingly.  There is always a smoking good deal on select movies, so I had my list of what to grab.  However, it was just after 10pm when they started handing some of the electronic things out.  It sounded like a fight was about to break out where I had been, but I left the area to go wait for the Disney books…people were grabbing those as well, but not fighting over them.  We actually left Walmart by 10:30pm, with a quick drive-thru at McDonald's for extra large Diet Cokes before moving on to our next destination. 
On to Target, where Mike and Tom were saving a spot for us in line.  Here is where I have to say I really liked the way Target handled the crowd.  They also had a barricade, but it was just out in front of the store and didn't go into the parking area.  It was set up to keep the late-comers from sneaking in with those that had been waiting outside, in line, in the cold.  The employees kept them out.  Good job, Target!!!  They let the customers in, 25 – 30 at a time.  It kept it from being a rush.  I bought a couple of cheap movies and laundry detergent…not really worth staying up all night for!  At that point, I was done.  I abandoned the group for a warm bed at home.  Megan and Joydelee went on to find some other good deals, but nothing I couldn't live without.
After a little shut-eye for Megan (and several hours of sleep for me!), we headed out for deals that could wait for the morning.  The all-night shopping was somewhat successful for the rest of the group, but I was along mostly for the moral support, hanging onto the basket, and watching it's contents, keeping them safe from the not-so-lucky shoppers.  I'm okay with that.  I am a little bothered that Black Friday, or Black Thursday, keeps encroaching on the holiday.  It is definitely not mom-friendly.  Not fair to expect the mom to cook the dinner and then have such good deals that she feels like she needs to rush off and be on her feet all night.  I'll admit that we are not required to attend the crazy-deal sales.  Should we consider ourselves anything less of a super mom if we don't?  I think not! 
Keeping busy kept me from dwelling on who was missing from our dinner table this year – Scott.  We kept some traditions and tried some new things.  I think the dinner went more smoothly this year than the last two years, at least with keeping the time schedule.  Life changes and so do our priorities.  I am mindful of all the things I am thankful for, from the small to the great:  the everything99cents store (that makes my food budget go farther) and for the sunny days in San Diego.  I am thankful for living in this country and for all those that sacrifice to keep us free.  I am thankful for friends that love me, look out for me and are concerned for my welfare.  I am thankful for a family that loves each other, that despite any differences we might have, we are all pulling for each other to be successful and happy.  I am thankful for all those that look out for our family, that keep us in their prayers.  Most importantly, I am grateful for a loving Heavenly Father and older brother and Savior, Jesus Christ and for the Gospel and knowledge of the principle of eternal families.  It makes the temporary separation of loved ones much easier to deal with.  Knowing that I will see them again gives me hope. 
I miss my Dad, my brother Jim, my grandparents…then again, I miss a lot of my family that I couldn't be with this Thanksgiving.  It's been a long time since we got together for Thanksgiving.  But this past weekend, I especially missed Scott.  I missed him putting up the lights and being so excited for us to come out at night and view his handiwork.  I missed him going up to the grocery store early in the morning to get at least two of the Thanksgiving papers, full of the sale ads so we each had papers to scour for good deals.  I missed him sitting at the head of the table, reminding us of what my Dad would always say as he sat down to ANY dinner spread: "Do you realize that 99% of the world (or 96%, 97%, 98%) will never have this good (much, delicious) a meal in their lifetime?"  It didn't really matter what was being served, he was always grateful for the bounty we enjoyed.  Scott picked up the saying after my Dad had passed.  Well, you would be proud.  Funny…now I'm not sure who said it first, but we continued the tradition at Thanksgiving dinner this year.  It's true, you know.  The important traditions will carry on, as long as we cherish those that started them.  When we do, it keeps them alive and strong in our hearts.

Tags: Black Friday, family traditions