Sitting in my workroom at my computer, I am absolutely, positively, undeniably…freezing!  After the pouring rain on Friday, a sunny day on Saturday, rain again on Sunday and a change (daylight savings time) of the arrival of darkness, it feels like it should be December 22 already.  I never mind the sun coming up a bit earlier in the morning, but it's the night getting dark so early that makes me crazy.  I know that I will eventually get used to it…right about when it starts getting dark later again.  But one thing I love about the coming of winter, even if it is the "unofficial" arrival, is that it means the holidays are not far behind.
I have been busy with the "Jake" project – I have gotten 35 of the 60 cards that I need to finish before I leave town.  Not quite all I need, but a little more than half with 3 days left to work.  I slipped in some time to make sample Christmas "projects for a friend's book club.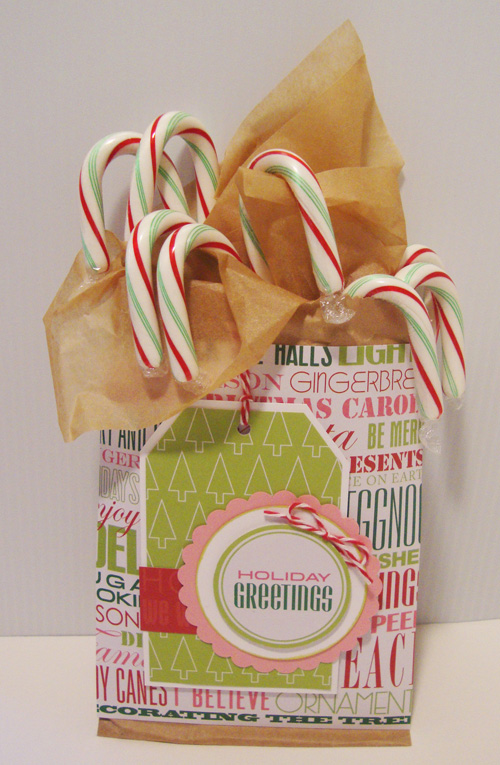 I was lucky to find candy cans at the RiteAid by my house.  I love to decorate these brown paper bags!

Then there are some that I would like to make for my daughter, Christie, who just started selling Mary Kay – hence the distraction from Jake's big batch.  I also taught a card-making class at church, and will post those ideas when I get the originals back from someone that didn't make it to my class and wanted to borrow them.  I seem to be keeping myself busy…maybe a little to busy.
And so it begins.  The hustle and bustle that comes this time of year.  I love it…I embrace it.  But it will be very different this year without Scott here.  After the painfully slow put up and take down of Halloween, I approach the Christmas seasonal decorating with a bit of trepidation.  I have to be more organized and I am afraid that means toning "it" (the quantity of decorations) down a bit…it will be required for my sanity.  But then again, I feel the need to maintain some semblance of the family's normal routine.  
My reality is that life will never be the same without Scott.  All those family gatherings that brought him such joy are precious and makes our hearts happy to remember those moments.  He wasn't always in the middle of the ruckus, but each of us would all find him, on different occasions, peeking around the corner or watching the family from the top of the stairs, smiling and taking pictures.  He loved those random moments when the family was all together.  Who will be recording our Christmas morning present unwrapping?  Who will read our "Night Before Christmas" book on Christmas Eve?  Who will find all those hard-to-find gifts on the kids Christmas lists?  Not just the hot items, but those that are older and random? I shouldn't worry about presents this year…presents are the least important thing we will be missing this year.  We will all be missing the Dad.  But that doesn't mean that we can't find joy without his physical presence.  I know it's going to be really hard without him.  But part of the heritage Scott left behind is how we love each other as a family.  We can best honor his memory by clinging to our family traditions and holding them, and each other, close to our hearts. 
And so we press on.  If we perservere, we will succeed.
Sorry about the delay in posting, but my blog-a-day for the month of October wore me out!  But I have an update – I now have 188 cards ready to drop off with Jake when I head to St. George to spend time with "the girls"…and I'm taking work with me.  It won't be hard to chat with the ladies while I'm assembling cards.  I can do this!

Tags: Christmas, Christmas in San Diego, Difficult Christmases, holiday packaging ideas, Holidays