The witching hour is fast approaching and it is far too early in the month to bomb out on my daily posts for October.  I have been getting ready for a garage sale for the past two days and I am really ready for tomorrow to be over!  But I am not planning on bringing anything back into the house that will distract me from decoration for Halloween. 
 
Haunted House
– by Jack Prelutsky
There's a house upon the hilltop
We will not go inside
For that is where the witches live,
Where ghosts and goblins hide.
Tonight they have their party,
All the lights are burning bright,
But oh we will not go inside
The haunted house tonight.
The demons there are whirling
And the spirits swirl about.
They sing their songs to Halloween.
"Come join the fun," they shout.
But we do not want to go there
So we run with all our might
And oh we will not go inside
The haunted house tonight.
So…years ago, Scott and Megan went to a "sale" at the Museum of Natural History in Balboa Park and this is what – or who – they came home with –
 
She was "undressed" when she came to our house, so we quickly put her in an old shirt and a pair of Scott's jeans.  We added Tom's wizard cape just for Halloween…the chains add to the drama.  The funny thing is that sometimes the smaller children won't want to walk up to the door because they are afraid that she's a real person that might just jump out at them.  We have traveled with her to our Trunk-or-Treat at our church and she adds a nice touch of spookiness to our festivities.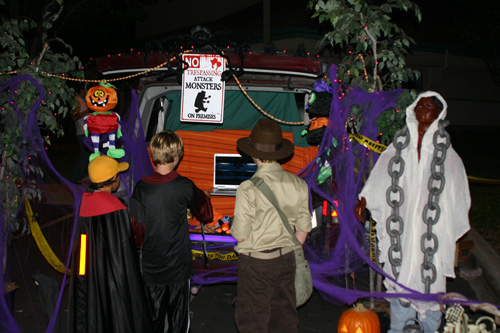 I'm not sure that she will be joining us this year – she has lost an eye, somewhere down in her waxie form and I'm not sure that it can be retrieved, but we will see.  To get rid of her at this point would be like losing part of our family!

Tags: carved pumpkins, Halloween, Halloween poem, Haunted House poem