Things change…they just do.  People change with the passage of time – there's no way around it.  We can't help but get older.  A lot of people fight the looking older part.  Each day that passes puts us on a collision course with change.  It is inevitable.    Someone, somewhere is thinking up the next great idea that will change the way we think, how we process information, what we eat, what we wear, what we buy.
No matter how hard we try, there are very few things that stay the same.  I have had this epiphany many times before, but it hit me again today as I was going through an old secretary that has been tucked into one side of my son Tom's closet for at least 8 or 9 years.  I went there with a very specific item in mind (which I actually found), but I emerged with a smorgasbord of treasures…and a bunch of junk.  Most of the pieces were stationary related, some classic and graphically still viable, but many made me wonder, "What the heck I was thinking?" when I bought them. 
There are some historically-related items, like this birthday card.  Recognize the couple on front?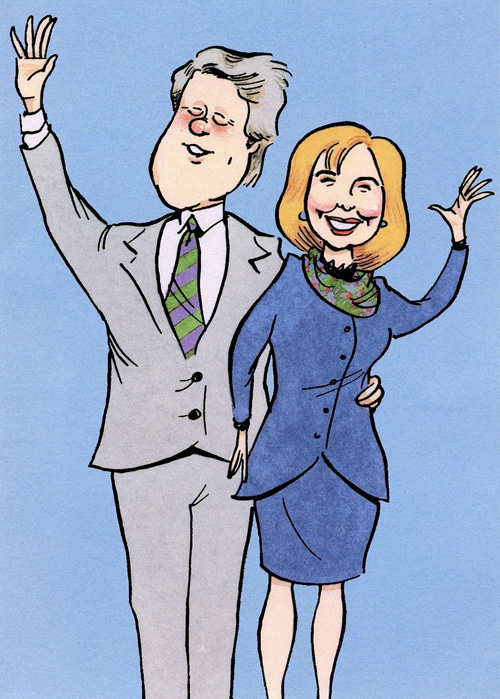 Inside it reads:  "See…there are scarier things than growing older.  Happy Birthday" .  I have no idea what year I was given the card, but is goes to show how quickly people in the political forefront change.  Then there are other things that are just dated.    Which bring me to these small gift cards.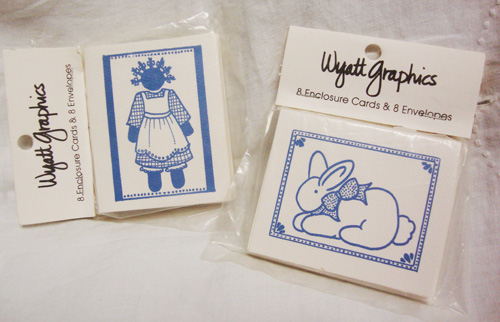 How I loved the quaint, country-style!  These were the cutest things ever…many, many moons ago.  I would not buy these today.  There's nothing wrong with them, but they no longer appeal to me.  I bought these long before I ever started making cards.  I am now quite adept at designing my own – it is less expensive, it's a good way to use up my paper scraps and I like the hand-made look.  Of course when I bought these, they represented my style.  Fortunately, my tastes have evolved, as have my paper crafting skills. 
This brings me to my next weakness – sale items!  When I find cool things on sale, I can't seem to just buy one – my tendency is to stock up.  Who knows when I'll get a good deal again…duh!
 
Way back when (don't know for sure how long ago) these ribbons were definitely in the wonderful department.   I bought several rolls which have remained unused for countless years.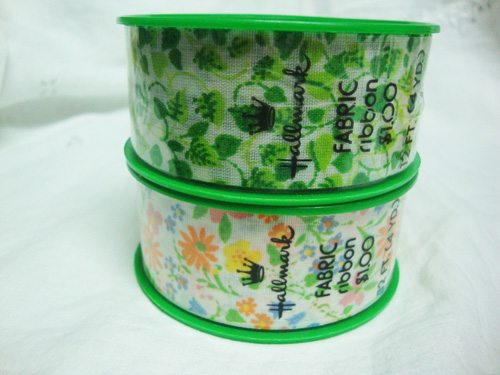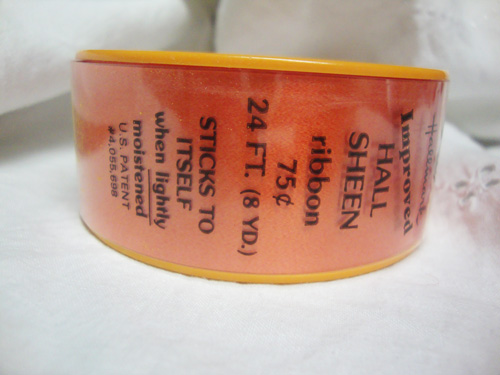 Of course, the patterned ribbon was way better than the  "improved" Hall Sheen ribbon (that sticks to itself…when lightly moistened) that I already had.  Did you know that they had patents for ribbon?  Must have to do with the improved part!
Then there are things that become valuable simply because they are old and can be used for something different than their original designation.  Like this old receipt book that is older than uniform state abbreviations and puts the sale of live chickens on the same receipt as eggs and cream…although the choices for chickens are somewhat limited.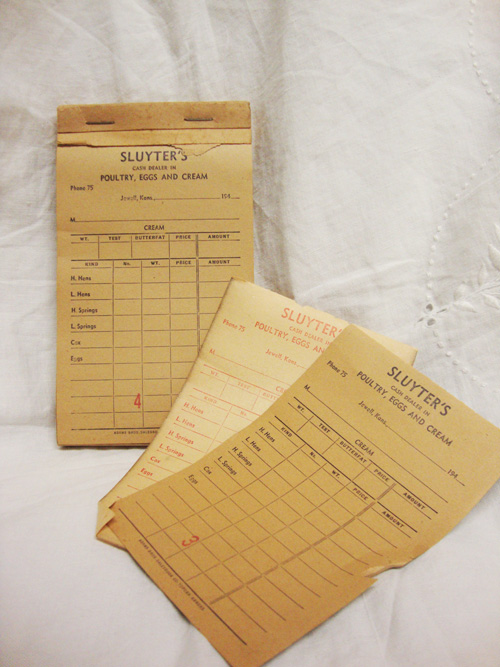 Makes me wonder if the chickens were bought for laying or eating?  Don't remember where I got this, but it is from the 1940's and I think this would work wonderfully for a journaling spot.
I am a retailer's dream customer, at least in the stationery/paper crafting department.  I am somewhat of an impulse buyer, and obviously, I need to change my habits…and I have…a lot!  I buy more than I need and fail to use up what I have before I buy more.  Some of that is understandable.  I could probably send out Christmas cards to my entire list for a couple years before I use up the mishmash of my leftovers from years long ago.  But who wants to send out the same card two years in a row?  I suppose that I could find a school somewhere that I could donate these things to.  However, if I hang onto them long enough, maybe they will come back in style.  What's a girl to do?

Tags: Changing styles, old stuff, political funnies