The windows are rattling, artillery can be heard in the distance and the sight of F/A 18 Hornets flying by my bathroom window can only mean one thing…the fly boys are back in town for the MCAS Miramar Air Show.  I take that back – it is not only time for the air show, but this also heralds…drum roll please…my blog's ( just helen) 2nd anniversary!!!  Wait!  That's tomorrow.  Okay, I'm a little excited so I'm jumping the gun.  But in honor of my 2nd anniversary, I have decided that I am going to try to blog every single day in October.  I've made a list (and checked it twice) and I think I might be able to pull this off with just a little extra effort.
Here is a tease of what's to come:  cards, treats, food and desserts; gift tags, mini books and decorations; pumpkins, candy and favorite haunts; stories, songs and a tasty giveaway.  If you liked the Halloween Jarheads last year, I'm adding a new twist to that project, so stay tuned!  There is so much to do and so little time to do it.  Between you and me, there should be plenty of celebrating going on and I would love to have you join me for the fun. 
Today is the first day of my month-long project and night is falling fast (sorry for the funky photography), so here is the first idea.  Since we love to make all sorts of Halloween treats, and the trick would be on us if we ate them all ourselves, plan on sharing the goodies with family, friends and co-workers.  Half the fun of being creative in the kitchen is when others enjoy your efforts.  Since it is still early in the month, make tags to attach to the ghoulie goodie bags or boxes when you get around to baking.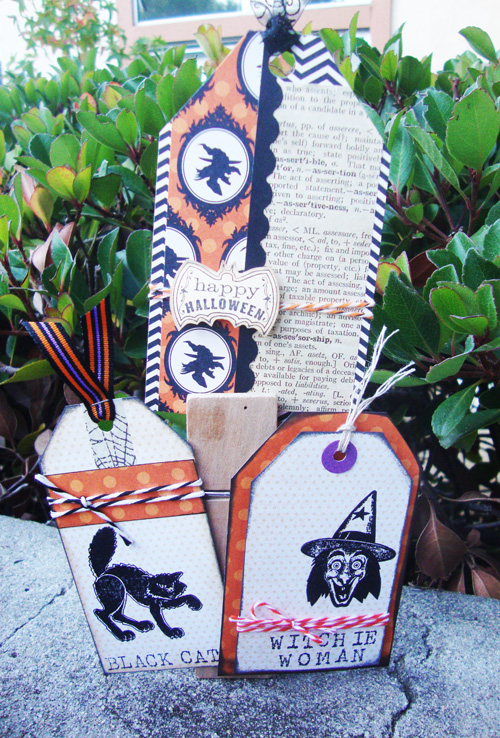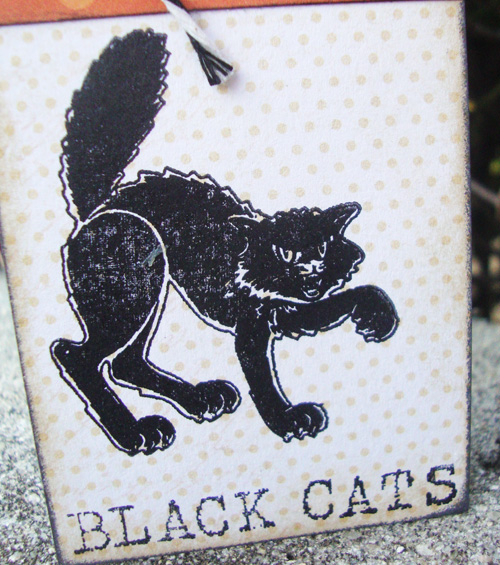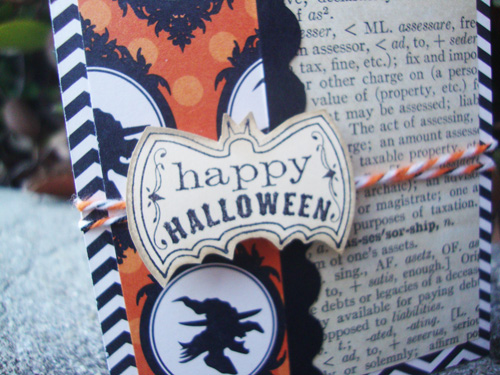 The papers are Teresa Collins and My Mind's Eye, with die cuts from Authentique, stamps from Tim Holtz and Memory Box.  The inks are Stazon and Fluid Chalk by Clearsnap, and the twine from the Twinery and Doodlebug Design.  I'm sure I'm forgetting someone, but will fill in the blank later.  Now I'm off to the Old Globe to see Odyssey.  TTFN…ta ta for now!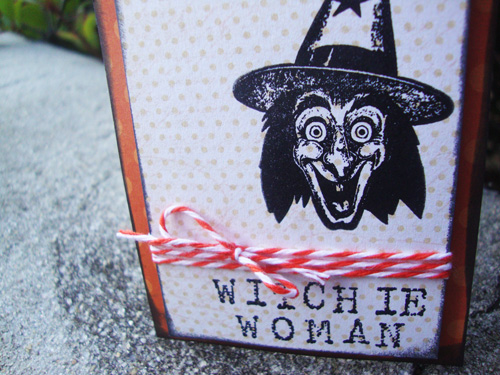 Tags: Halloween, Halloween decorations, Halloween paper crafting, Halloween tags