There are times when you want to go all out when making cupcakes and other times when just plain old yummy is fine.  Sometime you might want to have a little something more than just the frosting.  Chocolate shavings are nice and I love coconut, but there are times when a little decoration is called for.  We are getting ready to do a bunch of desserts for the Trunk-or-Treat at church, and we love to go all out, but we are figuring that there will be at least 200 people, so not everything item we make can be a work of art…we're just not that dedicated or have enough time to make that idea a reality.   So I have been on the hunt for great cupcake liners and things to decorate with.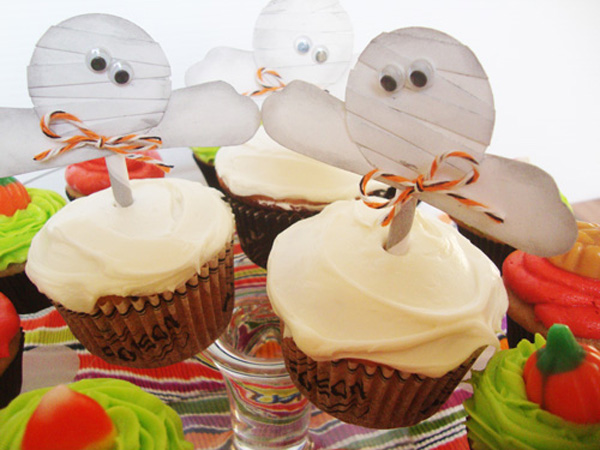 We had Martha Stewart cupcake papers from last year and then we bought some black mini liners (Wilton).  I like the idea of the darker papers because they don't show the cake through the paper.  I'm not as happy with the "poison" papers…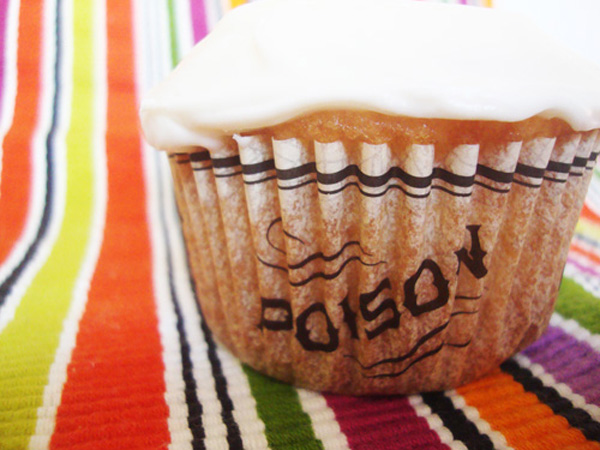 …as I am with the "beware" papers,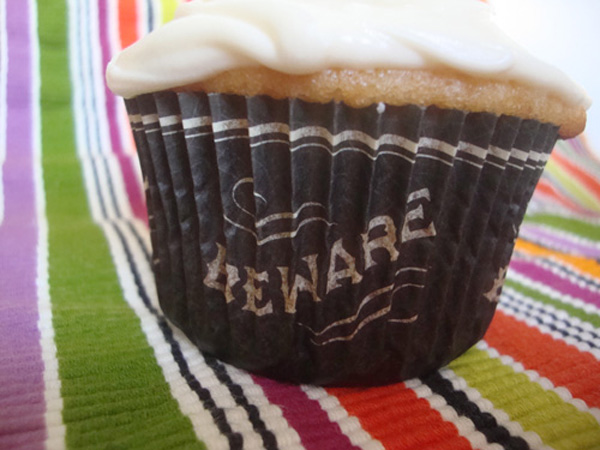 but I think I like the solid dark best of all…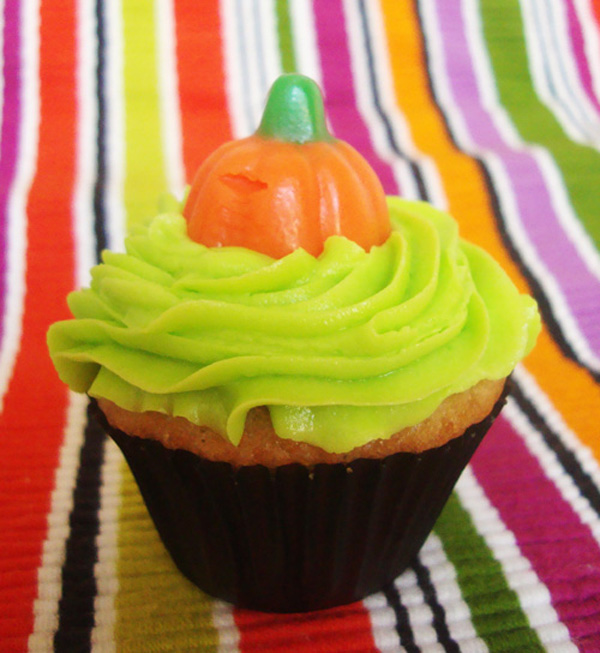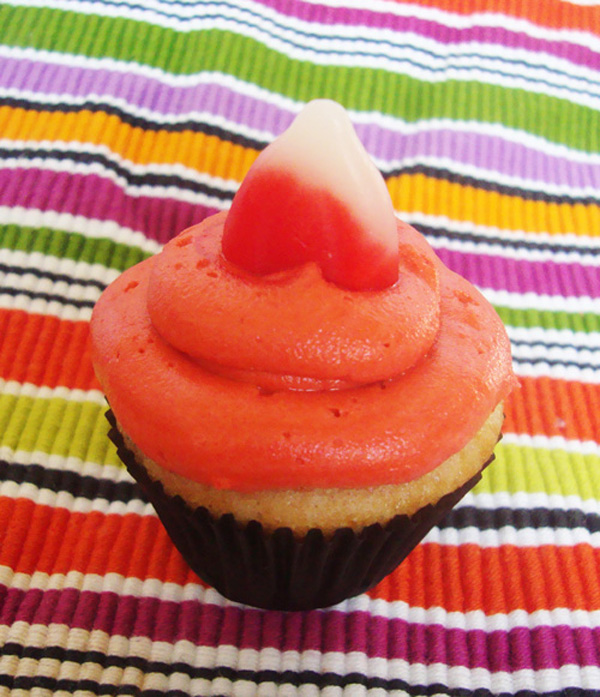 …they remind me of the dark cupcake liners at Sprinkles…the cupcake store.
I made the little "mummy" embellishments and glued them onto 1/2 a straw, at the top.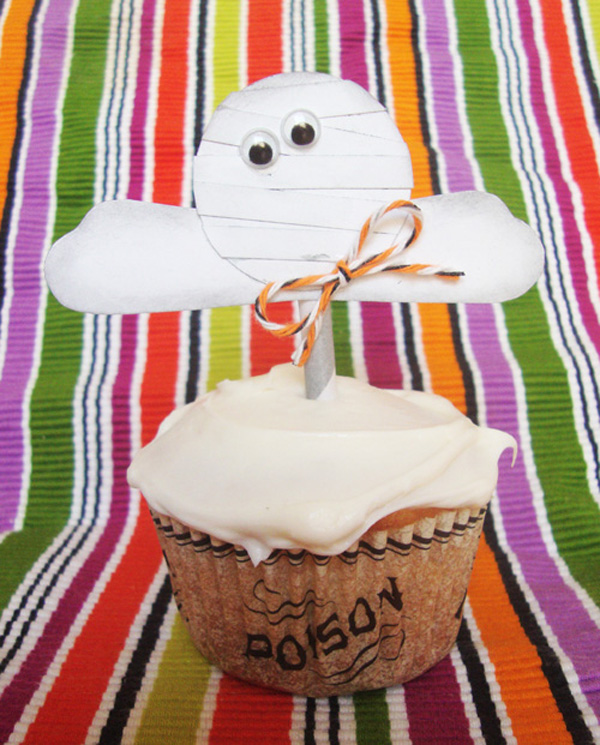 Super easy…just punch a 1 1/2″ circle and a 1/4″X11″ strip.  Add a thin bead of glue (the Glue-Baste-It from Roxanne is my favorite for tiny application) straight across the circle and then add the strips, one strip at a time at different angles across the circle.  When you're finished, trim excess from around the circle.  Cut out a set of arms; chalk the edges of both pieces so it gives the "wrap" some definition.  Add a little glue (I like Aleene's Tacky Glue) to the top of the arms and place the head on the glue.  Glue on the eyes.  Cut the straws in half; add a line of glue to the vertical center of the head and place onto the straw.  I added a little bow from the Doodlebug collection of baker's twine.  Let dry thoroughly.
I used  a bag of Jelly Belly Fall Festival Mix for the mini cupcakes…three shades of candy corn, pumpkins, cobs of corn and brains…okay, I think it's supposed to be a walnut half, but for Halloween we can pretend it's brains…yummy!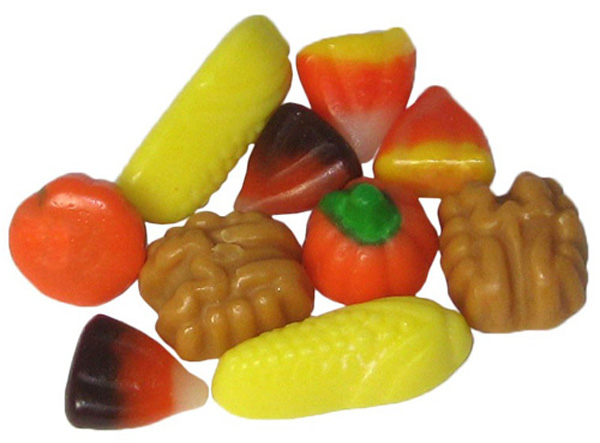 This makes the mini cupcakes super quick and easy.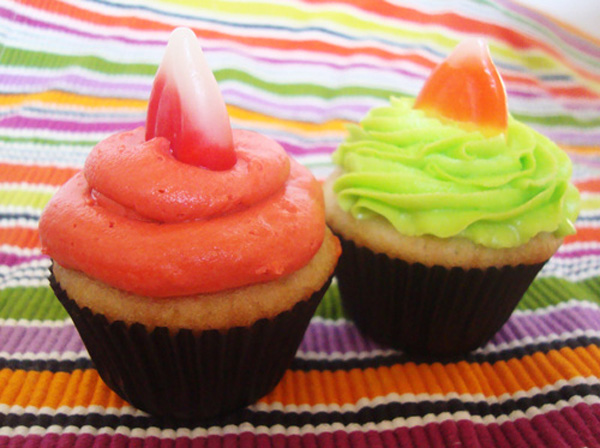 I have a bunch of new cupcake papers and I'll let you know how I like the different types as I try them out.  There are some super cute ones available and we have found some fun ones at Ross and HomeGoods for cheaper than normal retail.  Happy sweet treat eating!

Tags: candy corn, cupcake liner reviews, cupcake liners, cupcakes, Halloween cupcake toppers, Halloween cupcakes, Halloween desserts, Jelly Belly candy