It's hard to know when I get up in the morning what kind of a day it will turn out to be.  I have not been "up and at 'em" as early as usual, at least not prepared to leave the house.  But yesterday I was up and ready early enough to get to the everything99cents store before all the good deals were gone.  Yesterday I found:  Three 12-count boxes of Yoplait Yogurt – two for me and one for a friend;  two 32-oz tubs of Knudsen Cottage Cheese – that will be used for lasagna later in the week; Lofthouse sugar cookies for Megan to take to work – since the ones we bought for her last week got eaten by a gang of hungry teens playing Risk; a case of diet Shasta in assorted flavors; and two half-gallons of organic milk.  Not a bad score for getting there after 10:45am!
A Diet Coke at McDonald's, with one for a friend and the boys at home, and I was on my way to the rest of the day.  Not terribly eventful.  I still have thank-yous to write, so I need to make more note cards…argh!  But you know what that means?  I am surrounded by people that love and care about me.  That can provide a wonderful energy boost in anyone's day.  Many cards were written and I got them out just as my mailman approached my door.
With the chicken defrosting in a bowl of cold water, Mike decides that he needs a haircut and a shave – one of my many "talents" as a mom, at least the haircut part is.  The reality is that neither Mike nor Tom likes to pay for haircuts and since they don't mind that the only cut I can do with any degree of success is similar to the cut of a military barber on the new recruits, I will comply.  Note to self:  It is time to get a new hair trimmer.  
With the haircut out of the way, I could continue on with dinner preparations – one of my favorite comfort foods…fajitas.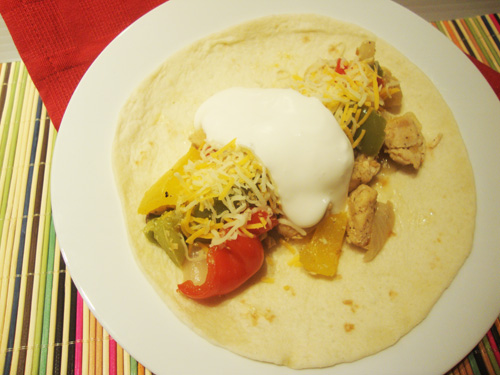 Lean chicken tenders, spiced and paired with green, yellow and red peppers, sauteed with a chopped onion, served on a warmed tortilla with a little grated cheese and Crema Mexicana…no eating utensils required!
Everyone has their own idea of what constitutes a comfort food.  Mine is that it's quick, easy and doesn't require a lot of pans to prepare it or dishes to serve it in – that helps in the clean-up process.  Some of my favorites would be: beans and wienies, with bread and butter on the side and a tall glass of milk; chicken broccoli rice casserole – everything in one pot; tuna gravy on toast, with a side veggie.  We do not have sophisticated palates in our home and are fairly easy to please.  This is a good thing when you're the person cooking!  I did make one mistake when cooking the fajitas:  I didn't make enough for leftovers the next day!
 I can't honestly say that the day was full of amazing accomplishments.  I got some things done on my checklist, but the list is long and things are added to it every single day.  I choose not to feel overwhelmed.  I give myself credit for what I have done and keep plugging along.  Too much time can be lost by just worrying about things.  I am slowly building back up to my normal pace, as if anything could be normal around our house.  But soon, I hope, work will begin to take up a big part of my day.   More than it being what I need to do, it is what I want to do.  This has been part of my plan for quite a while.  So I face each day, one day at a time and know that God, my family and my friends are along the path, cheering me on.
There is still a lot of uncertainty, but I do know that yesterday was a good day.

Tags: comfort foods, coping with life, dealing with grief, finding comfort in small accomplishments