I don't get much of a chance to look at the stars here in San Diego…I know they are there, but living in the suburbs, near the big city and fairly close to the water means that either the lights of the city or the marine layer usually block my view of the nighttime sky.  My most powerful memories of the stars comes from traveling across the desert after the sun goes down – that is a beautiful sight! 
I remember watching the Apollo 11 landing just a little over 42 years ago…July 20, 1969.  I don't remember what the exact time was, but I know that I was in Sacrament Meeting and the Bishop let us out early so that we could hurry home to watch it…I can't remember ever getting out of church early with the exception of "ox in the mire" kind of stuff like sandbagging in time of expected flooding.  Regardless, it was definitely a big deal when you're a kid.
This past CHA Winter, October Afternoon came out with a darling paper line called Rocket Age.  I immediately related to the little red-headed boy in the illustrations since I have three of them myself.  I waited…and waited…and waited for its release – and once it was released, I waited…and waited…and waited for it to get to my local scrapbook stores…it took forever!  When I was finally able to purchase some a few weeks ago, I waited…and waited…and waited for a good time to play with it.  So, with no further delays…Rocket Age by October Afternoon.
The paper is a change of pace for me.  I am usually all about florals, checks and stripes, but I couldn't resist!  Sentiment is always a challenge for me.  Here I have this fun, illustrated, space-themed paper, but I wanted to be able to use it for more than birthday cards for little boys.  Here is where the Internet comes in handy: type in space quotes and see what pops up – lots of great quotes that will work in a variety of themes.  Card #1 has a quote from Albert Einstein: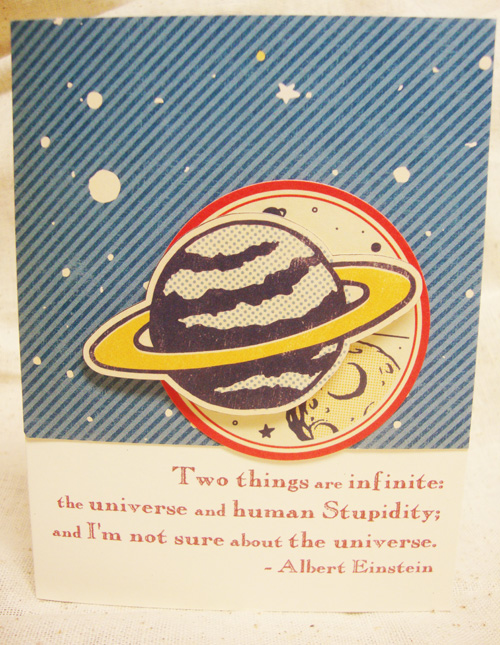 (I figured that this would be a good "I'm sorry" card.)
Card #2 used a bunch of the embellishments from the line:  chipboard, rubber charms and miscellany.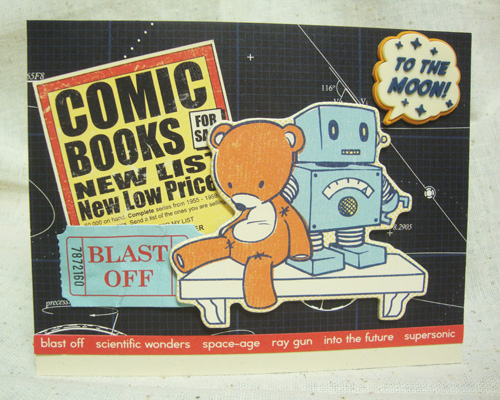 I love the robot and the teddy bear together!  This card is blank, just waiting for a note or a sentiment.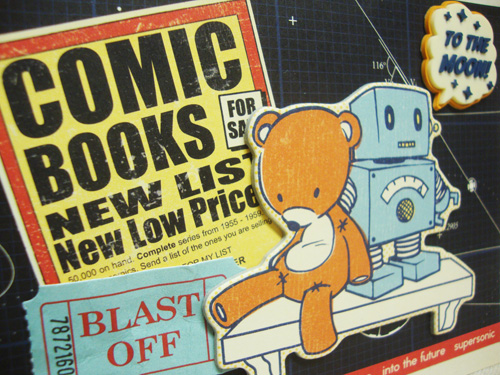 Card #3 has an insightful poem on it by Ralph Waldo Emerson.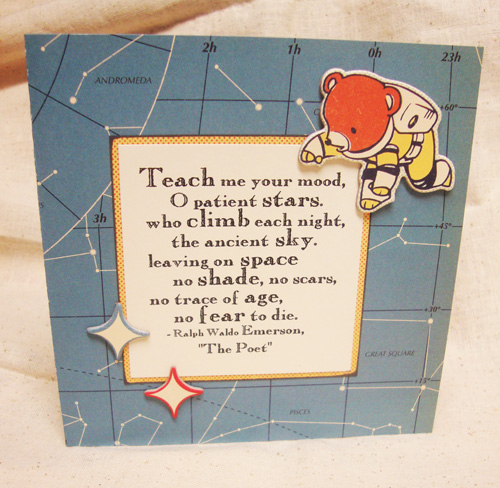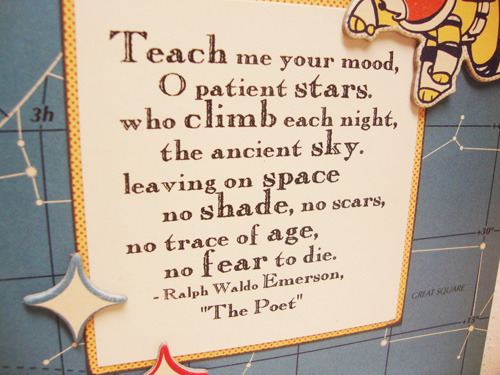 Just a little chipboard was all that was needed to embellish this card.
Card #4…what can I say?  Love the robot!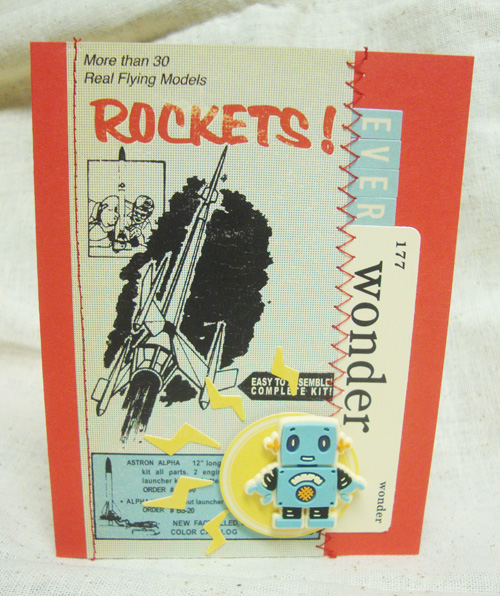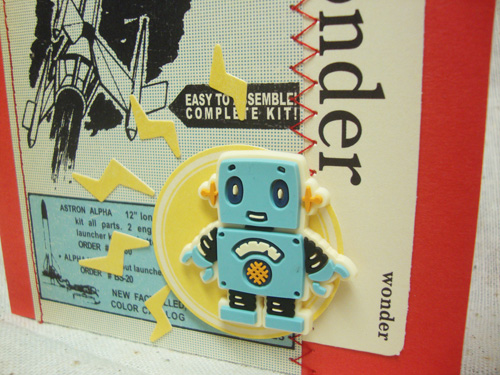 The stitching is a nice finishing touch.
The last card captures the imagination of a little boy and his bear on a big adventure into space –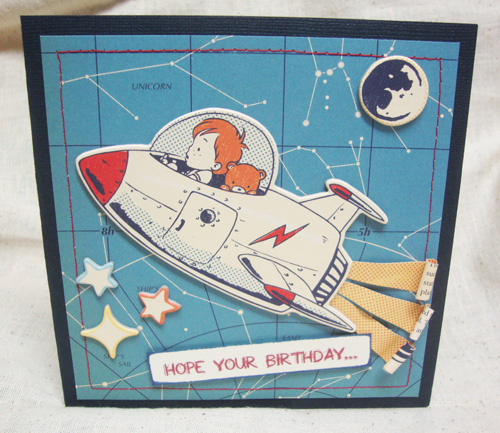 the inside text reads: "…is out of this world!"
There were a couple of other quotes that I will save, either for more cards or for a scrapbook page.  The first is another quote from Ralph Waldo Emerson:
"Do not go where the path may lead, go instead where there is no path and leave a trail."
The other one is this:
"Astronomy compels the soul to look upward, and leads us from this world to another."
— Plato, 'The Republic,' 342 B.C 
Here's to looking upward and leaving trails.

Tags: Boy cards, cards for boys, October Afternoon, October Afternoon Rocket Age