T'was the night before the 2011 San Diego County Fair…and I forgot to take my camera!  I had this great idea to snap a shot of the main walkway…sort of the equivalent of Main Street at Disneyland, but not quite so quaint…without the crowds.  The vendors have been busy displaying their wares, deliveries have been made to the food stalls, the asphalt has been swept and the ice plant trimmed.  The lights of the ferris wheel are sparkling, but not moving.  Unfortunately, I forgot my camera.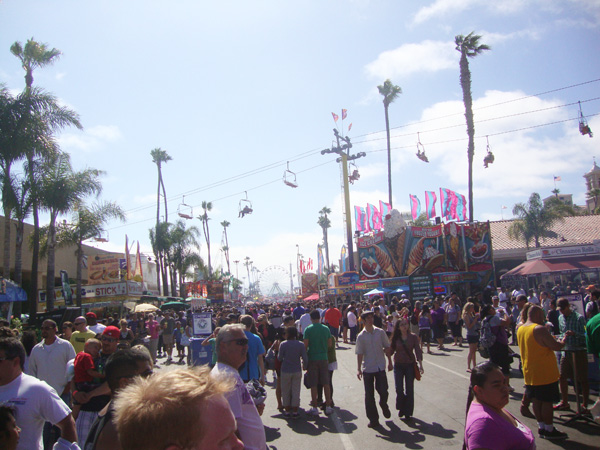 (This is from last year…the crowds are present in this photo!) 
Today, our department, Home and Hobby, is all ready…waiting for the hopeful throngs of entrants to come and see if they have won any prizes and how they compare to their competition.  We have prepared for any disappointed customers and we're ready to praise and share in the winners enthusiasm.  The hard part is done…the items are all judged, displayed and ribboned.  The cases are locked and items secured.  Now all we need is the masses.
Which is where you come in.  If there is anyone out there (in the San Diego area) that has plans on coming to the fair and would like ****four free tickets****, here's what you need to do: Tell me what your favorite part of the fair is, for instance…the food, the animals, the rides, the entertainment, etc.  Leave your comment below and it will enter you into the drawing.  The deadline for this contest is midnight (Pacific time) Sunday, June 12th, 2011.  I will mail the tickets to the winner Monday morning.
If you missed the deadlines for regular submissions, there are lots of one-day contests to enter.  Go to this page to see what's available: contests.  I will be at Home and Hobby for all the Saturday contests, plus most of the ones during the weekdays.  I am also doing make and takes on June 14th and the 24th, so if you need to sit a spell, you can drop by for a little while and sit in the cool of the Home and Hobby 2nd floor of the Grandstand, make ribbon flowers and say "hi".  I will have to get back to you on the exact times.
So if you're craving fried butter, Snicker bars, or gaming to try something new like fried Kool-aide…if you are anxious to watch the pig races…if you want to try your skills on the Boardwalk – the 2011 Race to the Fair is the place to be!  Maybe I'll see you there!

Tags: 2011 San Diego County Fair, 2011 SD Country Fair, contest for free tickets to the 2011 San Diego County Fair, Del Mar Fairgrounds