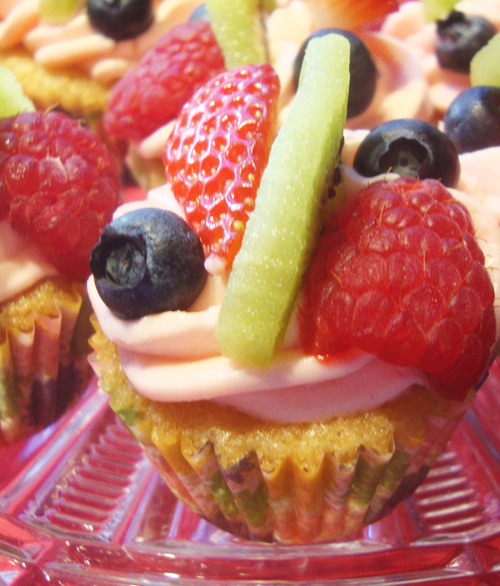 I did not come up with this idea.  It's been so many years ago that I can't even remember when or who I got this idea from.  The first first time I heard the name of the dessert, I'm sure that I made a funny face and had a "huh?" or "yuck" look on my face.  Fruit and pizza on the same dish was not what I considered copacetic.  Once it was better explained and I had the chance to try it, I became an ardent supporter.  
Even though I have seen variations of it, it always surprises me when I come across someone that has never had it before.  All I know is that when the summer fruits arrive in the produce department, it heralds the possibility of Fresh Fruit Pizza for dessert.
A couple of weeks ago we had a Summer Soiree with the Relief Society ladies where we were asked to bring a favorite summertime dish (appetizer, meal or dessert) and this screams "family favorite" at my house.  However, when serving the family, the recipe goes onto a 1/2 sheet pan or a large round pizza pan – looks great, but not as easy to serve to the masses.  So I made an adjustment: cupcake liners for individual servings.  It worked out perfectly.  Best part of the recipe?  It's not complicated and I usually have all these ingredients on hand.
Fresh Fruit Pizza
1 – 24 count package Pillsbury Sugar Cookie Dough
2 – 8 ounce packages of cream cheese
1 cup powdered sugar
2 Tablespoons (heaping) strawberry-flavored Jello – optional, for color
Fresh fruit, washed and dried
After trying a whole pre-cut piece of cookie dough (too big for my mini paper liners) I cut it down slightly – one row made 7 pieces instead of 6.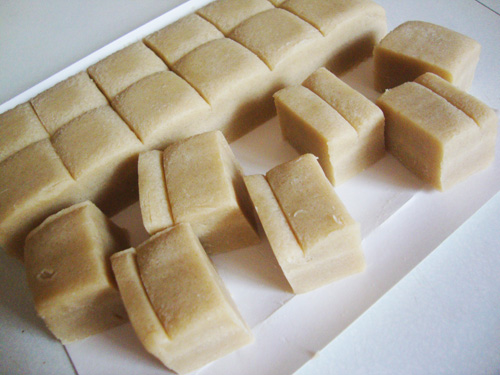 Place the cookie dough in papers and bake as directed on package.  They will look like this: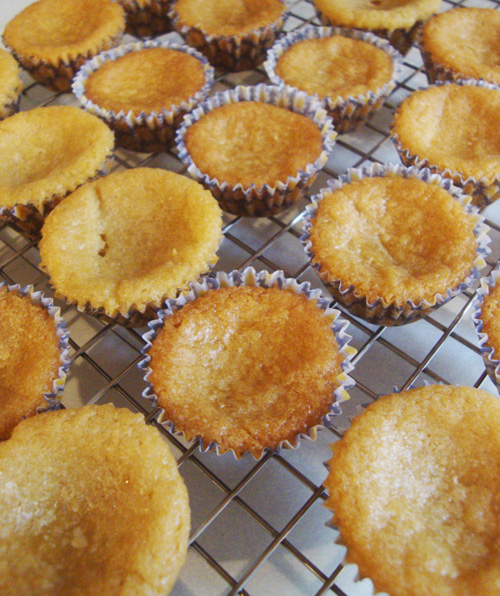 Set aside and let cool. 
Wash and prepare your fruits.  Make sure that everything is dry.  Once I slice any fruits like strawberries, cantalope, or kiwis, they tend to get juicy (you know…what accumulates at the bottom of your fresh fruit bowl) and you don't want random juice on your dessert, so I put all fruit on paper towels to absorb water/fleeing juice.
Next, put your cream cheese into a bowl and beat with a mixer until it looks spreadable; add powdered sugar and dry Jello and mix well.  Put into a pastry bag with a large star tip.  Pipe onto the cooled cookies.(Sorry…forgot to take pics of this step.)  Pipe a few, add the fruit.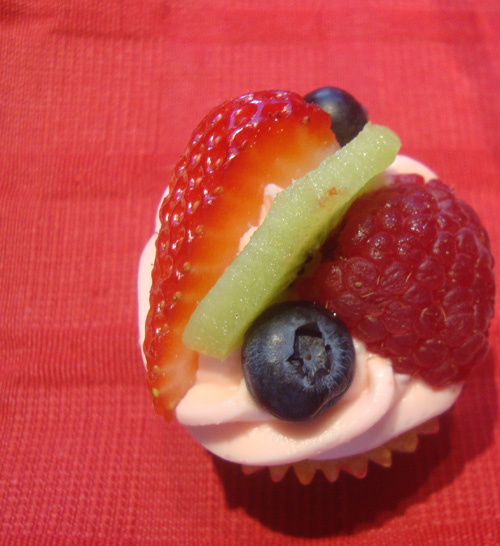 You can use your favorite fruits, but this is a nice color combination.  Refrigerate until just before serving.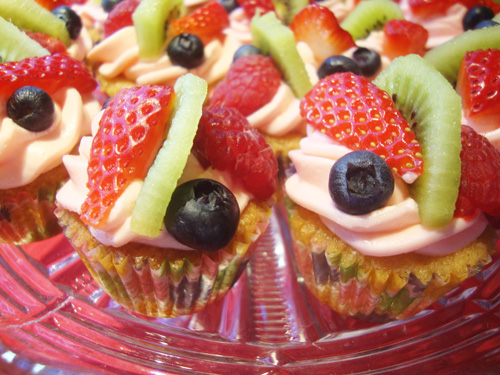 We also love to add sweet cherries and honeydew melon, but pass on the watermelon.  That would just be messy. 
With imported fresh fruit available so much of the year, we never settle for using canned fruit and glazes of jelly are unnecesary.  But it is absolutely most delicious when the fruit is local and allowed to ripen on the vine/tree/plant/bush.  It makes a pretty summer dessert!  I think the family would be happy if I made this tonight!
*Note:  If you want to make this on a cookie sheet/pizza pan, you will need more than one package of the sugar cookie dough.  I haven't formulated exactly what size pan to cookie dough ratio…I can figure that out some day!  It's one of those "no recipe, just ingredients" desserts that I frequently make.

Tags: cream cheese, Fresh Fruit Desserts, Fresh Fruit Pizza, Fruit Pizza, Jello, Pillsbury Sugar Cookie dough, summer desserts